Apps For A New Generation Of iPhones And iPads
With iPhone's ever-growing market share, we can help get your brand messaging across to your users through a custom-built, feature-rich iOS mobile app. Our team of experienced developers will guide you through the entire process from wireframing to release on the App Store…and beyond!
iOS Application Development Services
iPhone App Testing
Our analysts know the latest industry standards for the development, testing, and release of modern iOS apps. As an experienced mobile app development agency, we'll guide you through all the latest quality assurance (QA) requirements and even shorten your development lifecycle by avoiding common pitfalls.
iPhone App Support And Maintenance
Once we've built your iOS app, we can also provide all the support and maintenance you need to ensure it continues to run smoothly. Agency Partner will work with your team to update your app as new features or components become available.
iPhone App Consulting Services
Even if you only have a concept of your iOS app, our consultants can turn your idea into reality. We'll guide you through each stage of the iOS app development process, including user research. That way, we can help you refine your vision to create designs that match your brand's image.
Attractive iPhone UI/UX Designs
Our services include iOS UI and UX design to ensure your app is engaging, easy-to-use, and packed with the latest features your users expect. We'll A/B test all our design elements to be sure you've got an optimal layout for your iOS app development project.
Customised iPhone App Development
We can help with end-to-end, fully customized iOS mobile app development solutions. Our engineers use the latest technologies to build a future-proof iOS app fully tailored to your needs!
iPhone Integration Services
We also provide iPhone and iOS app development services for businesses that need cross-app integration. You'll have access to all the features and capabilities available on the latest iOS devices without compromising the UX of your app.
A Team of iOS Development
Experts at Your Service
We deliver on our promises and can help anyone needing the insight of dedicated iOS app development professionals. With our expertise, you can get started quickly to deliver exceptional experiences to your users.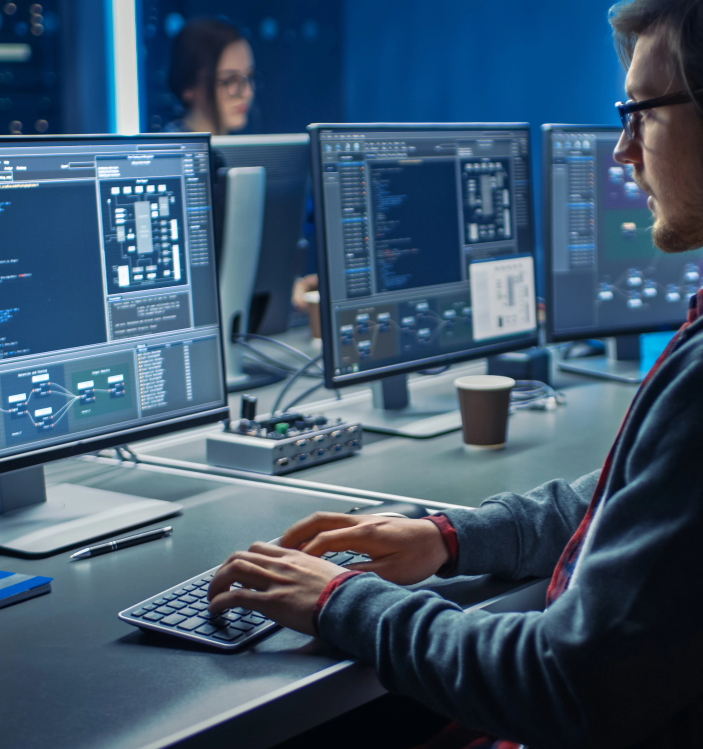 Why Most Business Leaders Choose Agency Partner.
We appreciate that you have a choice when it comes to partnering with a digital agency. 8 of 10 Business Leaders Prefer Agency Partner
User-Centric Approach
The user-centric approach, it's all about customer experience. We focus on your end-users interests, objections, and goals. After that, It helps understand how the End-User perceives your brand.
Interdisciplinary Experience
Having worked on projects ranging through FinTech, LegalTech, IoT, MedTech, etc., we've learned to adapt to new industries and project types quickly. We've found patterns and similarities which help us switch between projects quickly.
Transparency
When it comes to marketing, communication is key, whether it's our communication with you, our client, or how the brand engages with your target audience. Every aspect of the communication channel should be clear, according to us.
Business Thinking
We've worked on our own startups, so we know your struggle. We want to be your digital marketing partner and look at your brand from a marketing perspective. There's a lot more to startups than just technology, and we are eager to embrace it.
Meticulous
Development Process
We explore concepts of your product vision, plan, and map out the perfect user experience based on research and analysis. We use prototyping tools to present the greatest customer journey. And we create a product that is likely to avoid the common pitfalls experienced by other businesses.
Discovery

Planning

Development

Quality Assurance


Launch


Discovery
Our first step is to understand what you need your app to achieve, and where it will be pulling information, so we can ensure the technology is in place to deliver.

Planning
We plan for the features the app will need, as well as the data integrations if it will need to read and write back data. If we're designing the app, we work closely with our information architects and user interface designers.

Development
We prefer to work in Agile sprints (Scrum methodology) to get to an MVP – a Minimum Viable Product that includes the core features your audience will use and love.

Quality Assurance
While development is going on, QA is already beginning. This is when we do our best to break the beautiful app we just built, so we can eradicate bugs and make sure it works as intended. With that task accomplished, it's time to launch.
Work With Certified Digital Marketing Experts
As a Top Web Design, Custom Mobile Application Developer, and Digital Marketing Agency,
we are pleased to serve customers in the United States and abroad.
Let's Build Your Next
Digital Product
Digitize Your Business With Remarkable Web Design,
Custom App Development, And ROI-Driven Marketing.