Tips From Professional Digital Marketers
Marketing is a universal term. However, it means different things to various types of businesses. Particularly, there are two main types of marketing that relate to specific audiences – B2B and B2C marketing.
In this article, we'll break down the significant difference in both terms and explain the basics of B2B marketing in particular.
What is B2B Marketing?
Business to business (B2B) marketing is the practice of promoting and selling products to companies. Popular companies that have B2B target audiences is HubSpot, Microsoft, and Adobe.
B2B products or services are typically aimed at helping businesses increase their profits or make operations happen smoother. Popular B2B marketing methods include content marketing, Social Media Lead Generation, and event marketing.
There are distinct differences between B2B and B2C marketing that will be explained in the following section.
What is the Difference Between B2B and B2C Marketing?
Business to consumer (B2C) Marketing is the practice of promoting and selling products and services directly to individuals. Local businesses and restaurants typically have B2C target audiences.
The main difference between B2C and B2B Marketing is the difficulty of sale. It's much easier to sell anything to an individual consumer. This is because B2B customers must go through a chain of command before they receive the authorization to make a purchase.
For example, a vendor selling a marketing product to Apple won't likely be in contact with Tim Cook, the CEO of the company. Instead, they'll be in contact with the marketing manager who must do his or her's due diligence of researching the product, gaining approval from his or her's supervisors, etc.
Additionally, B2B companies must use precise methods to reach out to businesses instead of individual consumers.
Unlike B2C consumers, B2B consumers only buy what they need and not what they want.
Therefore, it can be fairly difficult to convince a business to invest their resources in a product or service, while encouraging people to buy a product or service can be simpler depending on their motivation.
Having a great reputation is essential for practicing B2B Marketing as businesses are very careful with who they work with. People, on the other hand, are more willing to work with unknown companies.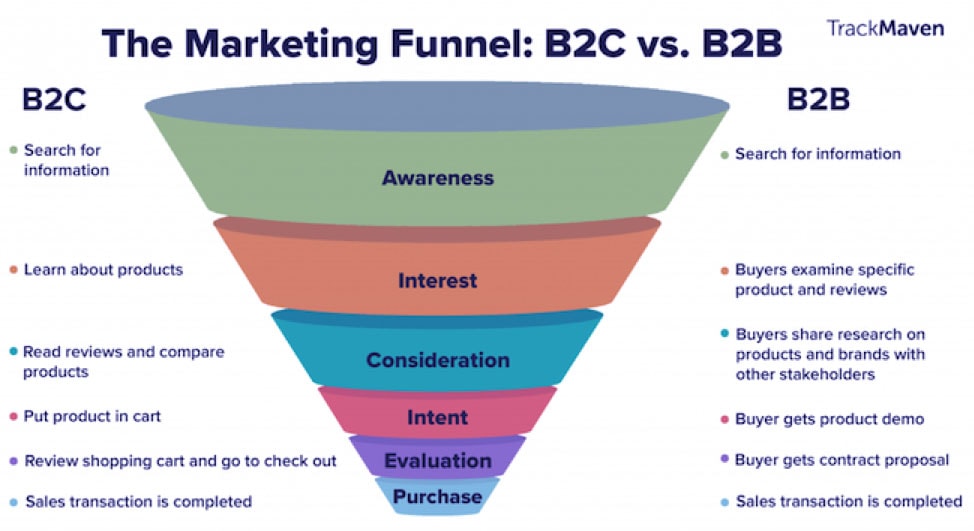 What's the Difference Between B2B Sales and Marketing?
B2B sales and marketing may be interchangeable terms, but the end goal of each term is significantly different. In business, marketing entails generating interest in a product or service.
Sales involve the journey of getting a prospect to make a purchase. Once you have received a lead through your B2B marketing efforts, you'll need to guide them down your sales funnel.
The most standard sales funnel B2B companies use is the Buyer's Journey. This roadmap features each stage of consumerism, from the moment of awareness to the final point of sale.
B2B sales and marketing are intertwined. Though, these terms have different meanings. As a result, your sales and marketing teams work together to capture and refine leads to boost your revenue.
If you need help in configuring your own B2B marketing strategy, contact Agency Partner Interactive today to learn how we can help you!
Not big on reading? That's okay. Watch "The Basics of B2B Marketing?" instead.
Using the power of Artificial Intelligence, we turned this Blog into a video for you. Check it out below!