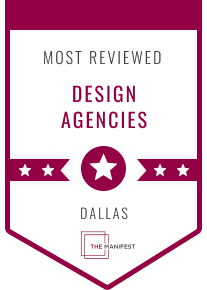 The Agency Partner Interactive LLC team is delighted to announce that we've been recognized as one of the best design agencies in Dallas! The Manifest has recently published its list of the most-reviewed design agencies locally, and we are proud to be featured on this amazing roster.
The Manifest, for those of you who don't know, is a business news and how-to website that compiles and analyzes practical business wisdom for innovators, entrepreneurs, and small and mid-market businesses. Their mission is to gather and verify the hard data, expert insights, and actionable advice that you need to build your brand and grow your business – to provide the practical business wisdom that manifests in your success.
The Manifest lists us at the top of Dallas' design industry, and we are still overjoyed with this amazing accomplishment. We would like to take this opportunity to thank our clients and partners for their amazing support! Our team is overwhelmed to be working with such amazing and great people in the industry.
To top it all off, we've compiled a list of some of the best reviews we've received in the past years!
"Agency Partner has a truly fleshed-out process of developing and launching a website. I've known what the project is going to look like from the beginning. As a result, there have been no surprises or major deviations in the plan. Everything has been systematic, and I truly appreciate that."
Tifiny Swedensky, Marketing Director at Great Legal Marketing, LLC
"The team communicates very thoroughly and often. They wanted to use basecamp but I requested things just be done through email. I can tell the team at API truly has my best interest at heart and wants to help my new business succeed."
Connor Morgan, Founder of a Business Consultancy
If you want to learn more about us and the services we offer, then feel free to give our office a call! We'd love to hear from you.