Expert Tips For Custom Software Developers
The demand for quality software is growing tremendously, insomuch that there is an increasing saturation in the market of software developers. This is both a blessing and a curse.
Mainly, having countless options to choose from on your search for a quality developer is a breath of fresh air.
Though, this means you will have to conduct an in-depth consumer review on all prospective software developers. 
If you're completely new to the process of hiring a custom software developer, this can be complicated. Therefore, if you need new, custom software for your organization, you can read this guide to make the right decision. 
Build a Shortlist
Again, if you are new to hiring a software developer, you'll be hard-pressed in finding somewhere to look for the best option. Let's start with the basics of locating any quality company: asking for recommendations.
If you have a business associate (not a competitor) that has recently developed software for their company, you can simply ask where they acquired their product. If you liked their software, you will be sure that the same work will be put forth for your business.
Therefore, add software companies from personal recommendations on your shortlist. If this option doesn't work for you, you can try finding local software companies via local search. 
Let's try out using a basic keyword like "software developers near me" and see what happens.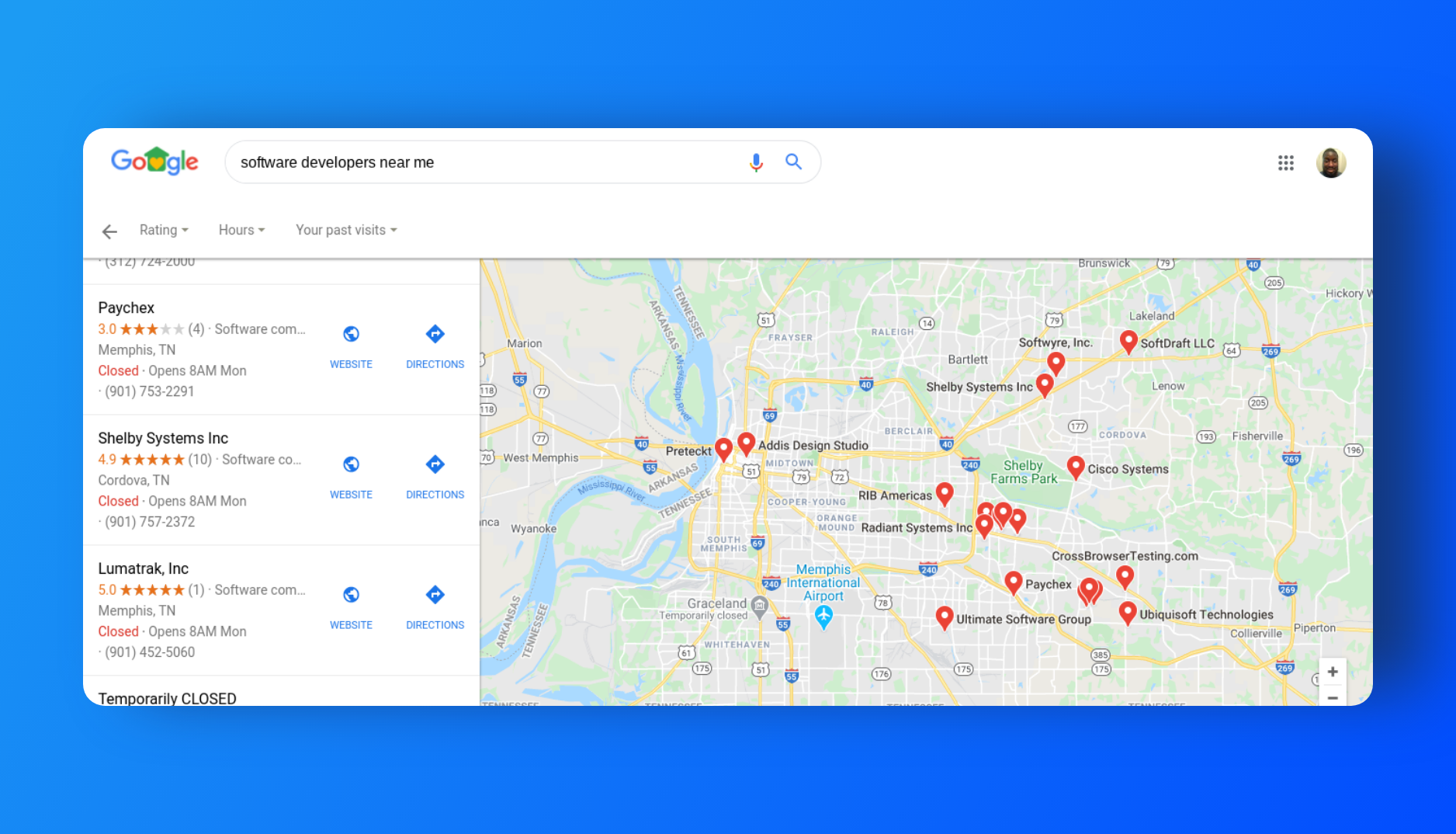 As you can see, there are a healthy number of software developers using this search. Here are the main things you should look for in Google Map rankings:
Star Rating:

This indicates the quality of a business based on online reviews.
No. of Reviews:

This number is in parentheses next to the star rating. You can generally trust a business with 10 reviews with a collective rating of 4.9 than a business with one 5-star rating.
Online Reviews:

These can be found by clicking on the listing and scrolling down. Reviews are both short and long details of consumer experiences.
47% of consumers only work with businesses with more than four stars. You should choose carefully based on the results you receive from local searches. Hence, don't be too quick to add software developers to your shortlist even if they have a positive online reputation.
Lastly, collect and verify referenced based on short interviews with prospective software developers. If you like what you see and hear, you can add the final candidates to your shortlist.
You may realize that your shortlist contains dozens of companies, and that's fine. The next step will involve confirming if any shortlisted candidates will be a good fit for your company.
Verifying Your Shortlisted Candidates
Software development is a thriving industry. There are thousands and possibly more companies that specialize in creating software applications. Conducting a basic internet search will provide more software developers than you can count.
However, how do you make sure that these companies meet your standards and can lead to the production of your software project? Check for these things when moving on with your search.
Company Portfolio:
Every software developer will claim to offer the best services. Hence, you should check every company portfolio you come across in order to verify these claims. Make sure you look for details such as delivery timelines, team sizes, tech stacks, etc.
Also, take note of any company that has first-hand experience in developing software for your industry. Typically, large companies have massive resources and specialize in many niches, while smaller companies operate in specific niches.
Client Testimonials:
Ideally, you'll want to partner with a company that has a proven track record of achieving successful results. In this case, you should ask for client testimonials and case descriptions. 
Unless clients are prohibited by a non-disclosure agreement (NDA) from speaking to you, pick their brains about important details of what it was like working with a prospective software company.
Did they consider their project to be successful? How would they rate communication and deliverables? Would they recommend them as a potential partner? These are all questions you should have answered before moving forward with any company.
US/EU Jurisdiction
There are some legal requirements involving the process of software development that relates often to healthcare, insurance, and FinTech. Any software that utilizes sensitive data receives stringent governmental oversight.
To stay compliant with the latest mandates of the Federal Government, hire a software developer that operates under US/EU jurisdiction.
Talent Partners/Network of Resources:
When hiring a software developer, you shouldn't have to worry about any of the technical details of accessing a wider pool of talent. That's, after all, why you're making a hire in the first place.
Choose a software company with either talent partners or an extensive network of resources to ensure that your projects run smoothly. 
Selecting the Right Engagement Model
Onshore and offshore software companies will generally offer a few standard engagement models for you to choose from. The tricky part is knowing which one you should select for your business. 
Fixed Price:
This is the simplest engagement model. You and the software company agree on the scope of the project and determine a fixed price. Any additions to the project are almost always identified, which come at a fixed price as well.
This model is ideal for smaller projects. 
Time and Materials (T&M):
Unlike a fixed price model, this doesn't have a defined budget. Before your partner begins, you must agree on the total amount of hours for the project. This model is ideal for complicated projects that are difficult to pin down in terms of production costs.
Dedicated Development Team (aka Extended Team):
This model serves as an extension of your company. You retain ultimate discretion and control over your project. This model is ideal for large projects with changing needs and the requirement of full-time development services.
Give Us a Call Today!
Do you want to work with a qualified customer software developer? Give us a call at (214) 295-5845 or click here to receive a free quote.  
Not big on reading? That's okay. Watch "How to Hire a Custom Software Developer" instead.
Using the power of Artificial Intelligence, we turned this blog into a video for you. Check it out below!