Nowadays, digital growth is an essential business metric that organizations need to keep track of, and understandably so. As more and more people rely on digital means to discover goods and services, businesses would be missing out on potential clientele if they didn't incorporate digital marketing trends into their outreach strategy.
A team of experienced digital marketing and development professionals, Agency Partner Interactive LLC helps businesses navigate the age of digital transformation seamlessly. Our mission is to understand our clients' brands and leverage technology to bolster their revenue generation.
As we get to know your business and apply the best marketing strategies for your brand, we feel honored whenever we receive a new 5-star review on Clutch.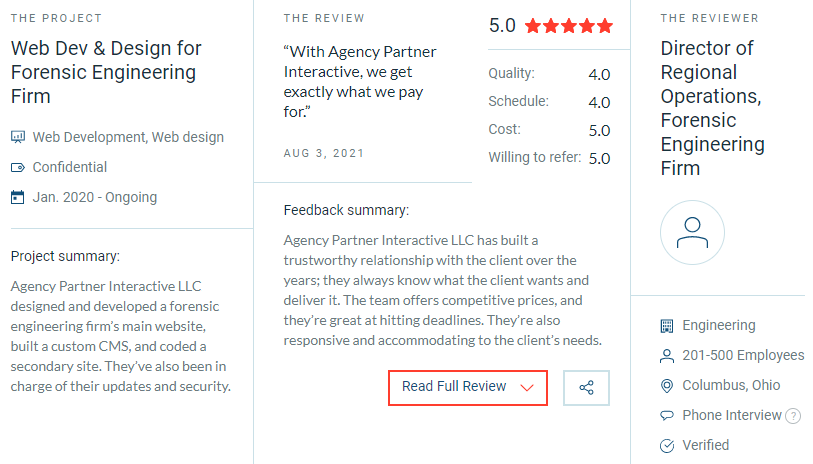 To give you a clearer picture of why feedback on Clutch is essential for us, Clutch is B2B ratings and reviews platform based in Washington, DC. They evaluate technology service and solutions companies based on the quality of work, thought leadership, and client reviews. A rapidly expanding startup, Clutch has become the go-to resource in the agency space. Their review process is reliable and transparent, and we're grateful to those of our clients who have taken the time to provide feedback.
Clutch's sister site, The Manifest, also provides business tips, news, and company lists to market researchers, helping them in their decision-making process.
In our most recent Clutch review, our year-long partnership with Trinity Hardwood Distributors was perfectly explained by their Marketing Manager, Jacqueline Jamie:
"We needed an up-to-date website for our customers, so we hired Agency Partners Interactive. I found Agency Partner Interactive on Google and chose to work with them because they offered the best price among other agencies."
The project's scope involved developing and designing their website and breathing life into the site through content creation. 
The results have been overwhelmingly positive, and we're glad to see Trinity Hardwood Distributors delighted with the project's results.
"We've noticed an increase in our website traffic. The online forums that they implemented on our website have helped us generate leads online. It was nice to work with Agency Partner Interactive because they had a team of diverse cultures. It made them stand out from other agencies."
We're always looking forward to helping businesses grow digitally. So talk to us today and get a free quote.