Search Engine Optimization (SEO) is a strategy businesses can't afford to ignore. This is particularly true for Houston eCommerce businesses interested in using SEO in their marketing strategy. Visibility is everything online, and SEO puts you right where you need to be – in the spotlight. This blog uniquely examines the relationship between eCommerce web design optimization and SEO, tailored for businesses targeting or operating in Houston.   
Houston eCommerce SEO Market: Trends & Statistics 
According to the U.S. Census, Houston ranks as the 2nd fastest growing metro area in America and the 4th most populous city in the country. With the U.S. eCommerce sales rising to over a trillion dollars, marking a 7.7% YoY growth in 2022, Houston's increasing population makes it an eCommerce focal point. While this booming industry is ripe for opportunity, standing out amongst the competition can be a challenge. That's where eCommerce SEO services become a vital part of being seen and succeeding online.   
The Intersection of SEO and Houston Web Design Services
Often overlooked, the relationship between eCommerce web design optimization and local Houston SEO plays a pivotal role in shaping online success. A poorly designed website can drastically affect your SEO rankings, no matter how good your products are.  
Likewise, a stunning design won't do you any favors if search engines can't find your site. Simply put, eCommerce businesses require eCommerce web design services and SEO strategies to excel and stand out in the competitive online landscape.  
4 Web Design Elements That Impact eCommerce SEO Houston
1
 Page Load Speed 
Page load speed is critical, not just for your users but also for SEO. A slow website will lose customer interest and be penalized by search engines like Google. Consider compressing images, limiting large media files, and leveraging browser caching to speed things up.  
2 Mobile Responsiveness
During the first three months of 2021, more than half of the global web traffic came from mobile devices, accounting for approximately 54.8%. Google prioritizes mobile-friendly websites when ranking, and a responsive design ensures a smooth user experience, contributing to lower bounce rates and better SEO rankings.  
3 User Experience and Navigation
A site must be easy to navigate. If users can't find what they're looking for, they'll leave, and your bounce rate will increase, affecting your SEO rankings negatively. Top web design services help create an intuitive, easy-to-navigate website, which keeps users engaged and search engines happy.  
4 On-Page SEO for eCommerce 
On-page SEO elements like headers, meta descriptions, and alt text are vital, particularly for Houston eCommerce brands. Good web design integrates these elements seamlessly, making them easily editable and strategically placed to be user-friendly and search engine friendly.  
eCommerce SEO Tips: 5 Key Metrics to Track
Knowing which numbers to watch can significantly impact your SEO efforts. Here are some key metrics to monitor to make sure you are on the right track: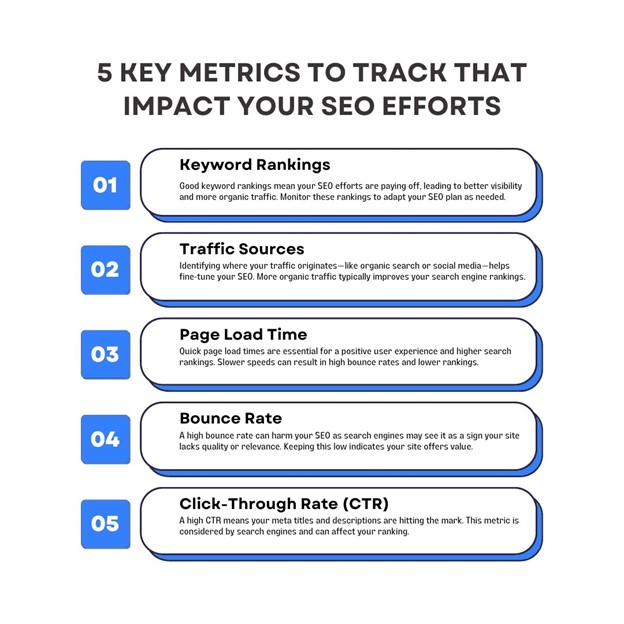 Monitoring these metrics are valuable eCommerce SEO tips that can provide vital insights and help fine-tune your SEO strategy to rank higher on SERPs.   
Features in Web Design Services to Improve eCommerce SEO
Your website's design is a foundational aspect that can significantly influence your SEO efforts. Here's how:  
Structured Data Markup
Using this allows search engines to understand the content on your page better, making your website eligible for rich snippets in search results. This can increase your click-through rates and improve your ranking in the SERPs.   
Optimized Images
Compressing images and using the correct file types reduces page load time. Search engines consider page speed when ranking sites because faster pages provide a better user experience.   
Proper CSS/JavaScript Handling
Well-structured and minimized CSS and JavaScript files can also increase page load times. Google and other search engines reward faster-loading pages with higher rankings as they offer superior user experience.  
Mobile-Responsive Design
Search engines prioritize mobile-friendly websites for their SERPs, especially after Google's mobile-first indexing rollout. Therefore, a mobile-responsive design is essential for better rankings in a world where mobile usage is continuously growing.   
Internal Linking Strategy
Effective internal linking helps users navigate your website more efficiently and allows search engines to find and index all your website pages more efficiently. Google's algorithm views well-linked content as more valuable, leading to better rankings.    
Now that we've outlined general web design tips for Houston eCommerce brands, let's zero in on strategies uniquely tailored for businesses operating in Houston.  
Web Design Tips: Local SEO Strategies for Houston Businesses
Local SEO for Houston businesses and eCommerce web design optimization strategies are essential for success. For instance, mentioning local landmarks in your web content can significantly bolster your local SEO efforts. 
Incorporating elements of local culture into your website's design can resonate more deeply with Houston consumers, improving user experience and potentially driving more local traffic to your site. Additionally, participating in or discussing local events on your platform can serve as another avenue to increase your visibility in local search results.  
Choosing the Right Houston SEO Company and Web Design Agency
Choosing the right partner for your Houston web design services and SEO company is more than a decision; it's an investment in your business's future. That's why at Agency Partner Interactive, we specialize in understanding the unique challenges and opportunities, especially in the Houston eCommerce SEO sector. 
Our 2022 case study highlights our effectiveness, as we doubled a client's keyword rankings and boosted their user traffic by 158%. Apart from being a top Houston web design agency, we offer custom digital marketing services, like local SEO services, content marketing, on-page product optimization, and more, always staying current with the latest trends to ensure you're ahead of the curve. If you're targeting the Houston eCommerce market, our local expertise becomes your asset for specialized Houston SEO and web design strategies.   
Ready to maximize visibility and drive consistent sales?    
Schedule a FREE consultation to discuss your business needs and build a tailored SEO and web design strategy that can give your eCommerce brand the boost it needs to stay ahead!