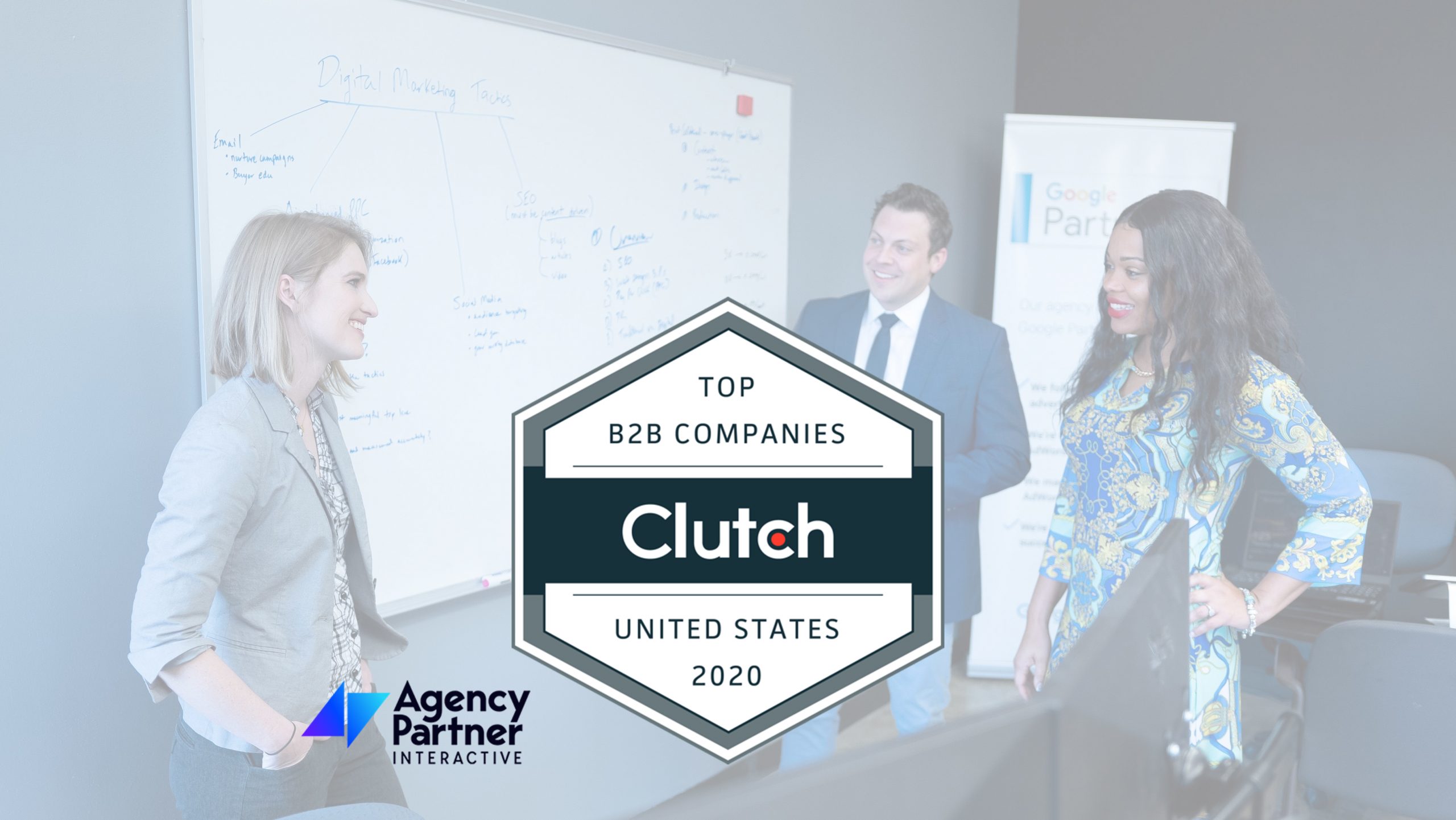 Awards,Digital Marketing,Media,News, - September 28, 2020
Clutch Reveals List of the Most Highly Recommended Digital Agencies in the United States
Agency Partner Interactive Named Top B2B Service Company
Clutch.co reveals list of the most highly recommended B2B Companies in Texas
DALLAS, September 28, 2020 – Clutch.co today revealed that Agency Partner Interactive has earned an award as a "Clutch Leader" – a list of the leading B2B service providers in Texas for 2020.
The B2B ratings and reviews platform, Clutch, publishes an annual list of the most highly recommended companies that serve the web design, branding, eCommerce, and digital marketing needs of B2B companies, among others. The Clutch.co team considers services companies across all states and then names the top companies in the United States. For the most part, the Clutch team does this to help buyers in the market make purchase decisions.
"We have invested into building the processes and hiring the right people necessary to help our clients be successful. We work to understand the specific drivers and business goals that each of our customers have defined for themselves, and then we work tirelessly to help them get to the next level," said Muhammad Younus, founder and CEO.
The Clutch research team selected these companies based on their ability to deliver high-quality work for their clients. Each company is grouped into one of four categories based on their specific services and then organized by their Clutch rank. Agency Partner is listed in the #45 position under the category, "Top Leaders in Texas."
"These companies stand out because of the positive feedback their clients shared with the Clutch team. The quality of their verified reviews shows that these companies know how to deliver exceptional work to their clients," said clutch Founder Mike Beares.

"As more companies highlight their leadership in the industry and build their online reputation through third-party reviews, I hope the process of finding the right service provider becomes easier for business decision-makers."
Clutch is an established platform in the heart of Washington, DC, committed to helping small, mid-market, and enterprise businesses identify and connect with the service providers they need to achieve their goals. Their team of analysts interview service providers' clients to collect client feedback, analyze industry data, and compare competitors in a specific market to arm businesses with the information they need to connect with the right service providers. Using this methodology to identify market leaders, the Clutch.co team is pleased to share these insights with buyers and sellers in the United States.
 
About Clutch
A B2B research, ratings, and reviews firm in the heart of Washington, D.C., Clutch connects small and medium businesses with the best-fit agencies, software, or consultants they need to tackle business challenges together and with confidence. Clutch's methodology compares business service providers and software in a specific market based on verified client reviews, services offered, work quality, and market presences.

CONTACT:
Adam Rizzieri, Chief Marketing Officer
adam@agencypartner.com