All Blogs,Digital Marketing, - June 11, 2020
A Beginner's Guide to Successful Email Marketing
Expert Tips For Email Marketing
Marketing strategies usually have the purpose of attracting qualified leads to do business with you. Email marketing is very different in this regard. In email marketing, you already have qualified leads in your email list and the purpose is to convert them.
Email marketing takes all of the hard work out of prospecting for potential customers. The more your email list grows, you will have the attention of hundreds and even thousands of people that could potentially purchase your products and services.
What you do with this attention will impact the performance of your email marketing campaign. If you want to bypass a bit of the learning curve of making rookie mistakes in your first campaign, continue reading to learn all you need to know about email marketing.
What is Email Marketing?
Email marketing is the process of converting prospective customers in an email list. An email list is a collection of people, known as subscribers. If you've ever visited a website, then you've likely seen a prompt urging you to sign up for a newsletter or email list.
Here's an example of what this looks like: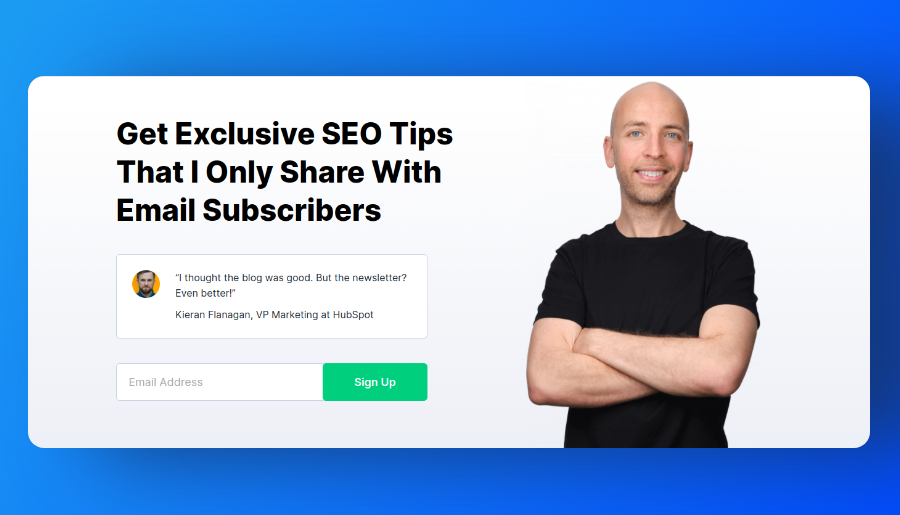 Successful companies have large email lists, which are ideal for eventually converting new customers and encouraging repeat transactions from existing ones. Email marketing is a valuable means of creating an engaged audience for your business.
Why is Email Marketing Important?
Email marketing delivers the highest return on investment (ROI) than any other marketing initiative. This speaks volumes of how email marketing can benefit your business.
Still not impressed?
If not, then check out these benefits of beginning an email marketing campaign for your company. 
Quality Collection of Leads –

Email lists are full of qualified leads who can convert at any moment. 
Ease of Conversion –

Unlike other marketing campaigns, subscribers are simple to convert. You don't have to craft long-form content and engage in extensive keyword research. 
Increased Website Traffic –

You can take advantage of your email list to achieve a continual flow of website traffic. Increased visibility will lead to more conversions sooner or later.
Feedback –

More than any other marketing strategy, you can understand what your subscribers are feeling by sending out surveys and optimize your campaign for better results.
As you can see, you can't afford to not have an email marketing campaign. Are you looking for insights on how to start and grow your campaign? The next section will discuss core email marketing techniques you need to employ immediately.
What are Essential Email Marketing Tips?
If you're new to email marketing, understanding how to navigate your campaign can be challenging. The good news is that email marketing is pretty straightforward. Let's go over the basics of beginning your successful campaign. 
Segmentation:
Segmentation involves putting subscribers in specific categories. Each category receives a different marketing message. For example, inactive subscribers will be placed in a category where they will be sent re-engagement emails
On the other hand, subscribers likely to convert will be sent custom messages to get them across the threshold. You can't expect your email list to grow by sending the same emails to all of your subscribers.
This will cause them to tune out and eventually unsubscribe. Instead, send relevant email messages by segmenting your entire email list.
Personalization:
According to HubSpot, personalized emails deliver exceptionally high transaction rates. Personalization is the next step of segmentation. It involves creating a personal and relevant email message to each subscriber. 
Again, your email list won't grow if you copy, paste, and send similar emails to every subscriber. It's important to realize that people receive dozens of emails every day and will quickly become annoyed if they see that your correspondences don't appeal to them.
Although it may take more time and effort, sending personalized emails is key to your overall success at email marketing. 
Subject Lines:
What is the first thing you notice before opening an email? It's, of course, the subject line. Emails with a personalized subject line have an open rate of 7.4% and a click-through rate (CTR) of .4%.
It's pivotal to create emails with captivating subject lines. This will increase the CTR of your emails and make sure you are generating positive ROI from your campaign. 
Welcome Emails:
Perhaps the most important aspect of any email marketing campaign is the welcome campaign. It serves the following functions:
Welcome emails set the tone for the entire campaign.

Welcome emails allow you to begin segmentation. 

Welcome emails increase engagement and allow you to introduce yourself.
If you need inspiration on how to create the perfect email campaign, then take a look at this welcome email from Asana.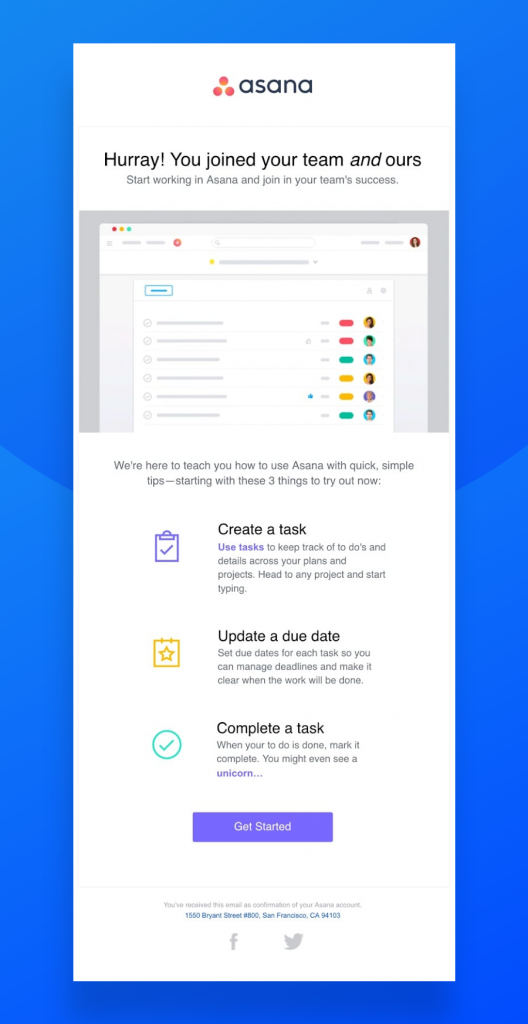 Or, you can check out this one from Away.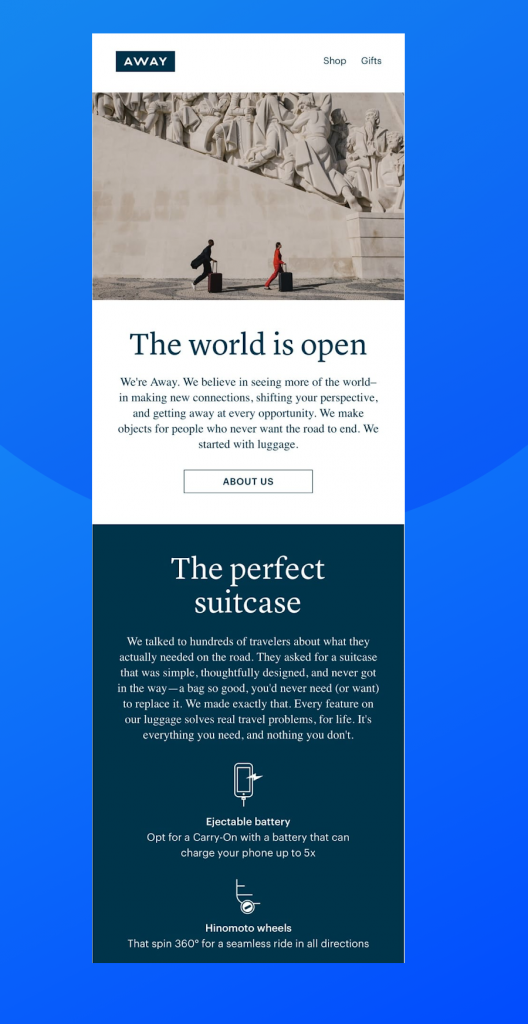 These welcome emails do more than just say hello. They give subscribers something to look forward to. 
Remarketing:
There will be a time where your emails will not reach everyone on your email list. If you notice that your email list has a bunch of inactive subscribers, you should begin a re-engagement series. 
These series of emails will attempt to reach subscribers that haven't interacted with your emails in a while.
Reengagement emails look like this: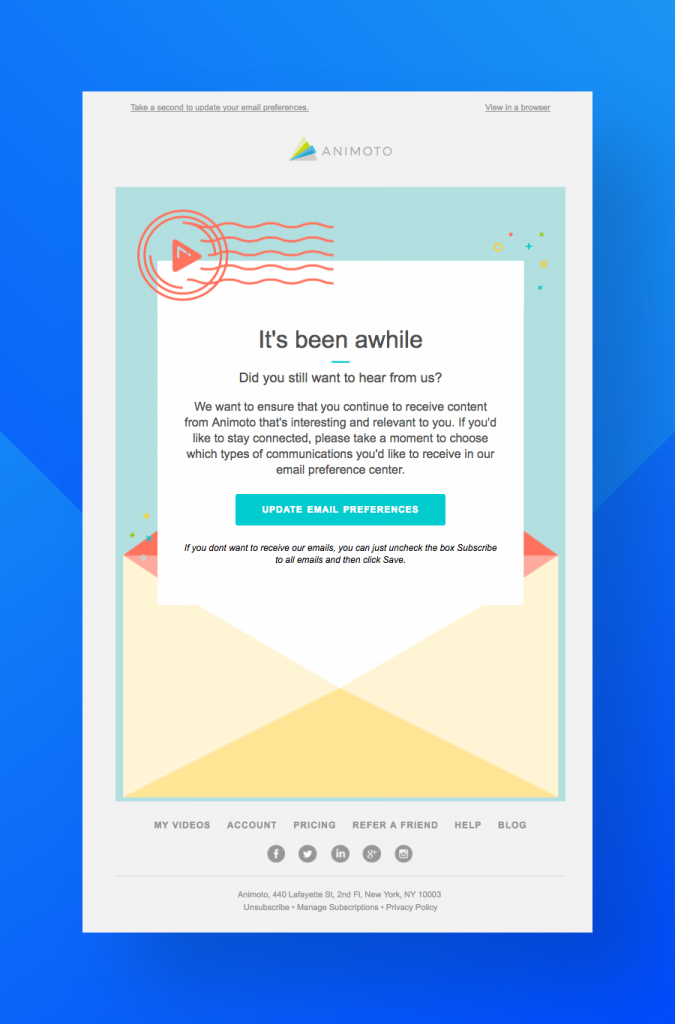 As you can see, re-engagement emails are a formality in email marketing. However, these emails are simply an attempt. If inactive subscribers don't engage with your campaign in a while, it would be best to let them go. 
Email Copy:
If you want people to engage with your emails, you have to sound like a real person. Emails aren't essays. Therefore, it's not time to show off any extravagant words. A great, conversational email looks something like this. 

Give Us a Call Today!
Email marketing is a simple concept, but carrying out a successful campaign takes a lot of work. Hiring an experienced digital marketing agency may be in your interest if you need assistance.
If you want to learn more about how you can hire Agency Partner Interactive, give us a call at (214) 295-5845 or click here to receive a free quote.   
Not big on reading? That's okay. Watch "A Beginner's Guide to Successful Email Marketing" instead.
Using the power of Artificial Intelligence, we turned this blog into a video for you. Check it out below!