All Blogs,Digital Marketing, - March 20, 2020
How The Coronavirus (COVID-19) Impacts Digital Marketers
Are You Seeing a Traffic Growth or Decline Due to COVID-19?
Immediate Changes to Cost Per Click in PPC, Big Fluctuations to Website Traffic Across Industries
Now that it's officially a pandemic, it's safe to assume that your daily business and personal life has been turned upside down by COVID-19. At Agency Partner, we have been watching the market closely and talking with our clients, representing multiple industries, to better understand how the coronavirus outbreak is affecting business…. specifically online marketing.
While we can only hope to see this activity settle by the end of April, the harsh reality is that for now, we are seeing something like 13,000 new cases per day. From that, we have seen global markets crash, small businesses close, and remote work become a new mandate for companies that continue to operate. Among the chaos, we see heroism in our healthcare workers, gestures of solidarity from one nation to the next, and signs of hope in generosity.
Organic Traffic is Down for Most, Up for Some!
From a global perspective and only looking at websites that average 5,000+ visitors per month, Neil Patel's Ubersuggest tool shows us a huge drop in organic traffic for most industries. Looking at data comparing Last Week versus the Previous Week, the graph below shows us some strong swings in organic visits!
Traffic Growth or Decline Due to COVID-19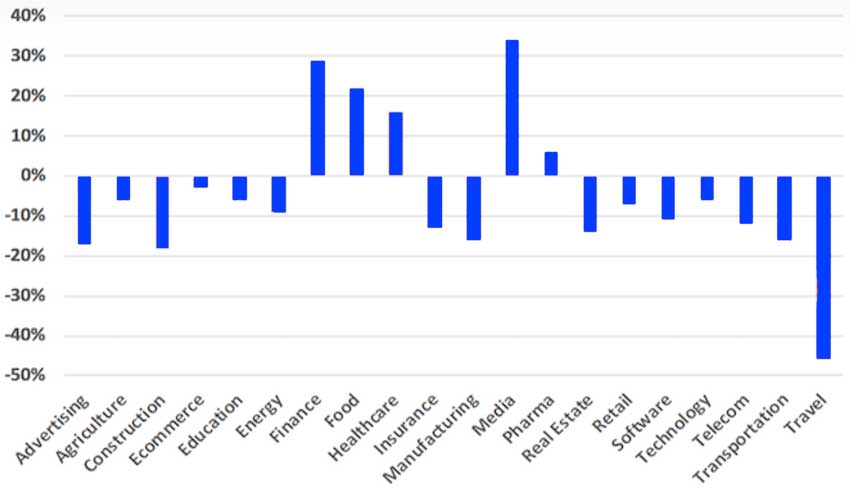 News websites are doing fine, with a demand for new information at a global peak, so you can expect that those site owners are earning a fair amount of new revenue due to banner ads and media placements. The same thing goes for the financial services industry. We know that with interest rates at such historic lows, property owners are looking to refinance long-term mortgages and businesses are getting access to "cheap" capital.
As we know, the travel and hospitality industries are really hurting right now! Their traffic has tanked. Most people that are seeking out the airlines today are doing so to cancel flights – as I was supposed to be on a flight today, that includes me!
On the flip side, e-commerce shows some mixed results and niche e-commerce businesses are seeing a ton of new growth. More people are forced to stay home and shopping online at an increasing rate. From food, toiletries, and incidentals to self-defense gear and more, savvy business owners and their digital marketers are finding success in the face of challenging times. The e-tailers selling some of the more "nice to have" luxuries like Louis Vuitton bags, laser pointers, and sound systems are having more difficulty than sites that feed the needs of basic existence.
These are all things that we expect to see level out within about 4 to 8 weeks. We do not see this persisting through early summer… maybe just through April and part of May.
Conversions Down For Most Industries
We know that organic traffic is down for many and this is not a surprise.
For those industries seeing a boost in new site volume, their conversions are more frequent though the actual conversion rate is lower. This is simply because the traffic mix includes a new ratio of people that may be in earlier phases of their buying cycle.
With some effective remarketing and nurture marketing, you may not score the conversion today but stick to your guns and expect to monetize those visits in the short-term, depending on your business sales cycle.
Pay Per Click During Coronavirus
Warren Buffet says to be fearful when others are greedy, and greedy when others are fearful.
I'm not trying to give you investment advice but those who were able to double down during the dot-com crash in 2000 and the real estate disaster in 2008 are the ones that came out on top.
During difficult economic times, you will see that competition is less. With fewer competitors going after the same customers, you will quickly see lower Costs Per Click ("CPC") and cheaper customer acquisition.
In the immediate, Google search is in a small state of shock, and very temporarily, the market is showing a slight increase in CPCs. We interpret this to mean that Google and Bing search algorithms are still honing in on the "why" behind so much new instability in the world's pay-per-click campaigns.
Over the duration of a very short period of time, and atypically so, the aggregate of the globe's PPC campaigns have been starting and stopping with irregularity. Marketing for many brick-and-mortar retailers, leisure brands, and travel-related PPC marketing is on a Pause. This presents some huge data outliers and the search algorithms are simply trying to understand what this activity means.
On the flip side, digital healthcare, niche e-commerce, and delivery food service campaigns are devoting a great deal of advertising budget to new pay-per-click campaigns.  As the market finds a new normal, we expect to see PPC cost variables settle down in the immediate future.
SEO During The Battle Against Covid-19: Think Long, Not Short
For anyone who is currently working with Agency Partner for their content-driven SEO marketing needs, from day 1 we have made it clear that SEO is something a business does as part of their long-term marketing game. This is something a business does to both dominate their industry and add a ton of value to their website and its users.
While we expect to see some fluctuations in today's organic traffic metrics, the work that we do each day remains unchanged. Coronavirus will shrink the market, driving some of your competitors under, however for those of us that plan to compete during these challenging weeks ahead, your continued investment in SEO will help you continue to either rise to the top in your industry or maintain your position as the market leader.
Many big brands are facing difficult cuts to their marketing budgets… some as drastic as 50%. The smarter brands are not devoting 100% of their modified budget solely to customer acquisition. The savvy ones are on longer-term brand building missions and content-driven SEO is a great tool for this.
We love working with clients to address immediate and long-term needs. Our team continues to produce a highly efficient SEO growth product and as things settle we will re-evaluate competitive analysis to see how things have changed over time.
The Comeback Is Always Greater Than The Setback
If your business is not able to fulfill clients right now, there is still a way to keep your campaign active and create value from it. For service businesses, expect a lot of your competition to fizzle out and get pretty quiet.
Use that to your advantage and leverage marketing to fill your calendar with new leads and appointments that you can either close or follow up on in the middle of April or the start of May.
Use this time to ensure that your late Spring – early Summer is fully booked and make up for any lost revenue that you may be feeling right now. The comeback is greater than the setback and there is a way to still make 2020 your biggest year ever!
Also, use this time to look at your landing pages. Analyze your Google Analytics data to see where people spend the most time on your site. Look at competing websites and take note of what they do differently from a function, look, and feel perspective. Ensure that your conversion funnel, the path that takes people from clicking an advertisement to making a purchase or submitting a form, is straightforward. The goal of your campaign should be simple and easily achieved by your target customer.
If You Can, Do Some Good
Some brands are struggling more than others. The larger, more established brands are taking the new losses and working to create a more altruistic, timely good. We know that times are tough and a hand-up can be life-changing.
Hats off to LVMH, the luxury retail company that brings us brands such as Louis Vuitton, Tag Hauer, and Moet-Hennessey. In France, they noted that people are in need of basic safety products such as hand sanitizers. With that in mind, they converted their manufacturing lines for Guerlain, Parfums Christian Dior, and Givenchy into mass production facilities for hand sanitizer. This came at a time when French hospitals were running completely without important supplies like sanitizer and masks!
As some brands are focused almost solely on internal marketing needs: things such as crisis management, policy adoption, and communication needs, others have eyes on their local community.
We know that hospitality workers and healthcare workers are suffering in a strong way right now. Mark Cuban, the owner of the Dallas Mavericks, is taking it upon himself to set up a program that will help pay for the daycare needs of healthcare workers that are working to save our communities. Mr. Cuban is known to be a generous guy. If you can, in whatever limited way, try and follow the spirit of giving… even if that means being generous with your time. Take the time at home as an opportunity to video chat with a friend, colleague, or relative that may be similarly stuck.
If you have it and have some to spare, then now is as good a time as any to share! Stay healthy and stay positive.
Best regards,
Adam
---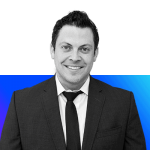 S. Adam Rizzieri
Co-founder & Chief Marketing Officer // Agency Partner Interactive
---
Resources:
Links:
Recommendations:
Please stay home if you are sick.
Wash your hands often with soap and water for at least 20 seconds and help young children do the same. If soap and water are not available, use an alcohol-based hand sanitizer with at least 60% alcohol.
Avoid touching your eyes, nose, and mouth with unwashed hands.
Avoid close contact with people who are sick.
Clean and disinfect frequently touched objects and surfaces, such as mobile phones and computer devices using a regular household cleaning spray or wipe.
Cover your cough or sneeze with a tissue, then throw the tissue in the trash. If you do not have a tissue, use your sleeve (not your hands).
Refrain from shaking hands…. "social distancing."
Don't hog all the toilet paper! More will come… Save some for your neighbor.