All Blogs,Digital Marketing,Web Insights, - February 11, 2020
How To Optimize Your Website for Voice Search
Tips From Search Engine Optimization Experts
Voice Search is one of the most growing trends of the past few years. If you don't believe that, here are a few core voice search statistics you should be made aware of.
Smart speaker sales have grown tremendously across the globe and will reportedly surpass $30 by the year 2024, according to

Global Market Insights

. 

55% percent of households are expected to own a smart speaker by 2020, according to

OC&C Strategy Consultants

.

71% of smart speaker owners predict they'll continue conducting voice searches in the future, according to

PwC

. 
That's not all. Here's an interesting infographic from Dialogtech that displays how smart speaker owners will use their devices in the future.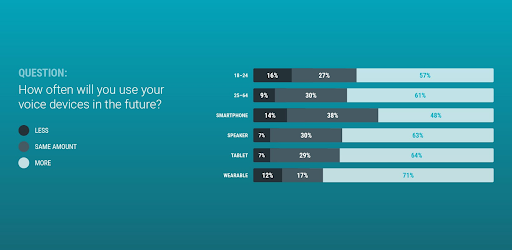 As you can see, voice search is a massively growing trend. With that said, here's how you can optimize your website for voice search.
Perform Long-Tail Keyword Research
If you're using current technology, chances are that you've performed numerous voice searches. For example, if you're on your way to a new job, you've likely asked Google to say, "Google, where are the nearest coffee shops near me?"
If you haven't, then you've probably asked Siri, "what's the weather looking like outside?" Regardless of the questions you've asked using a voice search, there is one thing in common with all of the search terms you're using.
Almost all of the search terms you'll use in voice search are long-tail keywords. Integrating long-tail keywords into your SEO Srategy can work wonders if you're trying to generate qualified leads via a smart speaker.
It's as simple as using your keyword research tools to find popular long-tail keywords and generating vivid variations of each one you find. 
Use Local Keywords
Like Long-tail Keywords, utilizing local keywords is also important for Optimizing your Website for voice search. People commonly use smart speakers to find local businesses. Therefore, don't count on Local SEO to go out of style now.
You'll still need to perform a lot of research on local keywords in your industry and invent creative ways of integrating these search terms in your site. For example, you can produce a FAQ page (we'll get to this later) to post all of your local keywords and begin accumulating SEO real estate. 
Provide Immediate Results
When people use smart speakers, they expect immediate results. So, what does this mean? If you are trying to find a nearby donut shop on a smart speaker, would you really feel comfortable visiting a shop if your speaker didn't give you any information on star reviews or even a phone number?
With that said, make sure your Google My Business (GMB) profile is up-to-date and carries all of your business info. Your smart speaker will typically derive all of its information from your GMB profile.
Still, this isn't all. You'll also need to make sure you have a fast website that's extremely informative.
Optimize for the Buyer's Journey
Regardless of the apparatus people use to conduct a search, optimizing your website for the buyer's journey is a critical aspect of the sales and marketing process. For example, let's say that you want to purchase a smart speaker. 
This is what a typical buyer's journey will look like and what you can expect a potential query to look like for each specific phase.
Awareness:

"What's the best smart speaker available?"
Interest:

"Can you set an appointment with Google Home?"
Evaluation: "

Is Google more intelligent than Siri?
Purchase: "

How much does Google Home cost?"
Customer Support:

"Why isn't my Google Home not working?"
Loyalty:

"What are some products that work with Google Home?"
Predicting which questions your customers are asking via smart speaker will help you to create a roadmap and design content that will guide them through each phase.
Add FAQs
Adding FAQs to your website is a great way to improve your SEO Ranking for popular questions surrounding your products or services. Google is already displaying popular questions in their organic search results.
If you take these questions and provide in-depth and helpful answers, there's a good chance that Google or another search engine will feature your answer as a rich snippet. Since smart speakers almost always rely on rich snippets for the answers of questions, this can serve as an amazing boost to your website.
Is Your Website Ready?
It takes a lot of effort to make sure that your website is ready for voice search. If you want to receive professional assistance, give us a call at (877) 682-2012 or visit our website at Agency Partner Interactive for more information.
Not big on reading? That's okay. Watch "How To Optimize Your Website for Voice Search" instead.
Using the power of Artificial Intelligence, we turned this blog into a video for you. Check it out below!