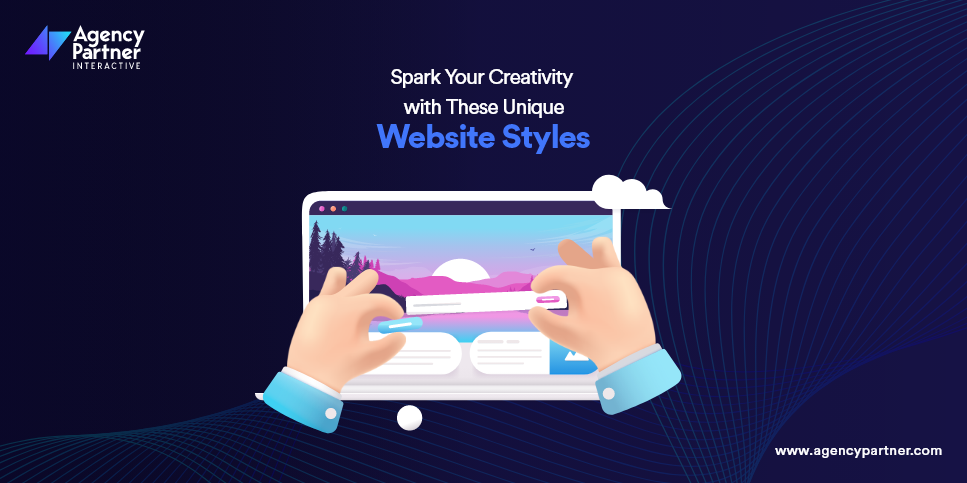 All Blogs,Digital Marketing, - January 24, 2023
Unique Website Styles to Inspire Your Next Web Project
In today's digital age, having a website is essential for any business. But with so many styles out there, choosing a creative layout that suits your brand can be overwhelming. In this blog post, we'll take a deep dive into some of the top website styles and trends in 2023 to inspire your next web project. 
From bold and striking to minimalistic and clean, we'll showcase the various ways brands use unique design elements to capture their audience's attention. So, get ready to be energized and discover how to make your website stand out in a crowded online landscape.  
 Agency Partner Interactive has created over 1800 successful web projects for clients spanning all industries. Our websites are optimized for functionality, aesthetics, user experience, and SEO. Want your website to make it on this list? Get in touch with us today to get started!  
Importance of Web Design & Development
Your website is the foundation of your online presence and reflects how your business operates. It's typically your customers' first interaction with you, so making a memorable impression is vital.  
If you're looking to boost your conversion rate, leads, and revenue, a website that truly stands out should be your priority. Here's why: 
According to Research Gate, 94% of first impressions are design-related, taking 0.05 seconds for users to decide whether they like or dislike a website. 
The visit-to-order conversion rate for well-designed websites can be up to 200% higher than for poorly designed websites, and visit-to-lead conversion can be over 400% higher on sites with superior user experience.   
Unique Website Design Ideas for 2023
While there's no shortage of creative website styles on the web, deciding which ideas will work best for you can be challenging. Let's dive into seven website examples to get your creative juices flowing!   
Apple
The beauty of Apple's website is its simplicity. Their website's primary purpose is to sell sleek products, which translates into their web design. The strategic use of white space, easy-to-read copy, and oversized product images make it easy for users to browse and navigate, keeping their attention focused solely on the buying journey.  
Swab The World
Bold colors, negative space, and parallax effects shape the design and experience of Swab The World's website. As an organization that brings awareness to stem cell donations, they use photos and playful animations to modernize and make accessible a process that's societally and scientifically complex.   
Spotify Design
Spotify is known as an innovator in many ways, and one of its newest iterations, Spotify.Design is no exception. As a hub for all things creative and visual, the streaming giant explains to its users who, what, why, and how their platform is exceptional. 
Bold colors, smooth animations, drop shadows, and abstract shapes give the website unique character and depth. These elements are also a prime example of using playful nostalgia as a 2023 web design trend. 
Hyer
Winner of CSS Design Awards Website of the Month in 2022, Hyer's website is clean, easy to navigate, and invites visitors to learn more. The moving airplane illustration grabs the user's attention and tells a story without taking away from the text. From its use of white space, easy navigation menu, and CTA, it's everything you need to create a dynamic and immersive user experience.  
Lebassis
For a heavy dose of '90s and Y2K nostalgia, check out Lebassis. Leandro Assis is a Brazillian lettering artist who creates bright and playful fonts taking inspiration from cartoons and illustrations. The unique graphic style of his work features flat blocks of color, black outlines, and animated effects designed to captivate and create an interactive experience.  
Superlist
Superlist is a productivity app that changes the way teams and individuals work and collaborate. Their interactive homepage displays examples of how their app works as elements dynamically move and shift as you scroll, enticing visitors to explore the site further. Unique animations, bright colors, and a blend of fonts communicate their brand identity and engage users as they learn more about the product.   
Shopify
Shopify is a global eCommerce platform enabling users to set up online stores easily. They offer consistent user experience across all devices by adapting CTAs and illustrations for desktop and mobile browsing. Examples of their work scroll and stop when hovering, and their adaptation of CTA placements for device-specific use, streamlining menus, and removing unnecessary elements offer a responsive and intuitive experience.  
The standout theme of 2023 is geared toward immersive experiences. Your website's aesthetic is a critical factor in whether visitors will stay on your page, but creating an interactive journey is the key to driving engagement. 
Dallas' Top Web Design Agency
Feeling inspired? If so, bring your vision to life with the help of Agency Partner Interactive's award-winning web designers! Our web development process puts your users first and helps drive more leads, conversions, and revenue for your brand. Whether you're refreshing an existing website or starting from scratch with a custom web design project, we have the tools, resources, and expertise to take your online presence – and business to the next level.   
Ready to get started? Get in touch for a free proposal today!