Digital Marketing,News, - July 16, 2021
With a Grain of Data: The Changing Face of Social Media
Why "Alternative" Media is the New Mainstream
Social networks like Facebook, Instagram, Twitter, and Youtube may be your go-to tools for marketing content today, due to the majority of attention that they command, but that may not remain the case as alternative platforms promise freer, better, and safer spaces. 
Below is a list of major new establishments that are threatening mainstream networks, and, following that, an idea of what consumers can expect going forth.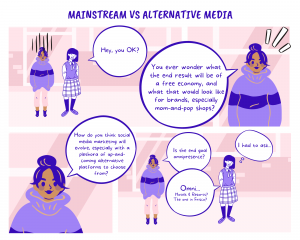 In a world where data is not only being collected, but also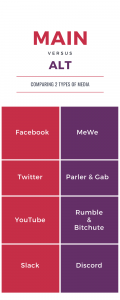 sold for profit, it's no surprise that people are opting for providers who treat them as people, not products. It's not the next thing, but a core value that customers of any industry have always catered to: connection. It's the "why."
The purpose, the mission, the values that a brand stands behind has been and will continue being the driving force behind the building of any community, especially as consumers become smarter, more conscious about who they subscribe to and why. 
Right now, Google's Chrome or Apple's Safari may be set as the default browser on your computer; Facebook and Twitter may be your go-to apps for outreach and engagement; Youtube could be the video platform you use to host and stream, but social media as we know it is evolving as you read this to offer more, include more– even the voices that are unpopular or banned entirely.
Some would argue that Big Tech has an unwavering monopoly over the market, and that the small business doesn't have a fair chance at competing unless they're willing to cooperate, but public opinion has remained ever-evolving and ever-powerful.
"Every time you spend money, you're casting a vote for the kind of world you want."

― Anna Lappe
A great example of this theory at work is when we vote with our money, or, to be specific, when we're choosing who to give our data to.
Following the storming of the United States Capitol, for instance, Parler received nationwide  attention as an alternative to Twitter. It was a hit, especially with conservatives as influential voices like the former president himself, Donald J. Trump, continued to be silenced.
While Twitter defends their action as a violation of "the company's policy against the glorification of violence," some progressive leaders have expressed discomfort with the suppression of speech:
"…if you're asking me, do I feel particularly comfortable that the President, the then-President of the United States could not express his views on Twitter? I don't feel comfortable about that."

-Bernie Sanders
Parler saw an opportunity in marketing itself as the "Free Speech Platform," but will those efforts count when small businesses are at the mercy of Big Tech? For example, if an iPhone user is curious about the Twitter alternative today and chooses to download the app via their App Store, they can't do so.

Why Does This Matter?
The Twitter vs Parler debate makes for a good case study for those interested in conscious consumerism and how choices made by these tech titans trickle down to the individual, and their lifestyle choices.
Since everyone and every business is unique, it's up to the entities alone to discover and develop a social media toolkit that works for them. 

Questions To Consider:
Where is my audience?

Where are they most, and least active?

Where are we the most, and least active?

Am I okay with sharing this data with a third party?
As you go, try auditing the tools that are at your disposal. Do you have a reason for using Twitter, and not Parler— or vice versa? You may choose to use both, but defining those parameters will help provide clarity, and some direction as to how and where you could be optimizing.
Here are some notable up and comers to look out for and how they compare to the mainstream platforms:
MAIN
ALT
ALT OFFERING

Twitter

Parler

Pros:




Privacy




Ad-free




Everyone's verified




Size limit increased (1,000 characters)




Cons:




Limited exposure




No fact-checking

Facebook

MeWe

Pros: 




Privacy




Ad-free




No Spyware




Cons:




Limited exposure




Costs associated with themes, stickers, page presence, cloud storage, voice and video calls

Youtube

Rumble

Pros: 




Fastest media player




Free speech protected




Monetization is higher




Simpler policies




Cons: 




Limited exposure

Google

DuckDuckGo

Pros: 




Data is not traded




Ads are not targeted




Searches are anonymous (like you've never been there before)




Cons:




Meta descriptions are small, almost difficult to understand or read




Users may find themselves fact-checking with Google anyway




Search results may turn up limited information

Slack

Discord

Pros: 




Unlimited messaging across all plans




Unlimited integrations




Free screen-sharing




Cons:




Limited to audio and video
For some, these benefits may not be benefits at all, but an inconvenience. No spyware is great in theory, but doing away with it means doing away with facial-recognition technology, tracking systems such as your GPS, and other personalized services that make our day-to-day tasks efficient. 
Perhaps the real conversation to have here is whether we're ready to give up comfort and convenience for privacy, or better yet, if it's possible to have the best of both worlds with alternative media. 

Take Control of Your Feed
Whatever the case is for you, we aim to inform. Algorithms and features are constantly changing, so it's important that you're consulting and confirming with the experts to stay true to your potential.
Agency Partner's award-winning team would be more than happy to sit down and develop an online strategy with you.