All Blogs,Digital Marketing, - May 28, 2020
How to Calculate your Google Ads Budget in 2020
Expert Tips on Google Ads
Pay-per-click (PPC) is one of the most effective means of generating qualified leads and maximizing online revenue opportunities. Businesses across the world spent a lot of money on PPC campaigns.
Unlike SEO, PPC generates leads almost immediately. It's an ideal revenue stream while you are building your online presence. Though, understanding how much you should spend on your Google ads is often tricky. 
There are a lot of factors that go into calculating and adjusting your Google ads budget. Let's go over the basics of calculating your Google ads budget in 2020. 
Study Your Finances
PPC is an investment. Before you can determine your Google ads budget, you should ideally understand:
How much you have available to spend.

How much you are comfortable spending.

How much you can reasonably afford to spend.
With this said, marketers must work in cohesion with business leaders to gain a deep understanding of organizational finances. Furthermore, here is how each step should go. Marketers should ideally consult with business leaders on the total amount they can spend on a campaign.
Then, marketers should receive guidance from business leaders on how much marketing dollars they are willing to experiment with. Lastly, marketers can decide on their own at what's reasonable to spend based on their expertise.
Let's break this down even further. Marketers aren't normally qualified or allowed to sign off on major investments on their own. Therefore, they should seek the counsel of their senior officials to streamline this process.
Keep in mind that the total amount you have to spend isn't a budget by any means. If you have any sort of experience with setting up PPC campaigns, you should use this amount in conjunction with your senior officials to decide what you're willing to spend.
Finally, you can make a decision on your own on a ballpark amount that you want to allocate to your Google ads. These are the most basic steps of setting up your Google ads campaign. 
Setting up your budget is contingent on what you're trying to achieve. The following section will explain how you can analyze your business goals to make a great decision. 
Know Your PPC Goals
Here's a question? What are you trying to achieve with your PPC campaign? Oftentimes, marketers take to online guides and videos to learn how they can better optimize their campaigns.
Though, does it make sense to follow the PPC advice of a multi-million dollar company when you have completely different customers and goals? There are a lot of PPC experts online, but you are responsible for understanding how you can adjust your budget based on your goals.
To do this, make sure you answer the following questions:
Do I have other marketing initiatives in play or am I focusing solely on PPC?

What is my target audience?

What is my unique selling proposition (USP)?

What keywords are relevant to your business?
Answering these questions and understanding your goals will make you ready to take part in the next phase of calculating your Google ads budget in 2020.
Use Google Keyword Planner to Optimize Your Budget
By now, you should have a great idea of how much you want to spend and your goals for your PPC campaign. Now, it's time to adjust your budget based on actual data. Before we begin, you should understand one important term: cost-per-click (CPC).
CPC is a rate that Google charges you every time one of your ads is clicked. Now you may be wondering, "I'm paying good money for my PPC ads, so why is Google charging me for when someone clicks on my ads (even if they don't convert)?"
The answer is simple. High-performance ads can more than makeup losses from a CPC. In fact, if you increase your ad score, your ads will rank higher while maintaining the same CPC.
With that said, Google Keyword Planner is a tool you can use to browse potential keywords you can use as well as the corresponding CPCs.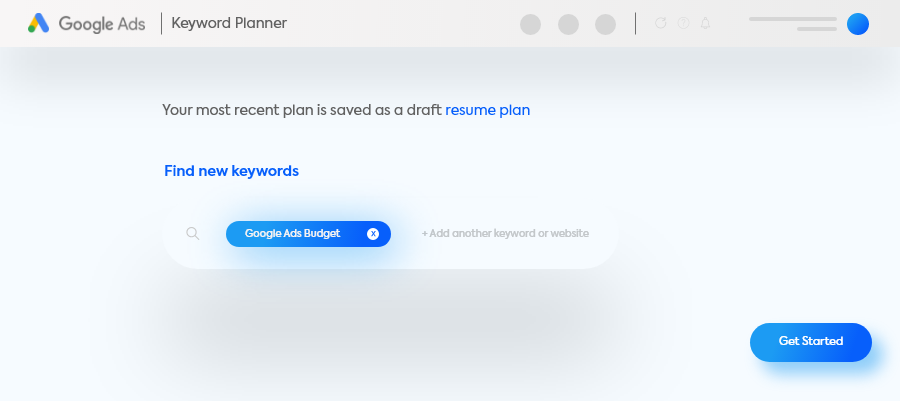 Let's say that you want to use the keyword, "Google ads budget".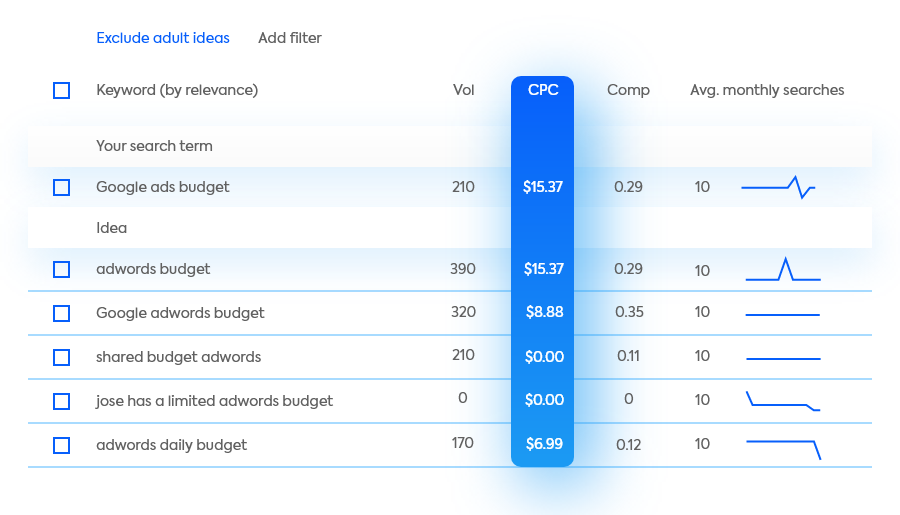 This is a glimpse of what using Google Keyword Planner looks like. Receiving CPCs from this tool will help you take your planned budget and modify it accordingly with real-life data. 
Keep This in Mind
Before you get ready to start your PPC campaign, you should keep this in mind: all campaigns must endure a phase of experimentation. It's unlikely that you will begin your campaign and produce desirable results immediately.
Performing A/B split tests, trying different keywords, and various ad formats are essential to understanding the precise techniques that can be used to drive increased revenue. Once you've found out what works, you can increase your spending and do whatever you want to improve your results.
So, What's Next?
You shouldn't rush to spend your entire monthly budget when starting your campaign. Otherwise, you could waste your time, money, and other valuable resources. Understand that losses in your campaign will happen.
Though, hiring an experienced PPC agency will help you avoid the learning curve and rookie mistakes that are sure to come if you aren't sure how to navigate your campaign. The quicker you realize what works, the better.
The best way to calculate what you're going to spend on Google ads is by hiring a PPC agency to provide you with a quote.
Give Us a Call Today!
There are a lot of PPC calculators available online. However, many of these tools only provide preliminary information that won't help you as you move forward throughout your campaign.
Instead, you should contact Agency Partner Interactive to provide a quote for your business. We specialize in creating high-performance Google ads on behalf of our clients. 
We can lead you on selecting the right budget based on your goals and available resources. Therefore, if you want to learn more about our services, give us a call at  (877) 682-2012 or click here to receive a free quote. 
Not big on reading? That's okay. Watch "How to Calculate your Google Ads Budget in 2020" instead.
Using the power of Artificial Intelligence, we turned this blog into a video for you. Check it out below!