All Blogs,Mobile, - May 21, 2020
How Much Does it Cost to Make an App in 2020
Expert Tips on Application Development
If you're here, then chances are you want the direct answer to "how much does it cost to make an app in 2020?" In reality, the answer varies depending on a wide variety of factors. You can't possibly provide a universal cost when there are overseas and local options available. 
Also, there are certain things that can affect the bottom line of any app. In order to receive an accurate estimate of the costs of developing an app for your brand, you should take the proper steps of familiarizing yourself with the app development process.
As such, this guide will go over all of the details of how much it would cost to make an app in 2020.
What is the Worldwide App Development Costs?
Whether you're a business leader or executive, you likely know of a secret production tactic that organizations across the world utilize. This is sending production overseas to save money.
This has happened for generations, and it continues to happen in the app development industry. As you can imagine, costs for developing a fully-functional app vary tremendously based on the country you enlist assistance from.
According to a report from GoodFirms, the average cost for a basic app is somewhere around $40,000 and $60,000. An app that needs a few custom functions could you run you between $60,000 and $70,000, which is good news for businesses on a budget that needs a few more accommodations with a basic app. 
A complex app with numerous custom functions could cost you more than $100,000. Now, these are the total costs of apps. Let's say that an app developer is charging you $50 an hour and is building a basic app for you. 
The total cost based on the standard hours worked will be around $25,000, $40,000 to $70,000 for medium-complexity apps, and more than $70,000 for complex apps. Again, these rates vary from region to region. 
Here is an image to help you understand how app development rates vary in each worldwide region.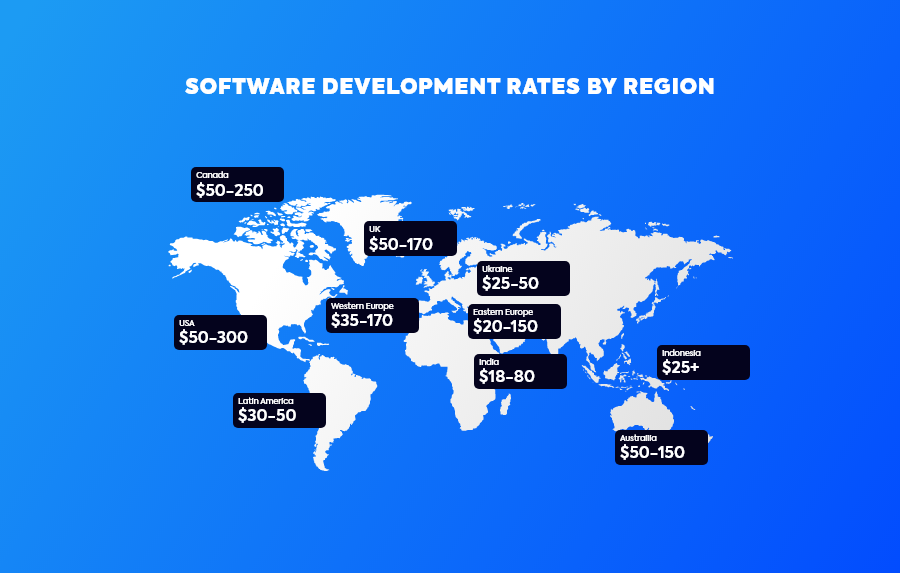 If you take a look at all of these rates, they should look a bit normal except for one thing. The app development rates in India are noticeably cheaper, which is expected since outsourcing is ubiquitous in that region.
Here comes the tricky part. You can't just automatically send your app development project to India and expect quality. In fact, here are some things to consider before starting your app development project.
There are thousands of app development companies, experienced and new, local and overseas, large and small, and expensive and affordable. Selecting the right one for your brand will require in-depth consumer research.

A lot of misconceptions occur about finding the right app development company, such as expensive apps lead to better quality and new app companies are ill-equipped to handle large projects. 

Be wary of choosing cheap overseas app development companies. This isn't to say that all of them do horrible work. Since apps are quite costly, do your research before falling too much in love with the price tag.
The last bullet is very important and will be discussed in further detail in the next section.
Local Development vs. Outsourcing
Local development is simply the act of hiring an app developer close to your place of business. Outsourcing is hiring a company that isn't local. From a logical standpoint, it seems right to hire a local company. 
After all, you'll be able to communicate with them face-to-face on the goals of your project. This isn't always the case for all businesses. In fact, every business is different. Some may just have the wherewithal to purchase any type of app and wouldn't care where they procured app development services.
Some may have a stringent budget and have to be mindful as to where every dollar is going. In the case of the latter, here are the pros and cons of hiring a local app developer vs outsourcing these services.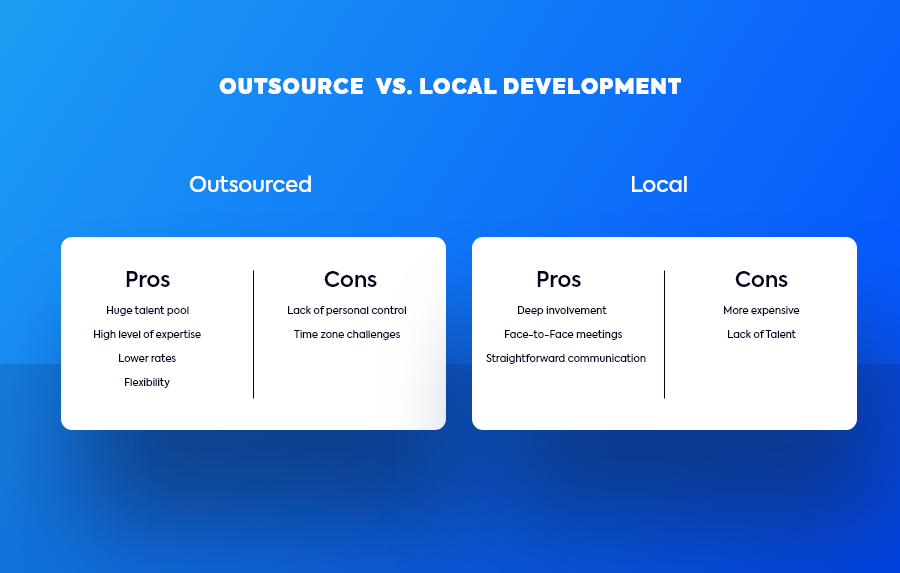 As you can see, local development has its perks. You get to receive deeper involvement and straightforward communication without any hurdles. However, local companies are usually more affordable and have a limited amount of resources.
Companies outside of your region are cheaper, more flexible, have a huge talent pool along with a high-level of expertise. Though, there are some challenges regarding time zone discrepancies and a lack of being directly involved in your project.
Depending on the scope of your project and budget, you should think carefully about the selection you make. 
Time and Money Issues Relating to App Development
App development companies generally prefer to charge an hourly rate for their projects. This means that you can estimate the amount you'll spend on an app depending on the hours of development. 
Here is a breakdown of the typical hours spent on app projects based on complexity. 
A basic app will take approximately 500-700 hours to complete. 

A basic app with custom functions will take 700-1000 hours to complete.

A time-consuming, complex app will often take more than 1200 hours to complete.
If you were to quickly acquire the hourly rate of a prospective app company, you would be able to determine the ballpark amount for how much you should spend. 
What Affects the Final Cost?
When you hire an app developer, you cannot expect to receive an extensive list of development costs right off the bat.
What usually happens is that you will be sent a proposal, a bill, and the company will estimate the preliminary hours it took to construct the build-out. 
App companies cannot predict other costs that may be necessary, which include:
Platforms

App maintenance

Functionality and features

Specific customizations

App administration and backend infrastructure

Structure and location of the development team
Give Us a Call Today!
Do you want to know more about how you can develop an app for your business? If so, give us a call today at (877) 682-2012 or click here to receive a free quote. 
Not big on reading? That's okay. Watch "How Much Does it Cost to Make an App in 2020" instead.
Using the power of Artificial Intelligence, we turned this blog into a video for you. Check it out below!