All Blogs,Digital Marketing, - May 19, 2020
10 Trends That Influence Paid Search in 2020
Expert Tips on Paid Search
Paid search is a lifeline for businesses across the world. It enables organizations even with a rocky online presence to generate qualified leads through effective ads. Granted, there is competition in paid search, but it's one of the more convenient avenues toward meaningful online revenue opportunities. 
In order to maximize the performance of your paid search campaign, you should always look toward new trends in the marketing sector. Understanding these trends will help you try new methods of reinforcing your campaign to ultimately make more money from your ads.
Do you want to explore 10 trends that are influencing paid search today in 2020? Continue reading to learn more. 
1. Machine Learning and Artificial Intelligence Will Evolve
It can be easy to understate the impact of machine learning and artificial intelligence (AI) has had on world innovations in the 21st century. Both technologies allow any computer-based to learn and get smarter over time. 
Their impact on paid search has been undeniable recently and doesn't figure to change any time soon. Popular PPC platforms like Google Adwords have already begun to utilize AI in their algorithms, as well as other PPC agencies across the country. 
2. Human Marketers Will Continue to Be Indispensable
Technology and innovation have its perks and it will undoubtedly continue moving forward, but there are downsides such as human jobs becoming obsolete. In the award-winning video game, Detroit, Androids began to overpopulate and ultimately take over all of the jobs humans normally did, such as construction and even law enforcement.
Will machine learning and AI have the same effect on the jobs of human marketers. The answer is no. Both innovations are essential for performing consistent tasks for making PPC campaigns more efficient. Though, it's up to humans to interpret and act on received data. 
3. Amazon Ads Will Get More Popular
Amazon rules the world in regards to e-commerce. They have now created an advertising platform where brands can construct PPC ads to generate more qualified leads.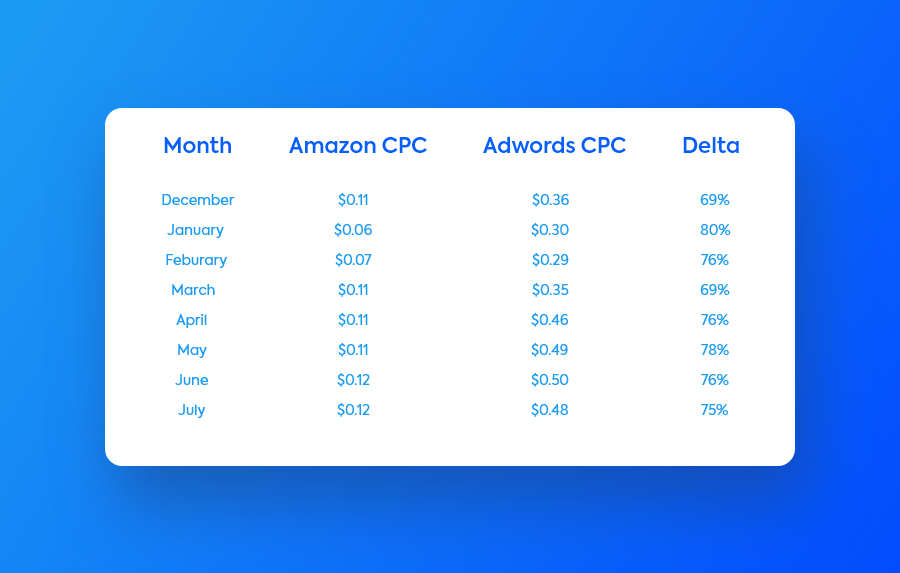 Experts predict that the use of Amazon ads will continue to increase. Why? That's mainly because the cost-per-click (CPC) of Amazon ads are significantly lower than Google ads.
Google Adwords' CPCs are necessarily expensive, but Amazon has far cheaper rates. Not only that but Amazon rivals Google in company size and potential visibility, especially for e-commerce brands. 
If you operate in the retail industry, leveraging Amazon ads maybe your best option for putting your resources to better use. 
4. A Universal Shift from Keywords to Audiences Will Take Place
Many marketers and business leaders carry out marketing campaigns with a broader emphasis on its technical aspects rather than its value. For example, some SEOs tend to focus more on accumulating visibility for keywords instead of creating content their audience will enjoy.
Google has stated it time and time again that user experience is significantly important to them and their rankings. In the same way, marketers should shift their focus on their ad quality score instead of worrying too heavily about the keyword usage. 
5. Text Ads Are Still Here to Stay
With new technologies changing the way PPC ads are developed, some think that text ads are going out of style. In reality, text ads are the most productive types of ads.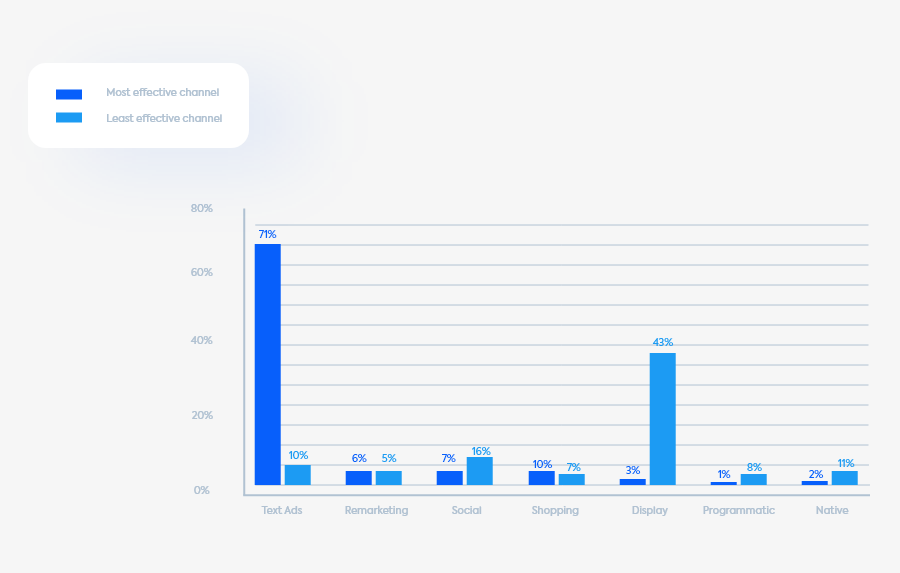 Therefore, while voice, video, and other ad formats are becoming increasingly popular, text-based ads still reign supreme. This is good news for a lot of marketers, mainly since text-based ads are simple to create.
What are the chances that the most convenient form of paid advertising is also the most effective?
6. Video Ad Usage Will Continue to Grow
It's nothing new that video marketing is a growing trend of 2020. Just last year, video marketing accounted for 80% of all internet traffic. You could say the video is taking over the internet. 
With that said, video advertising is also increasing. It now makes up 25% of digital ad spending in the United States. It's not a surprise that video usage is increasing in this vein.
Video ads can easily be engaged with and provide a unique opportunity to show off the unique selling proposition (USP) of your brand without much effort.
7. Mobile Use is Thriving
If there was any safe and obvious prediction on this list, this entry would be it. With a majority of internet traffic being derived from mobile devices, it's a no-brainer that this trend is taking place. 
This proves that a larger emphasis on mobile-friendliness needs to be addressed by marketers. Therefore, the question here is will you optimize for it? Luckily, optimizing mobile-friendly ads isn't difficult if you have a qualified PPC agency on your side. 
8. Voice Search is Thriving
20% of mobile searches were conducted on a smart speaker or via voice search. Therefore, it's not like you have to get ready for a voice search to affect your campaigns. It already has begun to affect your campaigns. 
Now, voice search has not been monetized yet but there are a lot of ways to get this done. voice search has not been monetized yet but there are a lot of ways to get this done. 
9. Facebook and Google Will Automate Their Ads
Facebook and Google house two of the most preeminent advertising platforms in the world. Both platforms have already introduced dynamic ads that make ad creation almost effortless. 
In the near future, these companies could make it possible for their algorithms to completely customize ads for users.
This isn't a stretch considering that Facebook and Google are billion-dollar companies with unlimited resources at their disposal. 
10. Facebook, Google, and Others Will Master Attribution
Attribution has been something like a Rubix cube for several years. Even seasoned marketers have difficulty leveraging attribution to impact their campaigns. Fortunately, machine learning and AI were designed to perform complex tasks like this.
To make advertising easier and boost their own agenda, look for Facebook, Google, and other companies to use technology and master attribution. 
Give Us a Call Today!
Do you want to improve the performance of your PPC ads? If so, give us a call at (877) 682-2012 or click here to receive a free quote. 
Not big on reading? That's okay. Watch "10 Trends That Influence Paid Search in 2020" instead.
Using the power of Artificial Intelligence, we turned this blog into a video for you. Check it out below!