All Blogs,Digital Marketing, - March 04, 2021
How to Create a Content Calendar
Expert Tips For How to Create a Content Calendar
If you've been made responsible for your company's content marketing needs and you're at square 1, you might feel a bit overwhelmed, especially if you are new to this process. Kicking off the effort that goes into content marketing calendar creation is a strong first step.
In reality, this is a fairly simple process once you understand what it is and why it is needed in your organization's marketing calendar.
Let's start with a simple example for creating and planning your calendar. Let's say you wanted to create a plan around the concept of running, with your ultimate goal of running a marathon.
First, you need to understand what it takes to run a marathon. Exercise, running, nutrition, stretching, equipment, hydration, and other vital steps to attaining your goal. The same logic goes into the development of your content calendar.
So to begin, start with a blank calendar that is saved as a simple spreadsheet. You can use any calendar you are comfortable using but Google Sheets works really well. There is no one right way to develop planning calendars but it helps to use your columns for new topics and the rows to segment out the various instruction that each topic will include for your writer and SEO team. When it comes down to it, use what you know well and what others on your team are comfortable using.
Below you will find an image that includes a column named "Worksheet Item." These are the inputs that we use in the rows of our content calendar. This drives the growth of each topic, noted in the corresponding columns of the spreadsheet.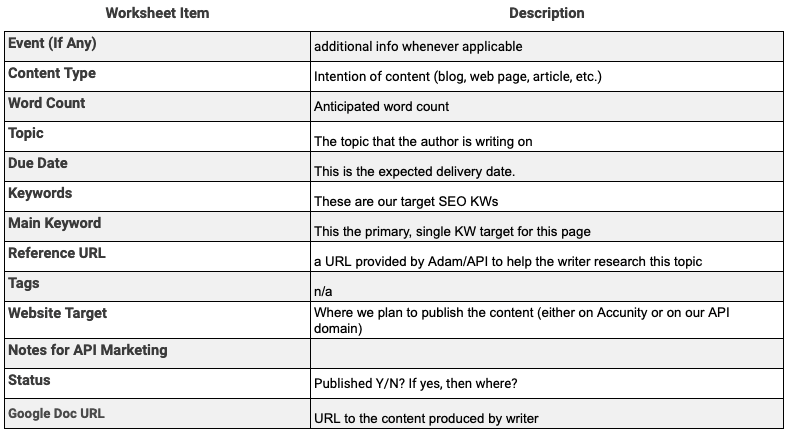 Next, you start filling in the calendar with what needs to happen each day, each week, to get you to your goal each month. You'll likely have more than one topic per day, so allow for that in creating your calendar. At a minimum, your content calendar should be designed to handle at least two topics per week.
Plan the work, work the plan, and results will follow.
In a marketing context, content marketing and calendar creation are one part of the overall marketing plan. It is critical that the person responsible for content marketing and calendar creation fully understands the comprehensive marketing plan. And, the senior marketing team must be fully aware of the topics within the content marketing calendar. It is customary to have them pre-approve each topic before a writer starts the assignment.
To come up with the best topics, the person in charge of calendar creation and content marketing creation must understand the brand or companies positioning strategy, target audience, distribution strategy, pricing strategy, new product launch schedules, promotional calendar, major advertising campaigns, major PR announcements, and anything that has to do with communicating with the target audience.
The content marketing calendar must integrate with the overall marketing calendar, meaning that it works in partnership with your social media calendar and others. The marketing content calendar must be available to the entire marketing team to be seamless and real-time communication.
Building a content calendar has three primary purposes:
Forces planning and strategic thinking on communications before execution

Assigns due dates and responsibilities so that the team is clear as to who is doing what

Provides a transparent calendar for the entire team to stay updated and the ability to make changes in real-time as things change (as they always do)
If you want the best content writing services in Dallas, Agency Partner is built to serve you. It's our only reason for being.
Agency Partner is here to help your organization manage your communications using the latest and most proven content strategy services.
We manage content strategy for most of our clients. We can do calendar creation and integrate that calendar to plan. Meaning, we can be your partner in creating both the content calendar and the content to match up with your overall marketing planning calendar.
At Agency Partner, here's how we can best serve clients. And, we have over 1200 examples of how we have done this.
Here's our approach:
Meet with the marketing team, including the most senior members.

Gain an understanding of the long-term and short-term marketing strategies and issues.

Develop a calendar to plan the needed content to support the marketing strategies.

Create content for your website, social media, blogs, SEO, and keywords to help your brand stand out from the competition. You will have the ability to review and approve all of this before it's put into action.

Ensure that all of these strategies meet the best content marketing strategies as the channels frequently change their rules and algorithms.

Weekly quick check meetings with the digital marketing team and monthly team meetings with the entire marketing team to evaluate each content's response and progress.

Provide quantitative reports at whatever interval the organization needs for senior management to report to the board, stakeholders, and the organization.
Agency Partner lives in the digital world. It changes by the minute. We are partners with Google, Amazon, Facebook, Twitter, Instagram, and Reddit. We get information to which your organization might not have access.
Using our proven content strategy services, Agency Partner can help any organization, large or small, improve the effectiveness of their communications with their various audiences: consumers, customers, distributors, investors, media influencers, and web-based ranking services.
If you have any questions about content marketing and want to learn more about our best content marketing services, please contact Agency Partner.
We'd love to help you achieve your goals.
Not big on reading? That's okay. Watch "How to Create a Content Calendar" instead. Using the power of Artificial Intelligence, we turned this blog into a video for you. Check it out below!