All Blogs,Web Insights, - June 26, 2020
Magento 1 End of Life: What You Need to Know About Moving to Magento 2
Expert Tips For Magento Platform
Magento is one of the top e-commerce platforms on the internet right now. Thousands of retailers use the platform every year to sell their online products and services. Now, Magento has officially ended its support for their Magento 1 platform. 
This presents a huge dilemma and a sense of urgency for brands still using Magento 1. There is a lot of information to take in about Magento's new announcement this month.
If you are currently running a store on Magento 1, then it makes sense to continue reading this article to learn more about how your store will be affected moving forward. 
When Will Magento 1 End?
Magento 1 will officially end in June 2020. Multiple sources have confirmed this date, including this article from Magento. Magento also sent a tweet out to break the news about the transition.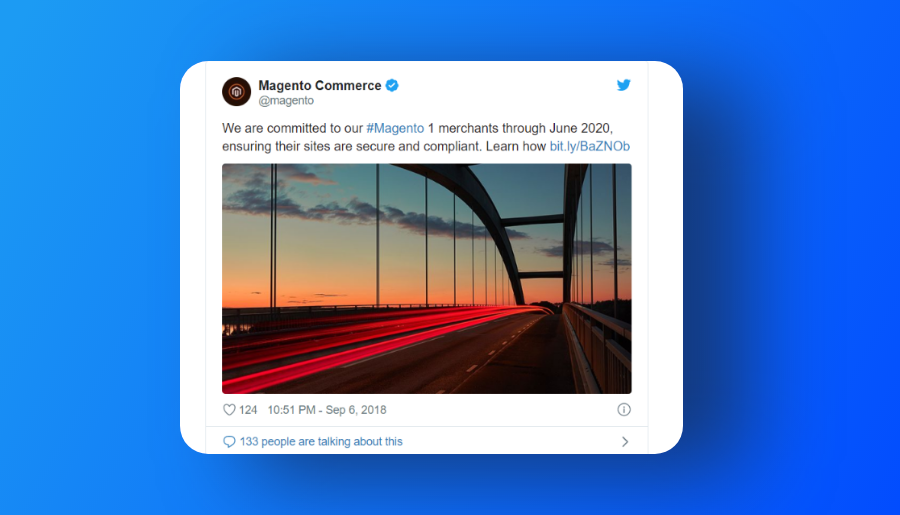 In June 2019, there are 240,000 live Magento websites. Out of these websites, there are 189,000 websites still operating on M1. This number will begin to decrease in the following months as clients move on to M2 or transition to another e-commerce CMS entirely.
What Other Dates Do You Need to Look At?
Insider experts have long seen the writing on the walls for M1's demise. On December 31st, 2018, Magento deprecated PHP 5.6. This was a big hit to the Magento community, mainly since Magento is written in PHP.
However, Magento released a patch that provided support up to PHP 7.2. 7.2 until November 2020. So, again, Magento has been more than lenient in slowly downgrading M1. 
In November 2020, CentOS 6.x will also be depreciated. This will result in the further elimination of support for M1. 
The M1 End of the Life Rumors
The end of M1 has been discussed since at least 2017. In April 2017, a Magento presentation featured the line "Magento 1 End of Life: 17 November 2018". Of course, this date was incorrect.
It was a primitive guess on when Magento would end. Immediately, images and articles appeared speculating the end of M1 up until this point. These insights warned merchants that M1 would end sooner than they anticipated.
Initially, Magento executives speculated that the end of life for M1 would come three years after 2015. Therefore, 2018 made sense for the EoL. Since then, Magento has revised this date to June 2020.
What Does This Mean For Your Store?
If you are still using Magento 1, you have a limited time navigating to Magento 2. Here are a few things you need to consider before your next move:
Design –

One of the most tedious things about switching from M1 to M2 is that you will have to go through a partial website redesign. Depending on how complicated your site's design is, this could be very expensive and time-consuming. 
Extensions –

While you are auditing your website, it's essential to browse the extensions you are using on your M1 website. Although extensions on M1 generally aren't compatible with M2, several updates are available if you want to make the switch. 
Security –

Without support, M1 will be vulnerable to a wide variety of different security threats. This is perhaps the greatest reason to transition to M2. Hackers won't resist an easy opportunity to prey on insecure websites. Please don't make the mistake of having your website being one of them. 
Hosting –

Not much will change as far as hosting is concerned. You will have to check in with your specific hosting provider to receive an update on how your plan will alter your website.
Costs –

Transitioning to Magento 2 could be expensive. A majority of the associated costs will entail the audit and the transition to Magento 2. 
Keep these things in mind once you and your team begin to make a move to Magento 2. While staying on M1 isn't an option anymore, the decision isn't something you should perform too hastily.
It would help if you created a strategy to guide you through transitioning to Magento 2. 
Should You Move On To Another Platform?
Although Magento is a powerful e-commerce platform, there are countless available online. These include WooCommerce and WordPress. Depending on your needs and your situation, deciding if you should move to another platform will vary.
If you are a large organization disillusioned with Magento and have the funds to move forward, then deciding to transition to another platform may not be anything you will think twice about. 
However, if you have a limited budget and not enough bandwidth to maneuver to another platform, then you're better off staying on Magento. Whatever decision you choose, discussing with a marketing consultant is your best bet for making the right choice. 
Agency Partner Interactive Has the Key
Transitioning to Magento 2 or another e-commerce platform takes a lot of effort and time. It's best to leave this task in the hands of professionals. At Agency Partner Interactive, we specialize in helping our clients migrate their marketplaces. So for your migration, be sure to put that in the hands of the best among other Magento Development Companies. 
We realize how difficult this task is and pride ourselves on delivering complete services to our clients. Whether you want to change to Magento 2 or another e-commerce platform, we can assist.
We can also redesign your website to align with your brand identity and leverage fundamental digital marketing strategies to grow your brand. Do you want to learn more about how our award-winning team can develop your business's transition strategy?
If so, continue reading below to contact us today!
Give Us a Call Today!
The Agency Partner Interactive team has several years of experience in web development with e-commerce and retail brands. If you need help deciding on your next move, you should contact us for a consultation.
Give us a call today at (214) 295-5845 or click here to Get a Free Quote to speak to a member of our award-winning team. 
Not big on reading? That's okay. Watch "Magento 1 End of Life: What You Need to Know About Moving to Magento 2" instead.
Using the power of Artificial Intelligence, we turned this blog into a video for you. Check it out below!