All Blogs,Digital Marketing, - April 09, 2020
How to Determine How Much to Spend on PPC Advertising
Expert Tips For Setting a Pay Per Click Ad Budget
Pay-per-click (PPC) advertising is the lifeline of many businesses across the world. In fact, more than seven million advertisers invested 10 billion in PPC ads in just 2017, according to Social Media Today. 
Also, PPC advertising remains one of the major generators of one-page conversions. Like any marketing strategy, you must be cognizant of how you are spending your PPC budget.
You can't mindlessly throw away dollars to an unrefined campaign, and you don't want to limit the potential of your campaign by not investing in it properly. With that said, knowing how much you should spend on PPC advertising is essential.
This guide will explain key methods for determining the budget for your campaign commensurate the results you're looking for.
Things to Consider Before Determining Your PPC Budget
Striking a balance between quality and quantity is important for any PPC campaign. However, you can't do this without first defining the results you need and understanding the characteristics of your target audience. 
Ideally, you'll need to recognize certain qualities about your target audience, which include:
Buying cycle

Visitor frequency

Geographic location

Target cost per lead (CPL)

Lead quality
These are all qualities you must understand about your intended lead. If you're not yet sure what this lead looks like, you can start by asking the following questions:
What can I afford to spend?

How do I "value" a lead?

What is my website's conversion rate?

How many leads do I need from my PPC campaign?
Let's take a closer look at the information you'll need to be aware of before determining your PPC budget.
How Much Do You Need to Spend to Get Started with PPC?
Once you know the answer to the questions above, you can perform some basic mathematical calculations to help you define your overall budget. Take a look at this image to further understand how this math will work.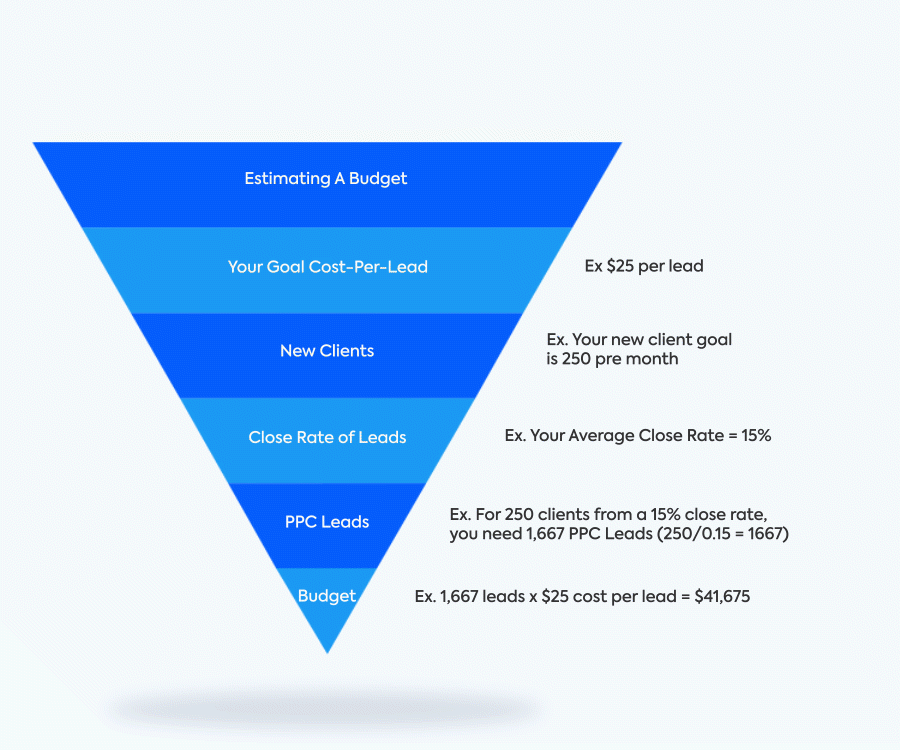 Let's say that you need at least 250 leads per month from your PPC campaign and you have a conversion rate (close rate) of 15%. This means you'll need 1667 conversions every month to convert 250 leads every month.
If your CPL is $25, you can expect to spend $1,388 every month or $41,666.67 annually to achieve this goal. 
Is There Anything That Affects How You Value Leads?
All leads aren't created equal. Some leads will enter your funnel fully ready to do business with you. These are called qualified leads. On the contrary, others will need to be nurtured.
The value of leads will depend strongly on the following factors:
Geography:

Are your leads valued more or less based on where they live? Are you willing to spend more money on leads from specific areas?
Bounce rate:

How are your leads interacting with your website? What's the average bounce rate for your website and what do your web users do after they click on your website?
Precedence:

What have past qualified leads shown you?
Controlling the quality of leads that are derived from your PPC campaign is simple. You can utilize negative keywords to stop using search terms that don't bring in qualified leads. 
You can also manipulate the placement of your ads and adjust them based on the time of day they appear. Doing this will ensure that you are putting your budget to great use. 
For example, if you analyze the performance of your ads during all days of the week, you may see that your CPL on Saturdays is higher than other days of the week, especially for international traffic. 
At this point, you should ask yourself, "are the leads I'm bringing in over the weekend worth the increased cost? Should I dial back my budget just a bit? This is where bid adjustments come into play.
Changing the schedule of your ads can help you save money overall, but it's not the only way. Finding other growth opportunities is vital to saving more money and nailing down your PPC budget.
How to Find Growth Opportunities?
Will increasing your budget result in more leads? How can you define the marginal gain for every cent you are spending? Ultimately, it can be challenging to see how changes in your budget can influence your entire campaign.
Though, Google does offer some tools that can assist marketers in this task. If you've used Google Adwords for your campaign, then you've likely seen the "limited by budget" notification in your account.
If you have, then Google provides a helpful resource that will inform you just how much more leads you would receive if you increase your budget. Just take a look at this snapshot.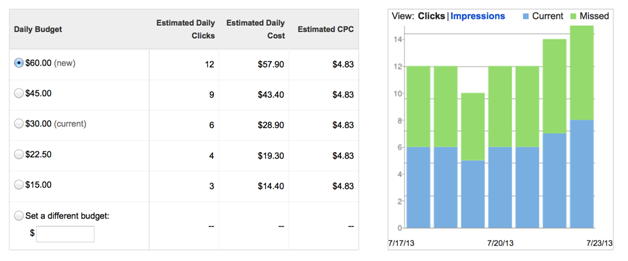 This shows that Google can estimate the growth of your campaign based on your daily budget. For this user, increasing their daily budget will lead to more daily clicks. The user also has an option to set a different budget and see custom metrics for how that will impact the potential of their campaign.
Is There Anything to Consider Before Setting My Budget?
There are various scenarios that can affect your PPC budget, which include:
Search vs. the Display Network

Keyword Considerations

Search Engine (Google vs. Bing)

Device (desktop/tablet vs mobile)
To set the right budget, you'll need to do some experimentation. Little changes can significantly impact your budget. Therefore, once you understand the growth opportunities for your campaign, you can move forward in increasing or decreasing your budget.
Over time, you can figure out if your budget is efficiently leading to the results you're after. Finally, you can deliberate with your marketing team to optimize your campaign to reach your objectives.
This is the basis of creating a successful campaign and spending the correct amount of money to do so. 
Improve Your PPC Campaign Today!
As you can see, defining an accurate budget for your campaign takes a lot of knowledge and effort. If this is something you don't have, then contact Agency Partner Interactive today to learn more about our PPC services. 
Not big on reading? That's okay. Watch "How to Determine How Much to Spend on PPC Advertising" instead.
Using the power of Artificial Intelligence, we turned this blog into a video for you. Check it out below!