Is Email Marketing
Still Effective?
78% of marketers saw an increase in email engagement throughout 2020. Email marketing generates on average $42 for every $1 spent; that's a 4200% ROI.
So, now that you know that YES email marketing is still extremely effective, know that we can manage that for you, too! Build relationships with prospects and current customers alike with simple automations and personalizations that drive revenue at a lower cost than other marketing channels. We follow the "5 Ts" to deliver targeted messages directly to your audience!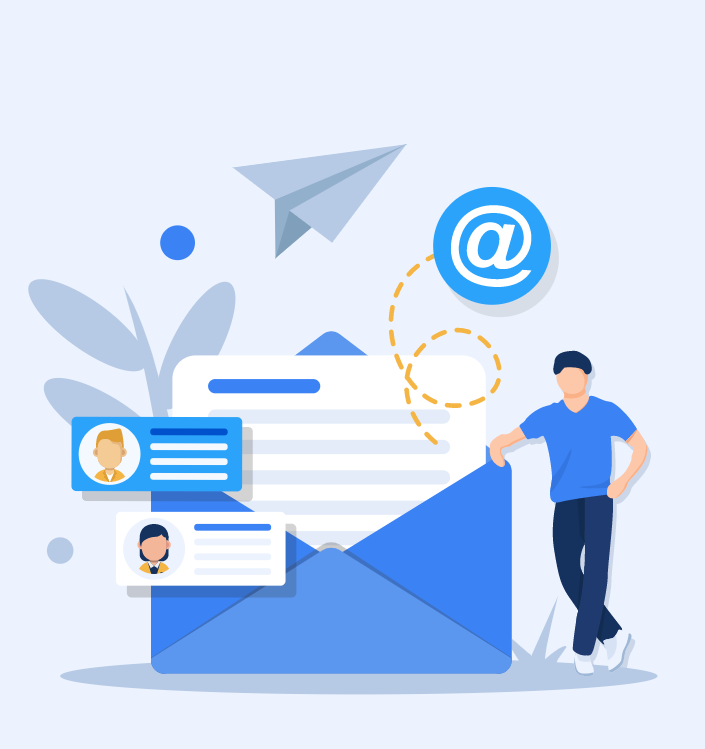 What Makes A Strong
Email Campaign?
Email Marketing Strategy
Each email marketing campaign is unique and matches our client's specific goals. We'll craft you a strategy around your key variables and brand identity to deliver a clear core message that boosts revenue.
Lead Magnets
Take your customers from Awareness to Trust with lead magnets. Offer an eBook, a newsletter, or even a discount code in exchange for contact info to further build that relationship. We can create and test those offers to make sure you've got the most effective tools on hand!
Strong Calls-to-Action
Don't let a strong 'open' rate simply go to waste. We'll cast a compelling call-to-action – either with a button or by a leading message – directing readers to the next step you want them to take.
Advertising
With all that unlimited pixel real-estate in an email, take advantage of the opportunities to run ad campaigns directly with an already targeted audience!
Email Marketing Services
We offer a wide range of email marketing services catering to our client's needs.
Stay top of mind for every email check throughout the day – that's 15 times on average!

Templates
We work closely with clients to design and develop email templates that reflect their brand, from its colors to logo to design aesthetic. Our templates make sure your subscribers have a consistent experience, positioning you as a reliable authority in your industry.

Marketing Strategy
So, who exactly is the target audience? What's the best approach with retention emails? And how often is too often to send out those newsletters? We'll map out the whole plan for you to make sure you hit your goals!

Deployment
After finalizing that email strategy, we handle deployment, too! We'll pinpoint the right time and days their customers are most likely to actually read those emails and create schedules based on the data.

Automation
Our email marketing team uses tailored tools to help automate the entire process. Who doesn't love those birthday email messages with a personalized coupon to their favorite store?! Get creative with the help of customized triggers!

Email Marketing
Audit
Our email marketing team uses tailored tools to help automate the entire process. Who doesn't love those birthday email messages with a personalized coupon to their favorite store?! Get creative with the help of customized triggers!

Email Campaign Testing
We continuously monitor the performance of clients' email campaigns. Our team runs A/B testing on email designs to determine which ones perform best, adjusting the strategy to produce better results.
Why Most Business Leaders Choose Agency Partner.
We appreciate that you have a choice when it comes to partnering with a digital agency. 8 of 10 Business Leaders Prefer Agency Partner
User-Centric Approach
The user-centric approach, it's all about customer experience. We focus on your end-users interests, objections, and goals. After that, It helps understand how the End-User perceives your brand.
Interdisciplinary Experience
Having worked on projects ranging through FinTech, LegalTech, IoT, MedTech, etc., we've learned to adapt to new industries and project types quickly. We've found patterns and similarities which help us switch between projects quickly.
Transparency
When it comes to marketing, communication is key, whether it's our communication with you, our client, or how the brand engages with your target audience. Every aspect of the communication channel should be clear, according to us.
Business Thinking
We've worked on our own startups, so we know your struggle. We want to be your digital marketing partner and look at your brand from a marketing perspective. There's a lot more to startups than just technology, and we are eager to embrace it.
Work With Certified Digital Marketing Experts
As a Top Web Design, Custom Mobile Application Developer, and Digital Marketing Agency,
we are pleased to serve customers in the United States and abroad.
Amazing Digital Marketing
Projects We Have Done
Don't Just Take Our Word For It
Hear It From Our Clients
I have been in the Marketing field for over 2 decades and this was by far the most professional and successful site outcome. In fact, just a couple of weeks ago we were meeting with a potential new partner for the first time and she is a very seasoned professional....

Using my provided content and logo, Agency Partner Interactive LLC designed and developed a website for my consultancy. It was a simple project that involved organizing the information on our site. There's a video playing function that pops up and a contact section where users can get in touch with...

API has gone above and beyond re-designing our site. They are flexible, professional, prompt, and creative. Their customer service is amazing and you can tell they truly care about supporting small businesses through their work. I recommend them to anyone.

Agency Partner Interactive is an unbelievable partner for our business! They are not your standard marketing services organization. Their intimate approach and true passion for understanding your business sets them apart! We use Agency Partner Interactive for more than just marketing, we use them as our outsourced Chief Technology Officer...

When scoping the project, I feel truly heard to where I think they understand the business just as well as any of us running it. They are able to take that into suggestions beyond what I could have imagined, create a great project plan managed by a team of people...

Agency Partner is awesome! We used to corporate with another website designer and marketing team but got zero orders after spending advertising fee on google. After corporate with API, they help us change all the designs on the website and help us with marketing and SEO. After then, the order...

Upon having a bit of a nightmare experience with a more local professional, Agency Partner Interactive was able to take over the development process of our site. I have never worked with such a responsive and professional team! Not only did they work quickly and efficiently, but they also actively...

Great service, fast and friendly. They were referred to me by a business colleague. I used their graphic design service to do my logo. I had a design that I created and wanted them to replicate. They also provided several other options for me to consider & compare. The turn-around...
Our company worked with Agency Partner Interactive to develop a new website, including a customized content management system. Throughout the design and implementation process, everyone at Agency Partner Interactive was responsive, accommodating, and positive. They were always willing to discuss our requests which, at times, were admittedly meticulous.

I have been working with Agency Partner Interactive for nearly two years now. I have been very pleased with their work. They have created two highly integrated websites for me. Both websites are easily navigated/ user-friendly and aesthetically very modern. We have had lots of comments from our customers who...

API handled everything from beginning to end and is currently the hosting provider now which has been top-notch. From google Gmail for business setup all the way to business design they do it all. Based on new branding we've already close a new business that paid for what we've spent...