All Blogs,Digital Marketing, - April 08, 2021
Social Media for the Small Business (Toolkit Included)
SOCIAL MEDIA HACKS FOR THE SMALL BUSINESS
A Simple Guide for the Small Guy or Gal
When you think of the internet today, you think of "social media," don't you? They weren't always so interchangeable. One came before the other, but one forced the other to evolve. And with that, so did we.
Current Social Media Platforms in Order of Popularity: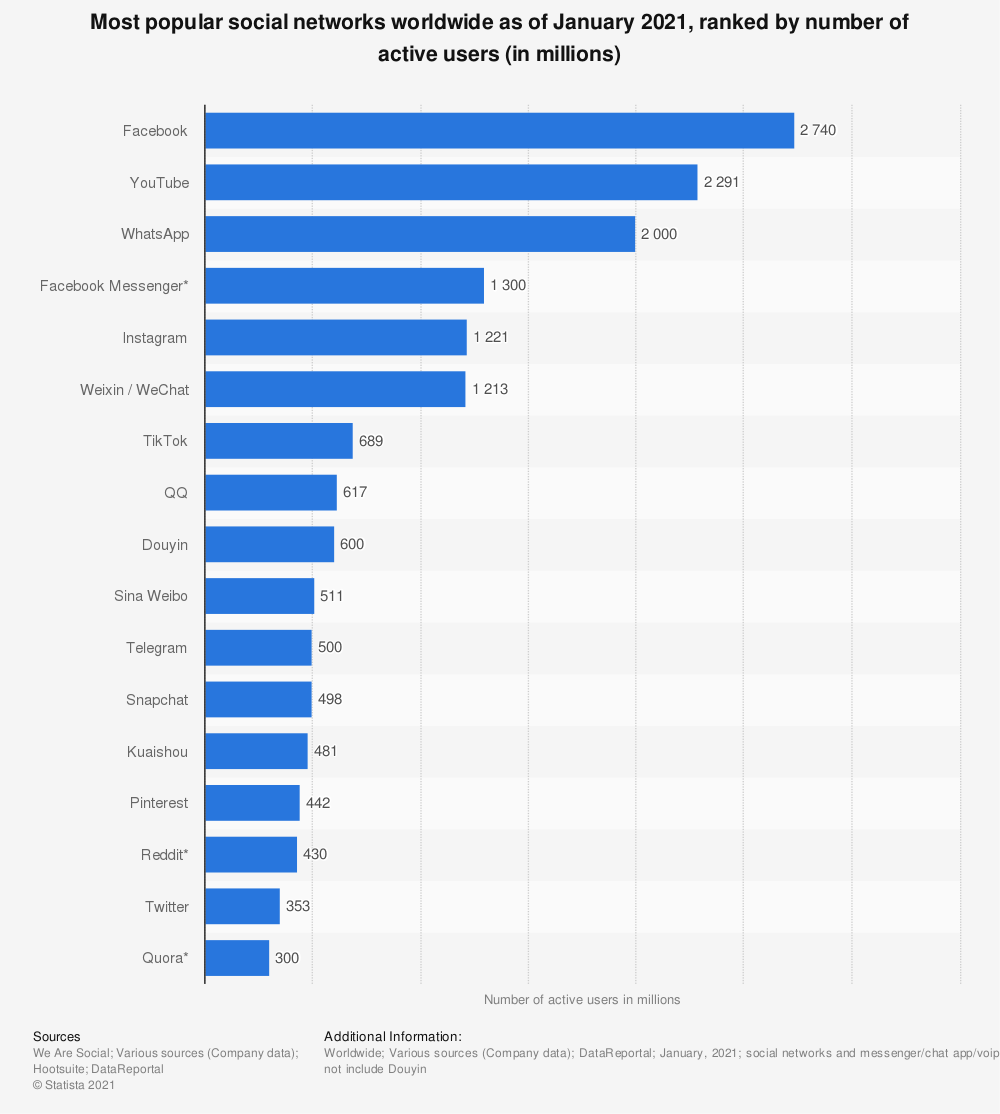 As of Jan. 2021, according to a report published by Statista, Facebook alone recorded at least 2,740,000 active users. Not far behind were Youtube and WhatsApp, with Messenger, Instagram, and WeChat trailing behind. Tik Tok ranked seventh.
Where we can now find limited storage online for free due to services like cloud computing, there was a time when intellectual property as we know it, used to be stored somewhere physically, and there were costs associated with that, too. So much has changed since. Our livelihoods and businesses now depend on social media as a tool to keep bread and butter on the table, especially evident after the year that we just had.
This pressure to hop on the bandwagon that is the internet today has only grown since it's debut, and it's not stopping anytime soon.
Last it was recorded, about five million people were actively using social media, and that number continues to rise at exponential rates.
DATE

NUMBER OF USERS

% WORLD

POPULATION

INFORMATION

SOURCE

December, 1995

16 millions

0.4 %

IDC

December, 2000

361 millions

5.8 %

Internet World Stats

December, 2005

1,018 millions

15.7 %

Internet World Stats

Sept, 2010

1,971 millions

28.8 %

Internet World Stats

Dec, 2015

3,366 millions

46.4 %

Internet World Stats

Dec, 2020
5,053 millions
64.2 %
Internet World Stats
But, fret not. As your friends who keep constant watch over the digital market, we've compiled a list of tips, tricks, and tools for making social media work for you. Before we go on to overwhelm you with the facts, allow us to first remind you that everyone, every company, every small business that influences us today, had to start from somewhere.
Where to Begin:
Contrary to popular belief, you don't need to be everywhere at once. Start with where you are and with the audience you have today.
Say you're on Instagram and it's where you've found the most potential thus far, develop that before you branch out and add another network under your management. Professionals will go ahead and secure usernames and URLs in advance to not have to deal with the hassle of obtaining them later on. It's also good marketing as it shows consistency across platforms.
Some general rules to keep in mind (maybe your bylaws, too):
Do Not: Treat people as leads.
Do: Yes, you want the close, you want the deliverables, the hard sell, but don't miss out on the social aspect of social media. People hop online to take a break from their day, to find inspiration in a quote, a meme to share with loved ones.
Think: How are we engaging with our followers? What tone do we have online? Is there a big holiday coming up that we can prepare content for in advance, maybe a "Happy #NationalBringYourCatToWork Day?" tweet for the Twitter feed?
Do Not: Leave leads unattended.
Do: Follow through on the conversations you're having. Socializing is important, but so is the service you're providing, and studies show that 71% of users are more likely to buy from a company following a positive online experience. The whole appeal behind social media is the instant gratification that it delivers; you don't have to wait to hear back from your audience. Set up a poll, they'll tell you exactly how they feel and how they want it. Study those interactions.
Consumer data adds to any company's intelligence, especially if they can make sense of it.
Think: Are we user-friendly? What's our response time online? Where are we getting the most impressions for? Where are we seeing the least amount of engagement? Should we be allocating our resources elsewhere?
Do Not: Post to post.
Do: Create S.M.A.R.T. goals.
Social media can feel like a chore to the best of us, especially when we're scrambling at the last minute for content or guilt-posting for not being active enough. And the smaller you are, the more hats you might find yourself wearing at work. Sales and general business goals are good to keep, but neglect creating a social media strategy and you'll feel disconnected, unaligned with your goals.
Posting for the sake of posting is like shooting in the dark, but having a SMART outcome in mind will help keep you on track to achieve your desired goal.
Think: Do we have a digital marketing strategy in place? How much time can we afford to put aside for social media use each day? Is there a minimum and maximum we can set for day-to-day interactions? For example, one might choose to devote 15 minutes of their day to like and respond to 10 comments in total, with 5 re-shares spaced throughout. Is there a system here that I'm missing, that I could maybe automate for ease of use in the future? Would templates come in handy here?
These are all great questions to have answers to, especially as resources tend to trim down the smaller a business goes.
Do Not: Ignore search engine optimization (SEO).
Do: Optimize, optimize, optimize!
When was the last time you clicked on 'Page 2' of a Google search? Exactly. The web has a variety of algorithms at work, all unique to the browser or search engine you have running, not to mention that those backend formulas are also constantly undergoing updates.
Think: Are we using the right hashtags? Is our meta data clear and concise? Have we claimed our Google My Business (GMB) listing yet? What's our page download speed looking like? Can we do better?
Next, as promised, the toolkit!
"A big business starts small."

-Richard Branson
Since small businesses come in different shapes and sizes, each unique to the solution they're offering, it's only fair that we offer a few selections for you to explore in case one or even two out of four of our options don't fit. Frankly, the internet is full of amazing resources just like these ones, but we hope this serves as a place for you to start…
We're also on standby if you'd like to chat! Okay, here we go:
For Content Inspiration or Social Media Monitoring:
For Managing and Scheduling Posts:
For Graphics:
For Photos:
For Tracking Analytics:
Most of these programs come free or low-of-cost, so they're perfect for entrepreneurs with a tighter budget, but as your business grows, you might find that these tools no longer deliver due to their limited capabilities. At that point, it might be time to look at marketing ROI instead.
As always, we'll be here for that conversation. In the meantime, feel free to explore our resource pool here.