All Blogs,Digital Marketing,Media,News, - March 24, 2021
ABC News: Trumpbook? Donald Trump To Launch Social Media Network By Summer 2021
No Surprise To Marketers or Free Speech Advocates
Prior to being banned from mainstream social media platforms, President Trump maintained one of the largest social media followings in the world.
As of January 2021, @realDonaldTrump had 128% more Twitter followers than the total number of monthly active users in the United States. While there are just 69.3 million Twitter users in the United States, Donald Trump counted 88.9 million followers in total. This compares to then President-Elect Joe Biden's 7.9 million Twitter followers.
Across all of the mainstream social media platforms, Trump's pre-ban social following totaled around 151.42 million followers.
Not counted in this measure are followers and/or subscribers from Spotify, Snapchat, Reddit, and Twitch. The aggregate of those is a big number as well!
By the first week of January 2021 and immediately following the tragic breach at the US Capitol building, rampant media bias and general public hysteria resulted in a direct attack on the First Amendment, leading to Trump and notable others being banned from social media.
Many social media users and news commentators referred to this as the #TwitterPurge but the general attack on diverse thoughts and ideas stretched far beyond Twitter.
Everyone please take the time to watch this video and to SHARE it. It has important information regarding these "fact-checkers" who have culminated enough power so as to CENSOR and SILENCE a sitting President of the United States.

This is a global issue. pic.twitter.com/eoUet1vpoR

— Candace Owens (@RealCandaceO) January 9, 2021
The fact is that cancellation activity stretched far beyond that of the former president. Accounts such as the whistleblower group Project Veritas were impacted after exposing a video of Facebook executive Guy Rosen discussing a "system" of being able to "freeze commenting" on threads that were flagged as undesirable.
This happened just weeks after Project Veritas leaked an internal video of Twitter CEO Jack Dorsey suggesting that the Trump ban would stretch far beyond just the one account. He was not lying about that. Over 70,000 Twitter accounts were booted from the platform.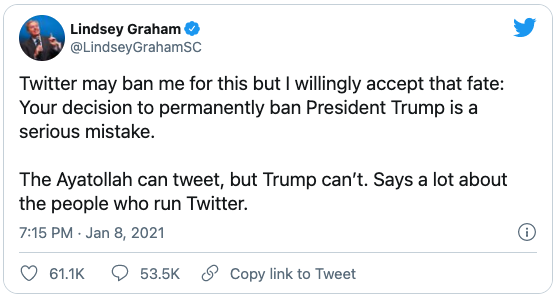 Now, more than two months since Joe Biden was inaugurated as the 46th and current president of the United States, President Trump still has not resumed his usual social media activities.
"…if you're asking me, do I feel particularly comfortable that the President, the then-President of the United States could not express his views on Twitter? I don't feel comfortable about that."

-Bernie Sanders
But life is about grabbing the bull by the horns, right? Things seem to be heading that way now for the former president.
In a statement by long-time Trump aide Jason Miller, Fox News was notified that the 45th president would soon launch his own social media service in "two to three months." So with that in mind, what are we to expect?
Trump's Social Media Communication Style Preference
The president's adversarial relationship with mainstream news outlets and a general lack of faith in receiving fair and balanced coverage from organizations like CNN and MSNBC drove him toward sharing his unedited truths in the form of tweets.
Twitter, being as it is a microblogging service, has been known as the SMS of the internet. It is a short messaging service that allows users to easily comment on trending topics and President Trump was exceptionally active on this social platform compared to the rest.
He had access to over a quarter of all Twitter users across the world and with 88.9 million followers, he had more followers than the total of all US Twitter users. The former president's following consisted of friends, foes, and journalists that looked to his social media activity as an indicator of what was to come.
Also, tweets are limited to 280 characters so they force you to be succinct and don't require a major investment of time to get your point across. This is a perfect social outlet for an extremely busy person like the former president.
Market Validation At Parler's Expense?
Market validation is a process of introducing a product concept, such as a microblog, to a target market to learn whether or not the idea would be acceptable.
The Parler app proved that a competing microblog could attract a healthy and stable user base, having topped the App Store and Google Play, gaining millions of new users between October and December of 2020. Had Apple, Google, and Amazon not teamed up to strongly handicap Parler's future success, the new app would have continued its strong growth trajectory.
If the concept here is to introduce a Twitter competitor, knowing that it was Trump's preferred outlet, then the Parler startup team basically already did that!
If there is any substance to this story at all, we anticipate some sort of newer, freer Twitter varietal. You might go so far as to call it a stronger, more connected Parler.
The Tactical Steps That Could Launch a Platform By Summer 2021
The timeline of "2 to 3 months" is an extremely aggressive timeline. To make that sort of schedule a reality, that rules out 1 of 3 of the more common ways to develop a social media app. The ways to go about this are:
Custom Application Development – build it from scratch!
Customize and White Label a Pre-existing Template – quick but limiting.
Buy An Existing Application – then make it yours!
Because of the accelerated timeline, for the sake of argument let's rule out "Custom Application Development" as a path forward for the former president. Because we know that the former president is going to want to customize and have control over the features and functionalities of the new social platform, it is probably a safe assumption that we can rule out option two as well.
So what does that leave us with?
Donald Trump is a businessman that prides himself on the "art of the deal." To meet that timeline and mitigate the risk that goes into starting a business concept from scratch, a partnership or acquisition of an already existing platform makes a lot of sense!
We don't think there will be any sort of relationship with Gab.com, as previous reports have indicated that Jared Kushner encouraged President Trump to stay off that platform. The Parler app does sort of exist today, despite being blacklisted by Amazon, Apple, and Google, though previous partnership negotiations between Trump and the app's former CEO John Matze went nowhere back in 2020. While there are other platforms out there, Axios has been sharing reports of a seemingly more obscure partnership potential with the FreeSpace app. Will Trump negotiate a controlling interest in FreeSpace? Only time will tell!
How Will Trump's New Social Platform Impact the Market
Pew Research points out that 53% of Americans look to social media for their daily news. Scholars emphasize that a free and diverse press is critical to a healthy democracy and the public opinion is that it should not be up to mainstream tech leaders to define who is and is not a news source.
That's why we expect that the most successful, new social media concepts will be those that enjoy Section 230 immunities and respect their role in facilitating, not moderating a healthy conversation — one that offers the same freedom as any public sidewalk.
The fact is that no one elected the leaders of Facebook or Twitter to dictate who can and cannot enjoy the freedom of speech and the Supreme Court recognizes no "fake news" or "disinformation" exception to the First Amendment.
If Trump's new social media platform is able to function like a truly fair, digital town square, this new business may be well received by the market.
To explore the issue in greater detail, Agency Partner CMO Adam Rizzieri joins former Iowa State Senator Jeff Angelo, host of WHO News Radio in Des Moine to discuss the possibility of a new social platform. Click play (below) and listen in to their conversation.
Are Your Customers On Social Media?
It's safe to assume that your future customers are on social media — big tech companies control the attention of over 3 billion people. The world of social is all about engagement and we can help you tie social into a great marketing strategy. Agency Partner watches the online landscape every day and can help you put together the right marketing mix to support the utilization of your business website.
As a digital agency, our marketing experts will help you come up with a competitive budget for your SEO needs, use social media marketing for lead generation, reduce the cost of your pay-per-click advertising, boost ROI from email marketing, and so much more.
If your business is looking to create new value by competing online, the digital marketing team at Agency Partner should be your next call.