All Blogs,Digital Marketing, - April 21, 2020
The Complete Guide to YouTube SEO
Expert Tips on Youtube SEO
YouTube is the second-largest search engine in the world just after its parent company, Google. For more than a decade, YouTube has held a monopoly over global video platforms. 
In fact, billions of people use YouTube every day to browse content, ranging from educational videos to entertainment. This makes YouTube an invaluable tool for businesses to promote their products and services.
78.8% of marketers say that YouTube is the most effective video marketing platform. However, if you want to get started with creating stellar videos for your business, you'll need to develop a sound SEO strategy.
Here's how you can practice effective YouTube SEO tactics to boost the exposure of your video content.
Name Your Video File Using a Target Keyword
Again, YouTube is a search engine just like Google. This means you will have to conduct keyword research to see the keywords your target audience is using to find videos similar to the ones you are creating.
With that being said, there are a variety of YouTube SEO tools you can use to get the job done. Once you have identified a prominent keyword you want to target, you should place it in the title of your video file first.
Doing this is important because YouTube has to process the file information of your video to see what it's about. Since YouTube doesn't have eyes to watch your video, adding a target keyword in the file name can help its index bots determine the value of your content.
Hence, avoid standard file names that include underscores and unspecified information. Ideally, a person should be able to see the file name of your video and understand what it's about.
Place the Target Keyword Naturally in the Video Title
When you conduct a search, the first thing you typically look at is the video title. This is often what determines if a person will click on a video. Therefore, the video title should be captivating, clear, and concise.
Adding your target keyword in the video title is essential to ensure that your video shows up for corresponding searches. However, you shouldn't put all of your hopes in this greatly affecting the visibility of your video content.
According to Brian Dean, video titles that include a verbatim keyword-only have a slight ranking advantage over those that don't.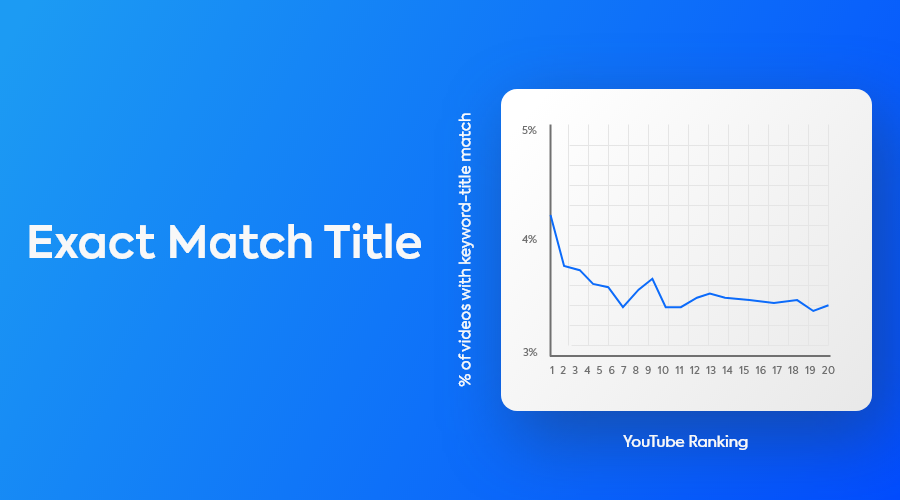 As you can see, including a keyword in your video title won't give you a significant advantage, but it provides one nonetheless. For this reason, make sure that you insert a keyword naturally in the video title.
While including a target keyword in your video title isn't the end-all-be-all, it can certainly work effectively if you also write a compelling video title.
Optimize Your Video Description
YouTube utilizes descriptions that inform viewers about what videos are about. These descriptions have a character limit of 1,000. While it's acceptable to use all of these characters to describe your video, it's important to realize that your viewers want to see a video and not read an essay.
If you want to compose a long video description, keep in mind that YouTube only shows a snippet of the first two or three lines of content, which is approximately 100 characters. If you write more, viewers will have to click the video to see the full description. 
To get the most out of this space, post all of the important information like CTAs in the first lines of your video description. As for whether adding keywords to a description matters for ranking purposes, Brian Dean maintains that there isn't a definite answer.
Take a look at this chart to learn more.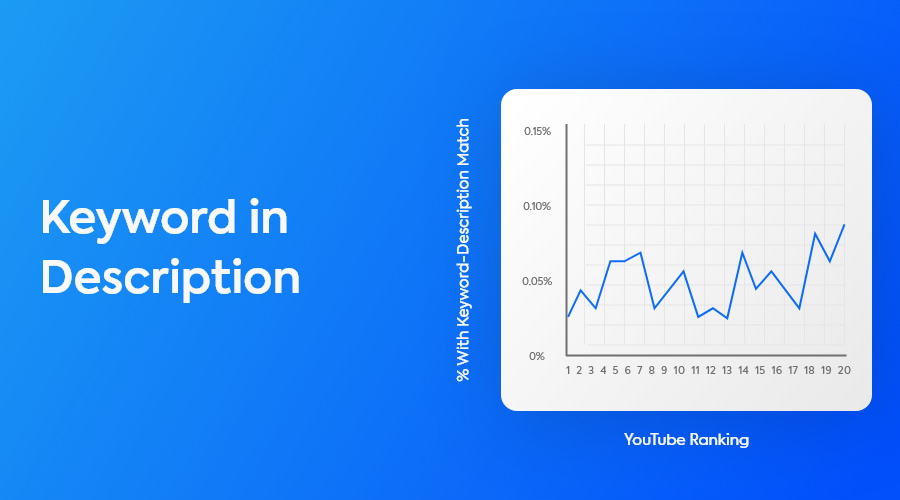 While Dean's study didn't find any link between keyword-optimized video descriptions and increased search rankings, he stated that following this practice helps videos show up in the "suggested videos" feed, which can generate a significant source of views.
Use Popular Tags for Your Videos
According to YouTube's Creator Academy, adding popular tags to videos not only help viewers find quality content, but it also informs YouTube what your videos are about. Tags provide context on how your videos should be categorized.
This way, YouTube can associate your videos with similar ones your target audience may also be viewing. However, make sure you aren't just adding irrelevant tags to get more views for your videos.
Google can penalize you for this practice, and it's simply not necessary. Just like in your description, use the most important keywords first. To show up for more searches, you can try using long-tail keywords. 
Choose the Best Category for Your Video
Like tags, categories group your video content with other similar content. Once you upload your video, you can click the "Advanced settings" section to choose a category for your video.
Be mindful to choose the category that fits the topic of your video. This will make sure that your video shows up in various playlists and gains more exposure. Selecting the right category isn't as simple as it looks.
The best way to identify the category for your video is by finding similar creators that upload the same videos as you.
For example, if you're running a marketing company, you can try to find other marketing companies that upload similar videos and use the same category.
This is a much better tactic than simply guessing which category your videos belong to. 
Upload a Custom Thumbnail
On YouTube, thumbnails are extremely important. According to YouTube's Creator Academy, 90% of the highest-performing videos have a custom thumbnail. Hence, if you want to replicate the same success, you should create an enticing thumbnail that convinces viewers to click on your videos.
There are plenty of online tools that help creators develop custom thumbnails. In fact, it's easier than ever to create one within a few minutes.
Revamp Your YouTube Marketing Strategy!
Do you need help in directing more exposure to your YouTube videos? If so, give us a call at (877) 682-2012 to speak to a member of our team and learn more about how we can help you today!
Not big on reading? That's okay. Watch "The Complete Guide to YouTube SEO" instead.
Using the power of Artificial Intelligence, we turned this blog into a video for you. Check it out below!