All Blogs,Digital Marketing, - April 16, 2020
A Complete Guide to Local SEO for Small Businesses
Expert Tips on Local SEO For Small Business
For small businesses, local search is crucial to reaching potential customers in their area. In fact, 80% of consumers use local search to find nearby businesses in 2023. If your website isn't optimized for local search, you could be missing out on 4 out of 5 potential customers. 
Fortunately, optimizing your business for local search is a straightforward process. By taking the necessary steps to ensure your website appears in corresponding local searches, you can attract more customers and increase your business's visibility. 
If you want to build a strong foundation for your business and achieve more online visibility from local searches, continue reading this guide for more tips and strategies! 
What Is Local SEO?
Local SEO (Search Engine Optimization) is optimizing a website or online presence to improve its visibility in local search results. SEO for small businesses is focused on improving a business's local online presence and making it easier for potential customers to find their physical location or services.  
If you're a small business owner looking to improve your online presence and attract more customers, investing in effective SEO strategies is crucial. Optimizing your website and content for relevant keywords can increase your visibility on search engines and drive more organic traffic to your site, ultimately helping you grow your business.
Expert Tips on Local SEO for Small Businesses
This year, 88% of all local searches result in the web user calling or visiting the business within 24 hours. This means that a strong local search strategy can have a significant impact on your business's success. Here's how to implement an effective local search strategy in 2023: 
Create a Google My Business Listing
As of 2023, it's still surprising, and concerning that only 44% of small businesses have claimed their Google My Business (GMB) listing. 
Considering that an average consumer will check local map listings to find a business near them, it would seem foolish to ignore setting up a listing.
That is how things currently are, but it doesn't mean you have to neglect this very important process.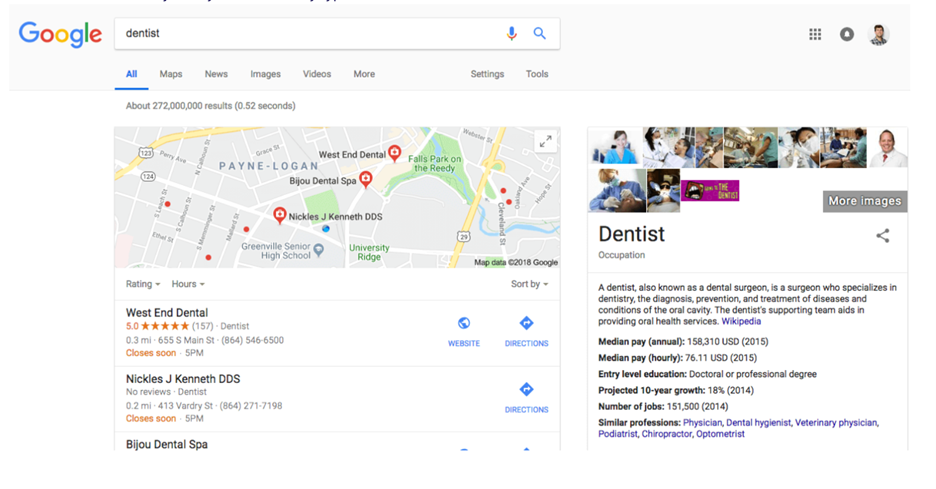 As you can see, the listing on the right of the image has all of the information that's valuable to a potential customer.
People can use these listings to visit a website, receive directions, look at online reviews, and make a phone call. 
Creating a GMB listing is simple. Follow these steps to get the job done properly.
Create a Google account or log in.

Click

here

to visit Google My Business. 

Fill out the required fields, such as your phone number, address, etc.

Verify the information.

Claim your listing and submit.
This is the most basic step in optimizing your business for local search. Your GMB listing is the gateway where unrefined prospects become loyal customers.
Leverage Effective Internal Linking Strategies
Backlinks are the crux of every internet marketing strategy. Though, internal links are just as important to boost your SEO ranking. Generally speaking, internal links are essential for the following reasons:
They support efficient website navigation

Streamlines website hierarchy and information architecture

Reinforces ranking power and page authority throughout your website
If you ever want to see a prime example of an effective internal linking strategy, visit a Wikipedia page. It's not a coincidence that Wikipedia pages often rank highly in search engines.
They are highly-resourceful and have countless internal links to aid your comprehension and navigate to other useful pages. This increases the time you spent on Wikipedia, which lets search engines know that the site is valuable.
To the same effect, you should utilize sound internal link strategies to help your site rank sufficiently for local searches. 
Optimize all Metadata
Metadata is information that describes other data. This includes URLs, title tags, meta descriptions, and all the like. 
You see metadata every time you conduct any type of search. Just take a look at this standard search.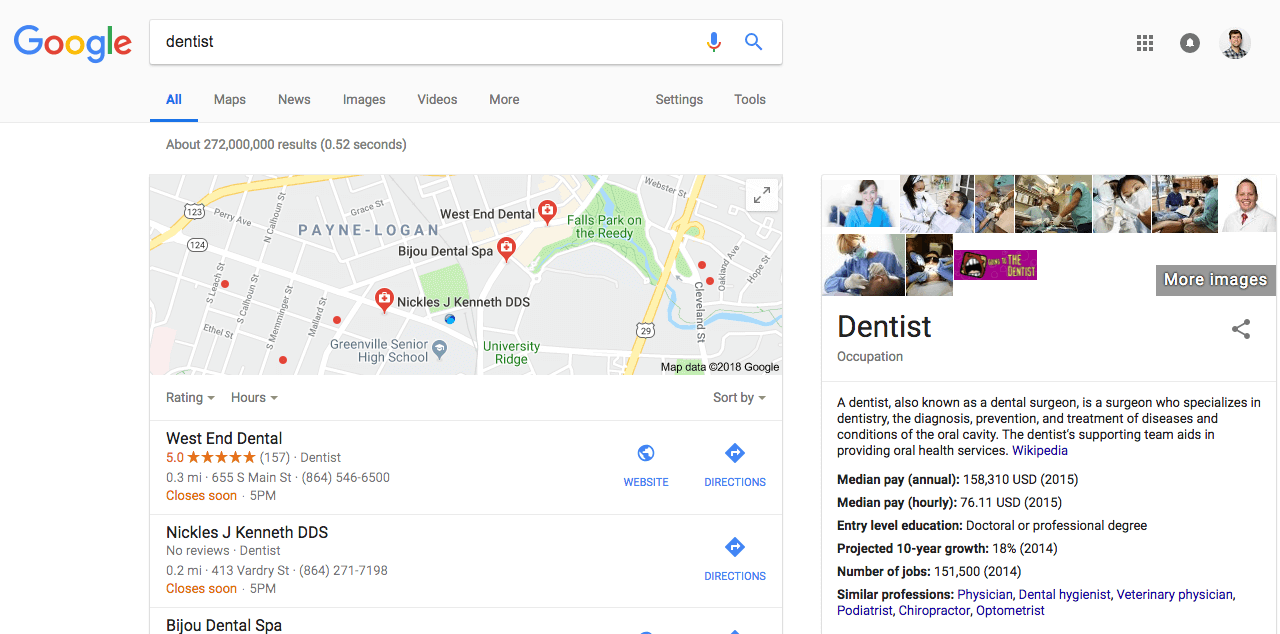 Do you see the headers indicating what each web page is about? 
This is metadata. 
Do you also see the descriptions below the headers? 
This is also metadata. 
It's important to optimize the metadata of your entire website architecture to show up for local searches. The best way to do this is by adding high-volume keywords in the URL, title, header, meta description, and body. 
This will make sure that your website is found by consumers using the same high-volume keywords you're including in your site's metadata.
Add Location Pages to Your Website
As of 2023, local search remains a popular method for consumers to find local businesses. According to a survey conducted by BrightLocal, 86% of consumers reported using Google Maps to search for local businesses in the past year, while 72% used Google. 
If your business has multiple locations, it is essential to reflect this on your website to optimize your local search results. One effective way to do this is by creating separate location pages for each city or region where you do business.  
For instance, if you run a restaurant chain with Los Angeles and Beverly Hills locations, you should create separate pages for each site. However, it is essential to note that there are more effective strategies than simply duplicating the same page and changing the city names. Google's algorithms are designed to detect duplicate content and may penalize your website for it.  
Instead, invest the time and effort into creating custom location pages that provide unique information for each city or region. This can include details about local events, nearby attractions, and special features of each location. By creating high-quality, customized location pages, you can improve your chances of ranking higher in local search results and attracting more customers to your business. 
Develop Stellar Local Content
If you want to attract local leads, then you'll need to develop a consistent local content strategy. Ranking your local content isn't as difficult due to the low amount of competition compared to worldwide search results.
Therefore, all you need is a great content writer and marketing team on your side to craft stellar local content. For example, if you run a law firm, you can write a post about how readers can select the best firm in your city.
Finally, you can add tons of local keywords. This will help your content rank high for local searches and provide a lot of value to your audience – that's effectively killing two birds with one stone.
Make Sure Your Website is Mobile-Friendly
More than half of all online searches happen on a mobile device. If your website isn't optimized for mobile devices, then you could be running potential customers off before they can even convert. 
A website doesn't appear the same way on a computer as it does on a tablet. Therefore, you will have to ensure that your website has a fast and convenient mobile version. 
The important thing to realize here is that your desktop version should still provide the same features as your mobile version. It can be frustrating to be forced to use a computer just because the mobile version of a website stripped certain essential features. 
Here are some tips for ensuring your website is mobile-friendly 
A responsive design automatically adapts your website's layout to the screen size of the device being used, ensuring that your website looks great and is easy to use on any device. 

 

Mobile users don't want to sift through a cluttered website to find what they want. Ensure your website is clean, simple, and easy to navigate on a smaller screen. 

 

Large images can slow down your website, especially on mobile devices. Optimize your ideas to ensure that they load quickly on all devices. 

 

Some fonts may look great on a desktop but may be difficult to read on a mobile device. Use fonts that are easy to read on smaller screens. 

 

Test your website on multiple devices to ensure it looks and functions correctly on each one.  

 
Boost Your Local Business with Our Expert Local SEO Services 
At Agency Partner Interactive, we offer custom digital marketing services for small businesses to increase local visibility, attract more customers, and generate more sales. Our team of experts is dedicated to helping you achieve your marketing goals through effective promotion strategies that align with your business objectives and budget.
One of the critical services we offer is local SEO for small businesses. Our Local SEO service is designed to help small businesses like yours achieve greater online visibility, increase website traffic, and attract more new customers. As a small business, you want to ensure that your website and online presence are optimized to attract local customers in your target area. Agency Partner Interactive can help you achieve that and more.  
Contact us today to learn how we can help your business grow through effective local search marketing!