Through the last couple of years, Agency Partner Interactive has developed a reputation for helping businesses double their revenue, even during the peak of covid shutdowns. That feat took a lot of hard work and dedication to pull off, but we did.
Our efforts produced tangible results for our clients and partners, and now we're seeing those results being paid back. We're proud to share that Agency Partner Interactive has just been named part of the Clutch Global 1000 for 2021.
Clutch is an independent review platform host to some of the top companies in the world. They use a unique verification process that allows them to determine that all reviews are legitimate before they're published to the website. When a company can earn multiple high-quality reviews, it is recognized as a Clutch leader through a set of annual awards. The Global 1000, however, is even better as it's only given to the top thousand companies regardless of the industry the world over.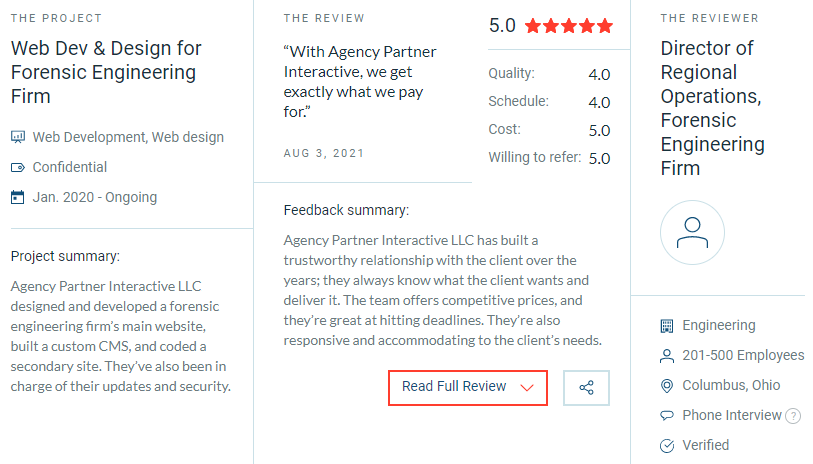 This is a noticeable step-up for us as a team, and we couldn't be happier. Our CMO described the award like this: 
"This award is a welcome affirmation of our company's commitment to excellence in marketing and technology service. We strive to help our clients achieve very specific business goals, and it is an honor and blessing to do what we do." – Adam Rizzieri, CMO and Co-Founder of Agency Partner Interactive. 
We'd like to thank our clients and partners who have made this award possible. We know that our success only came as a result of the hard work and dedication from everyone involved. We look forward to continuing to provide digital marketing and website design solutions for companies far and wide in an effort to grow their revenue, improve digital presence, and help them be better at what they do best. 
If you're looking for a top-tier team to help support your digital marketing or website needs, give us a call. We strive to create results and great experiences for our clients, and this recognition is proof that we are achieving our goals.