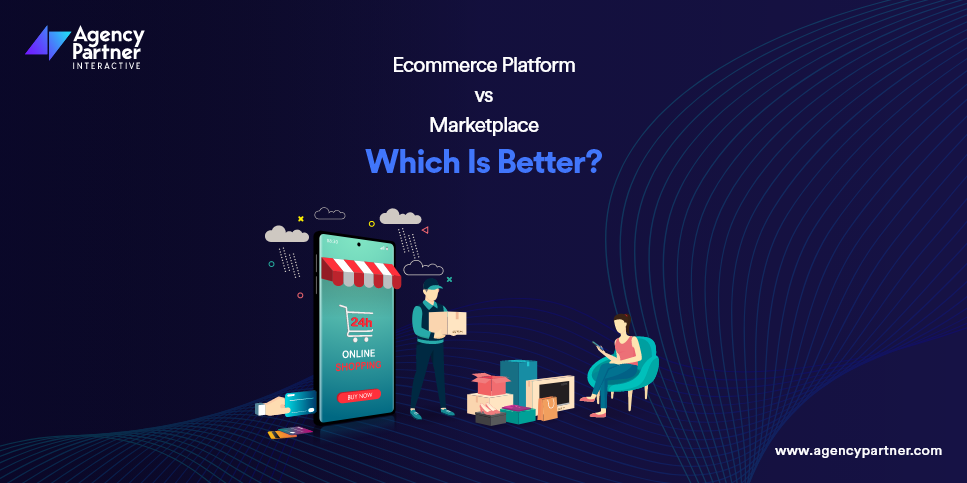 All Blogs,Digital Marketing, - January 09, 2023
eCommerce Platform vs Marketplace: Which is Right for Your Business?
In the world of eCommerce, the decision between using a platform or a marketplace can be a daunting one. Both options have unique advantages and disadvantages, and choosing the right one for your business can make or break your online success. In this blog, we'll break down the key differences between eCommerce platforms and marketplaces and help you determine which option is best for your business goals.
Getting Started with eCommerce
Ecommerce platforms and marketplaces are the two most popular options for merchants and sellers to start an online business. Each one attracts a different consumer base with varying capabilities, so understanding which is better suited for your business is essential before going online.
eCommerce Platforms
E-Commerce or eCommerce is the buying and selling activities over the web. In contrast, an eCommerce platform is a software application that facilitates product purchases between the buyer and the seller.
eCommerce platform services involve website design and development, inventory management systems, and customer service and navigation infrastructure. eCommerce web design agencies like Agency Partner Interactive LLC can create features customized for your business, like convenient checkout, in-app analytics, product catalog navigation, personalized notifications, and optimized, responsive design for multiple screens.
It can be a website or app for your online store that enables customers to discover your products, add them to their cart, and check out. Online stores involve one seller who handles the manufacturing, storing and distribution of goods to the buyer.
This eCommerce channel is ideal for merchants launching an online store or as an addition to brick-and-mortar locations. Some of the most popular eCommerce platforms are Shopify, Magento, WooCommerce, OpenCart, and BigCommerce.
Advantages
Easily collect customer data, performance, and feedback for future eCommerce marketing strategies.

Fewer restrictions and rules

Total control over your website's design, functionality, and navigation

Ability to adopt a ready-made approach to website creation or go with a custom solution
Disadvantages
Greater investment in time and money to build and maintain your eCommerce website.

More financial risks as you scale your business

Bringing in traffic and customer engagement takes substantial effort, and results won't be immediate.

Requires eCommerce hosting services
An eCommerce platform will be your best option for small businesses, startups, and small to medium-sized companies with the time and resources to develop a unique presence and build brand awareness over time.
Marketplaces
Marketplaces are eCommerce sites or apps where multiple vendors sell products. Buyers can purchase products from different brands and pay for them all at once at checkout. The marketplace owner does not own third-party inventory; instead, they show these products to customers and facilitate transactions while taking a cut of the profit. Online marketplaces also handle the storage and logistics aspects of distribution.
Advantages
Extend sales reach

Save money on startup and initial investments

Quick and easy setup

Less financial risk for expansion

No need to manage inventory and shipping processes
Disadvantages
Highly competitive

Lack of access to customer analytics, data, and communications essential for eCommerce marketing campaigns

Unable to build brand awareness
The COVID-19 pandemic led to the proliferation of eCommerce out of necessity, and it shows no signs of slowing down. Today, online marketplaces like Amazon, eBay, Facebook Marketplace, Google Shopping, Walmart, and Alibaba, to name a few, are expanding services and offerings at lightning speed.
In 2022, marketplaces accounted for more than two-thirds of the global online retail market, with $3.23 trillion spent globally on the top 100 online marketplaces. This rapid proliferation comes with increasingly tough competition for individual vendors to stand out. However, putting your business where customers want to buy from can increase revenue.
eCommerce Platform and Marketplace Differences
Time, effort, and money
eCommerce platform – building an eCommerce website for your brand is more expensive upfront and requires effort to maintain a fully functional site or app. However, the ability to customize your online presence, get insight into customer data, and deliver personalization and experiences rather than just products can be extremely valuable for your brand.
Online marketplace – creating a seller profile and online shop on Amazon or Google Shopping is quick, takes minimal technical skill, and you can start generating sales and profits immediately.
eCommerce Marketing
eCommerce platform – direct access to your customers allows you to reach out to customers for promotions and campaigns and can help you deliver better customer service through personalization.
Online marketplace – limited access to customers makes it difficult to build engagement. Even if you're selling unique products, you'll have to rely on offering lower prices to attract customers and stand out in a competitive market.
Brand growth and scalability
eCommerce platform – greater risk and financial investment is required to scale as your business grows, and it takes more time to do so. Instead of having to get more inventory and hire more employees to handle the increased workload, companies should invest more in their website development and ensure they deliver excellent user experiences and customer service.
Online marketplace – since there are fewer financial risks and no need to manage inventory or storage, businesses can see higher sales volume and revenue faster.
Platform vs Marketplace Key Takeaways
According to Statista, online retail sales will reach $6.51 trillion by this year. By 2025, eCommerce retail sales are projected to reach $8.5 trillion globally. While online retailers have a significant profit opportunity, choosing the right option depends on your business needs, goals, and unique product niches.
Online marketplaces are an excellent way for merchants to start selling goods online because the time, costs, and risks are significantly lower. For brands that want a custom solution without sharing profits and customers, the versatility of eCommerce platforms can enable long-term scalability and eCommerce marketing advantages, helping you achieve your long-term goals.
Dallas eCommerce Web Design Agency
If you're looking for a partner to work through your eCommerce ideas or help with choosing the best platform based on your needs and budget, get in touch with Agency Partner Interactive.  
As a full-service digital marketing and web design agency, we work with clients spanning multiple industries to create award-winning eCommerce websites and apps that drive results. Our transparent process ensures you're in the loop every step of the way, from your website kick-off call to successful deployment and maintenance. Speak with a strategist and get your free personalized proposal today!