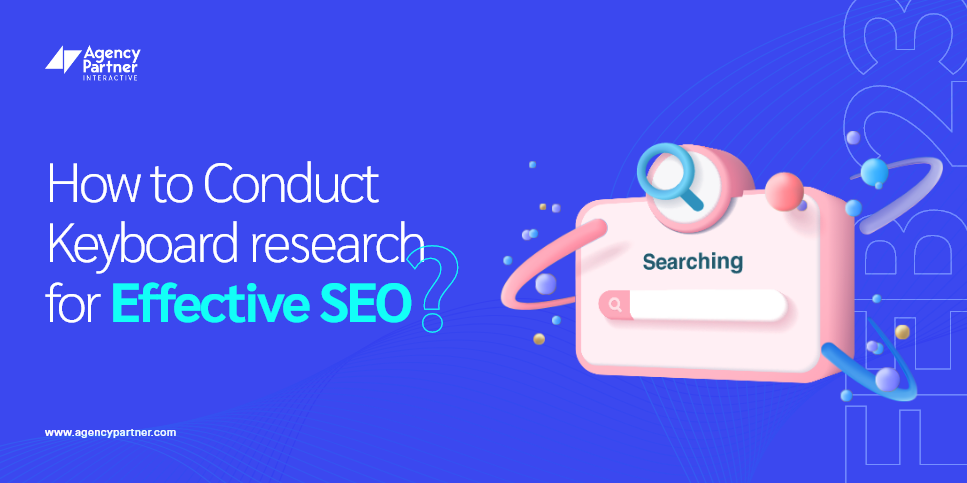 All Blogs,Digital Marketing, - February 10, 2023
How to Conduct Keyword Research for Effective SEO
To maximize the chance of getting your website on the first page of Google search engine results page (SERPs), you'll need to identify the right keywords to target. Finding the exact terms and phrases users use to search for goods, services, or information is known as keyword research. 
With over 200 ranking factors in Google's algorithm, identifying those keywords and using them within your content can seem daunting. In this article, we'll discuss how to conduct SEO keyword research to help you develop an effective strategy to drive organic traffic and online visibility for your business. 
What Is Keyword Research, and Why Is It Important for SEO?
SEO research helps to optimize websites for better search engine visibility. The keyword is the term or query your users search on Google to find the product or service they're looking for. For the user to find the most relevant answer to their question or fulfill their search intent on your page, you'll need to relate the relevance of those keywords to your website and its particular pages.  
Keyword research also involves categorizing search queries according to the buyer's journey. Such as, if your user doesn't know about your product and they want to learn more, or the buyer has enough knowledge and is ready to purchase now, the keywords you use play a crucial role in determining whether those buyers will visit your page, so make sure to use relevant and appropriate keywords for SEO in your article. 
Keyword Reasearch Tips for Beginners
Following this strategy can attract more audiences to your website. We've broken down the SEO keyword research process into a few easy steps to help you get started. 
Make a list of relevant topics for your website
To kickstart this process, brainstorm the relevant topics to your niche or website regarding the generic bucket. Depending on how many topics you consider appropriate for your website, you can come up with 15 to 20 ideas. If you're blogging daily, then you probably already have some topics you think your audience will be interested in. If your brand focuses on health and fitness, you can consider these niches topics: 
Nutrition plans for better gut health

Movement training techniques to reduce back pain

Best yoga poses for weight loss

Best dietary supplements for men over 50

High fiber protein diet recipes
Think of synonyms your target audience might use
You can list synonyms and phrases your targeted audience may use along with the specific keywords you already have to create a more effective strategy. Taking a look at your organic traffic results can also help determine which keywords were the most effective in reaching your target audience. Remember that this is not your final keyword list, but will give you a better idea of what and how people are searching. 
Analyzing search volume & trends to find the right keywords
Keyword targeting is an essential part of any successful SEO strategy. It involves researching and selecting the best keywords to target to rank higher in search engine results. The right keywords can help websites maximize organic traffic and increase their visibility on search engines. It requires combining technical knowledge and creative thinking to identify keywords that will bring maximum value to a business's website. 
You can use certain tools, like Ahrefs, Semrush, Keyword Planner, Moz, and Ubersuggest,  to select keywords with high search volume and less competition in organic searches. These tools can help you find the exact keywords for your target audience and can even provide you with more precise information, like the search volume of a specific keyword.   
Long-tail keywords have less competition, making it much simpler to rank them and achieve higher conversion rates. However, long-tail keywords have lower search volumes, and it can be challenging to rank for them. When identified and used appropriately, long-tail, short-tail, and variations (synonyms) keywords give you a holistic strategy to increase reliable web traffic.  
Analyze how to rank in your industry
Big brands have captured the market and are already ranking on Google. Analyze how the SERP environment has been set. If you're trying to compete with an industry leader, you should add long-tail keywords to your list to try and level the playing field. Another method is analyzing your competitor's content and keyword performance. If they're publishing similar content, this is the best time for you to leverage your unique strengths and outrank them with your quality and consistent content updates. 
Identify your user's search intent
It's essential to enter your keywords into a search engine and analyze which page currently has high rankings. This helps you analyze the content offered on those pages and determine why they are successful. Suppose your users want to know about something, and you offer them an irrelevant product instead of what they expected. In that case, they might visit your website but leave quickly, negatively impacting your ranking and user experience. On the other hand, if the user is ready to buy and you provide them with a relevant product page, you're much more likely to make a sale.   
It's a good idea to take note of the buyer intent for each keyword phrase in a spreadsheet or establish a routine for yourself or your team to check the intent behind a keyword before creating content that incorporates it. 
Strategies for Crafting Compelling and Engaging Content
Crafting compelling and engaging content is crucial to have a content list to keep your audience engaged, build brand awareness, and ultimately drive conversions. A well-crafted content list can ensure that your website is constantly updated with fresh and engaging content. Your list should include various content types, such as blog posts, articles, infographics, videos which can also help you make your content more impactful and engaging. 
SEO Research: Key Takeaways
Keyword research is essential to understanding user intent and connecting users to your website. Remember that website keyword analysis and keyword research are the basis for an effective SEO strategy. The primary reason for any website is for its pages to be valuable, readable, and solve users' queries, so ensure every page on your website is SEO optimized and contains relevant keywords. Keeping keyword analysis in mind and updating your website with high quality content pages keeps your audience engaged.   
At Agency Partner Interactive, we understand that effective SEO and high-quality content go hand-in-hand when executing any successful online marketing strategy. As a full-service digital agency, we're proud to offer top-notch content writing services and proven SEO techniques to help you achieve your business goals. 
An SEO Agency Dedicated to Your Success
Agency Partner Interactive is an expert on search engine optimization. We've helped businesses spanning multiple industries grow their online presence to drive more traffic and higher-quality leads with no advertising costs. 
On average, our clients see as much as a 430% increase in website traffic and a 113% increase in the top 3 keyword rankings. While SEO is a long game, our customers achieve results in as fast as 3 months, giving them a fantastic ROI that increases month over month. 
With Agency Partner Interactive, you can rest assured that you're getting the best possible solutions for your business, delivered on time and within budget. Let us help you take your online presence to the next level with premier digital solutions tailored to your unique needs. Schedule a free consultation today!