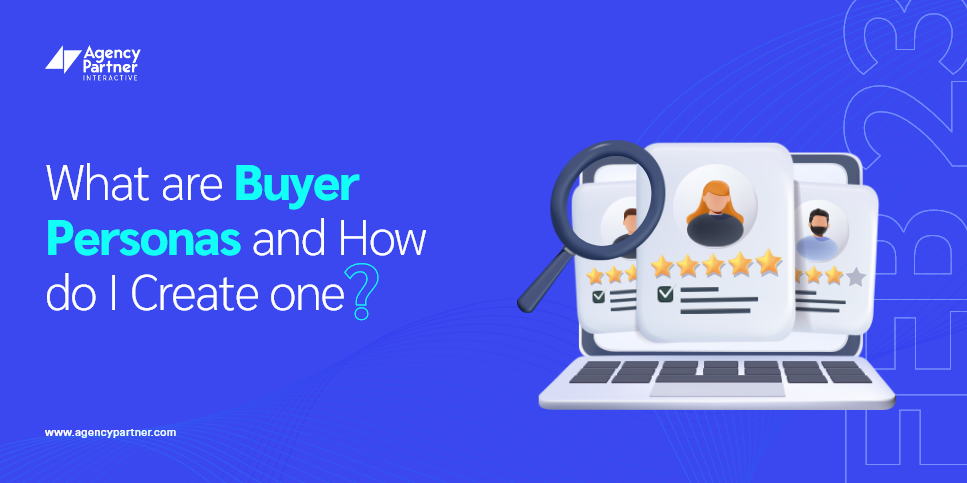 All Blogs,Digital Marketing, - February 07, 2023
What Are Buyer Personas, and How Do I Create One?
A buyer persona is a marketing strategy that helps companies better understand their target audience. Buyers' personas represent an ideal customer that businesses can use to understand their target audience and cater to their needs. These personas are based on research and analysis of customer data and behavior, allowing companies to create a detailed profile of their typical customer. A buyer persona typically includes a name, photo, and detailed information about the customer's background, goals, challenges, and interests.  
Creating a buyer persona involves understanding the buyer's decision-making process, preferences, and behavior, which helps businesses customize their marketing and sales strategies to attract and retain more of those customers. Keep reading to learn everything you need to know about the benefits of buyer personas and how to create them! 
Why Do We Use Buyer Personas?
The primary reason to use buyer or audience personas is to understand your target audience better. By creating these personas, you can see what your audience wants, what encourages them to purchase, how they interact with your brand, their challenges, etc. 
Marketing or buyer personas are detailed representations of a brand's ideal customers. By creating accurate buyer personas, marketers can effectively customize their messaging and content to their target audience's specific needs and preferences. This helps to create a clear picture of the customer's needs, customer segmentation, behavior, and point of view. This information is then used to develop targeted marketing strategies for the intended audience.  
Since getting to know each and every one of your customers is nearly impossible, creating a buyer persona that encompasses segments of your market helps you put their needs ahead of your own, leading to more effective marketing campaigns, ultimately boosting conversions and a higher return on investment. In short, marketing personas allow brands to understand and connect with their customers on a more personal level, resulting in more successful marketing efforts. 
What Are the Benefits of Creating a Buyer Persona?
Buyer personas are fictional representations of your ideal customers based on research and data about your target audience. They can help businesses better understand their target audience, develop more effective marketing and sales strategies, and improve customer satisfaction.  
Improved customer engagement
Buyer personas provide insights into your customers' needs, preferences, and wants. By understanding what motivates them, you can customize your messaging, products, and services to enhance their experience and exceed expectations. 
Better marketing campaigns
With buyer personas, you can create targeted marketing campaigns that speak directly to your ideal customers. This can improve the effectiveness of your marketing efforts and increase engagement with your target audience. 
Enhanced product development
Buyer personas can help you identify issues in your current product offerings and develop new products that better meet the needs of your target audience. 
Effective sales strategies
By understanding your customer, you can develop more effective sales strategies that resonate with your target audience. 
Improved customer satisfaction
By tailoring your products and services to align with your customers' needs, you can improve customer satisfaction and loyalty, generating repeat business and revenue. 
Easy Steps to Create a Buyer Persona
Persona development paves the way for a successful marketing strategy. Now that we've covered the benefits, let's dive into some practical steps to help you craft a fictional buyer persona for your real customer: 
Define your target audience
Collect information about your target audience through social media surveys, interviews, and website analytics. Offer incentives like discounts or credits to gain more information about their age, plans, challenges, preferences, behaviors, and more. Start broad and narrow down on specific details to help you build a comprehensive buyer persona that truly represents your ideal customer segment.  
Find similarities
Look for patterns and similarities in the data you have accumulated. Identify common attitudes, behaviors, values, etc., to help you narrow down each persona's attributes. Your goal is to understand the needs, expectations, and stages of the customer journey so you can craft strategies catering to those attributes. 
Give your persona a name and picture
Give your persona a name and picture. Attaching a name and photo representing your fictional customer humanizes your buyer persona and makes it more relatable. Your marketing and sales team can better associate your target audience with a "real" customer and helps you to keep your target audience in mind when crafting and developing sales and marketing strategies. 
Use your persona to guide your marketing strategy
Use your persona to guide your marketing strategy, content creation, and messaging. Customize your marketing efforts to your target audience's specific needs and interests with the information gathered for each persona. Based on their preferred communication methods, spending habits, and various stages of their customer journey, you can create a holistic strategy with your customer's specific needs in mind. 
Continuously update your persona
Stay current on demographic analysis and update your persona as you gather more information about your target consumer, behavior, and trends to ensure that your persona remains accurate and relevant. Ensuring your buyer personas are regularly reviewed and updated allows you to remain enables you to retain existing customers and attract prospects.  
Following these steps gives you a basic outline for creating buyer personas for your business. While they should be as detailed as possible, the main goal for creating a persona is to help you empathize with your customer base and meet their needs throughout their buying journey. 
Best Practices for Creating Buyer Personas 
Use various sources, including customer surveys, social media, and website analytics, to gather data on your target audience. 

Ensure the data you collect is relevant to your business and marketing goals. Avoid including irrelevant information. 

Don't rely on assumptions or stereotypes when creating your buyer personas. Instead, rely on data to inform your understanding of your audience. 

Incorporate quotes from real customers to add authenticity and personality to your buyer personas. 

Depending on the complexity of your target audience, you may need to create multiple buyer personas to reflect different segments of your audience accurately. 

Regularly review and update your buyer personas to ensure they reflect changes in your audience over time. 

Test your buyer personas by using them to inform marketing strategies and track the results. Adjust your personas as needed based on your findings.
Buyer Personas: Key Takeaways
Buyer personas are critical for businesses looking to understand and connect with their target audience. By identifying key characteristics and motivations of potential customers, businesses can customize their marketing strategies and messaging to relate with their audience and ultimately drive more conversions.  
To create an effective buyer persona, it's important to conduct thorough research, gather data, and consider your target audience's unique needs and behaviors. An accurate and detailed buyer persona helps businesses improve their marketing efforts and ultimately achieve greater success. 
Create a Winning Marketing Strategy with Agency Partner Interactive
With the right buyer personas in place, you can ensure that your promotional effort resonates with your targeted audience. Whether you're running social media ads, email campaigns, or other forms of digital marketing, having a deep understanding of your target consumer can help you create compelling campaigns that drive actual results for your business. At Agency Partner Interactive, we specialize in helping businesses like yours maximize their reach and visibility through our bespoke digital marketing services.  
Our digital marketing specialists are skilled in various internet strategies, including search engine optimization (SEO), digital marketing tips, pay-per-click (PPC) advertising, social media marketing, email marketing, and more. We understand that every company is unique, so we work closely with you to understand your business drivers before leveraging technology and internet marketing solutions to achieve ROI-driven results. 
Schedule a free consultation to discuss your business needs today!