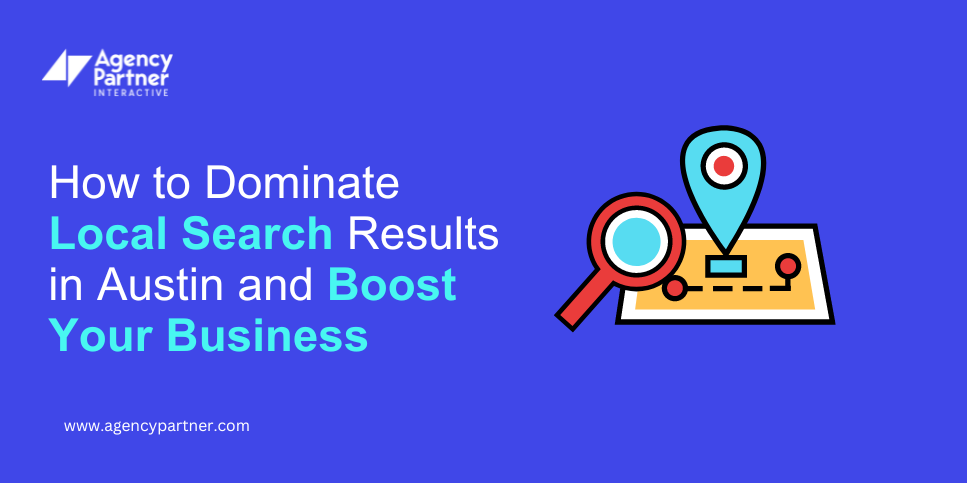 All Blogs,Digital Marketing, - March 23, 2023
How to Dominate Local Search Results in Austin and Boost Your Business
What's up, Austin business owners! Looking for a way to get your business to the top of local search results in Austin? Being visible in local search results means more people will find your business when searching for your products or services, which can be a game changer in a competitive market. And let's be honest, who doesn't want more customers? 
You might be wondering, "What is Austin's local SEO?" Don't worry; we got you covered. Local SEO (search engine optimization) is optimizing your website and online presence to increase visibility in local search results. It's a powerful tool for businesses that want to attract more customers and dominate their local market. It's all about making it easier for people to find your business when searching for things in your local area. 
What Are Local Search Results?
Local search refers to searching for products, services, or businesses within a specific geographic location. When someone performs a local search, the search engine's algorithm considers the user's location and displays relevant results based on that location. 
Local search differs from traditional SEO because it focuses on geography rather than general relevance. In other words, traditional SEO aims to optimize a website for specific keywords, regardless of where the searcher is located.  
Local SEO aims to optimize a website for Austin so that it appears in search results for users in Austin. For example, local search results will show nearby coffee shops if someone searches for a "coffee shop" in Austin. Or if the user types "Local SEO Agency Austin," so local search will show results nearby within the region. 
Local search results often have unique features, such as a map showing the location of the business, customer reviews, and contact information. These features help users quickly find and evaluate businesses in their area. 
Steps to Dominate Local Search Results
By taking these steps, you can dominate local search results in Austin and boost your business.  
The first step to dominating local search results is to claim your Google My Business listing, which will help you appear in local search results when people search for businesses in Austin.

Once you've claimed your Google My Business listing, make sure it's optimized, which means filling out all the relevant information, including your business hours, phone number, and address.

Having a strong website is crucial to dominating local search results. Make sure your website is mobile-friendly, has a fast load time, and includes relevant information about your business and services.

Getting listed in local directories can help improve your visibility in local search results. 

Encourage customer reviews, because testimonials are important for building credibility and improving your local search rankings. 

Make sure you're using local keywords in your website content and on your Google My Business listing, which can help improve your visibility in local search results.

Social media can improve your local search rankings by driving traffic to your website and increasing engagement. Make sure you are active on social media and using relevant hashtags.

Local content can help improve your visibility in local search results. Consider creating blog posts or videos specific to Austin and its surrounding areas.

One effective strategy to dominate local search results in Austin and boost your business is by conducting thorough and targeted local keyword research. You can use variations of long tail keywords as well.
Why Is Local Search Important for Businesses?
Local search is critical for small and local businesses because it allows them to reach potential customers in Austin. Local search has become even more essential for companies that want to stay competitive and be seen by potential consumers due to the growth of mobile devices and voice search.
Businesses that appear at the top of search engine results pages (SERPs) are more likely to be trusted by customers because they are thought to be more reliable and trustworthy.
Positive reviews in local search results can help businesses increase their online reviews, and ratings can significantly influence a consumer's decision-making process. Higher-rated businesses are more likely to draw new clients.
Several studies have demonstrated the impact of local search on consumer behavior. For instance, according to Google, 46% of all searches have local intent, with 76% resulting in a visit to a physical store within 24 hours. Additionally, 28% of these visits result in a purchase. 
Why Monitoring and Measuring Local Search Performance Is Essential?
Track your website's conversions and see which pages drive the most traffic. If you're only getting a few conversions, it may be time to improve your call-to-action or the user experience on your site.
By regularly monitoring and measuring your local search performance, you can identify opportunities to improve your website and online presence, leading to more traffic, conversions, and revenue. 
The Final Word on Dominating Local Search in Austin and Growing Your Business
Let's wrap things up! Google local search optimization refers to optimizing a business's online presence to improve its visibility in local search results. This is achieved through various local marketing strategies, such as claiming and optimizing a Google My Business profile, building a strong online reputation through customer reviews, using local keywords in website content, building local citations and backlinks, and monitoring and measuring local search performance through analytics tools. Local search optimization aims to attract more local customers in Austin to a business and improve its overall online presence. 
Drive Business Growth with the Top Digital Marketing Solutions in Austin
Are you tired of being buried on the second page of Google results? Agency Partner Interactive can help! Our SEO company in Austin, TX helps growth-focused businesses like yours implement the strategies discussed in this blog to improve your local search performance and attract more customers to your business. If you need help optimizing your website for SEO or managing your Google My Business page for higher conversions, Agency Partner Interactive's SEO experts are here to help as the best digital marketing agency in Austin.  
With our proven strategies as an Austin SEO company, you can increase your online visibility, drive traffic to your website, and ultimately boost your sales and revenue. 
So, what are you waiting for? Get the best Austin SEO services with us today and watch your business grow!