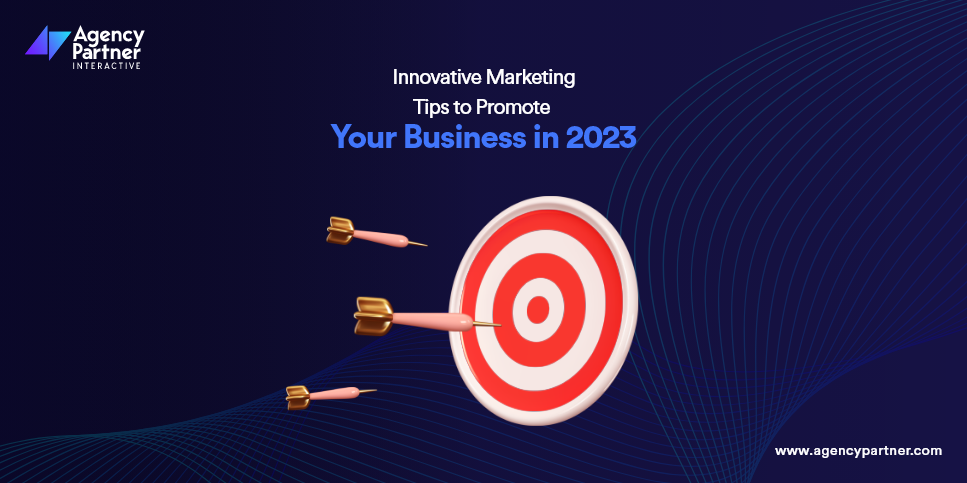 All Blogs,Digital Marketing, - January 21, 2023
Innovative Marketing Tips to Promote Your Business in 2023
As we enter the new year, businesses of all sizes are looking for ways to stay ahead of the curve and effectively promote their products or services. In this blog, we'll discuss some of the latest marketing tips and trends to help you reach and engage your audience in 2023. From understanding consumer expectations to leveraging the power of digital marketing, we'll provide actionable advice to help your business grow.  
So, whether you're a startup or a large enterprise, read on to find valuable insights to help achieve your marketing goals! 
2023 Marketing Ideas to Improve Brand Identity
Focus on Relevant Content, SEO, and SEM
Businesses and individuals look for growth at the start of the new year. One of the best ways to achieve marketing goals is to focus on solving business needs. Search engines, like Google, have made significant updates to their algorithms, honing in on the relevancy and quality of search results. Content, search engine optimization, and search engine marketing build upon each other and should be the starting point for brands in Q1. 
Grow with Your Existing Clients
An excellent way to boost sales and retention is by creating an outreach campaign for your existing clients. Determine their goals for 2023 and if you have any new products, services, or initiatives that will help achieve them. Instead of creating a new strategy, a simple program can greatly increase client satisfaction and loyalty. 
Additionally, lifecycle retention marketing can be an excellent start to the new year. As economic uncertainty persists, lower your cost acquisition by maintaining communication with your audience and establishing long-term relationships.  
Create a Foundation of Educational Content
Establishing expertise and authority in your niche can help achieve market differentiation and build your brand image. Since most of your competitors use many of the same marketing strategies, finding new ways to stand out is crucial. Here's how to get started: 
Create and publish blogs with quality topics related to your core offerings

Join community forums like Quora or Reddit and answer questions

Engage in social media discussions on relevant topics catering to your expertise

Promote posts on social media and encourage influencers to promote on their networks, too

Use pillar pages, cluster content, and internal linking to build topical authority
Inbound Marketing
Inbound marketing strategy values and empowers people to reach their goals with you at any stage in the customer journey. This marketing methodology involves growing your organization by building meaningful, lasting relationships with prospects and customers. The unprecedented changes throughout the last few years made outbound marketing less effective in reaching prospects.  
Inbound marketing can be a valuable asset to create brand awareness and build trust by revamping your digital strategy to drive consumers to seek out your content. It requires you to produce quality, valuable content tailored towards your target audiences' buyer personas and needs. 
SEO & Content Marketing Tips
Interactive Content
Modern consumers are no longer engaging with static posts and passive media. Audiences want content that captivates and grabs their attention. Developing a dynamic, two-way exchange encourages active engagement, leading to higher conversions. Creating content like quizzes, games, interactive infographics, and calculators will greatly improve customer satisfaction and engagement. 
Short-Form Video Marketing
Short-form video marketing took center stage in 2022, and it shows no signs of slowing down. According to Hubspot, 90% of marketers who leveraged short-form video will increase or maintain their investment this year. Video creation is much more accessible with a lower cost barrier, making it less intimidating to incorporate into your marketing strategy. As for what your videos should be about, focus on building your brand image with authentic behind-the-scenes footage or explainer videos on how your products and services work. 
Long-Form Content Marketing
Despite the uprising of video, blogs aren't going anywhere. It's been used widely for so long because it works. Besides increasing customer engagement and potential conversions, blogs provide a major benefit to websites and online pages due to search visibility.  
Websites with robust blogs have more search potential and can implement SEO strategies much easier than without. If you haven't considered a blog yet, contact Agency Partner Interactive for a free consultation and proposal tailored to achieving your marketing goals! 
Marketing to Consumer Expectations
Hyper-Personalization
The key to boosting sales is hyper-personalized communications from videos that give your brand a personal, authentic feel to email marketing or social media messages. One-size-fits-all messaging has proved to miss the mark, so putting a little extra effort into each user's preferences creates a tailored experience where each touch point with prospects is as personal as possible. 
Social media is an excellent way to achieve hyper-personalization because it allows you to authentically connect with your audience on a deeper level, humanizing your brand. 
Cohesive Customer Experiences
Today's consumers expect a personalized, tailored experience that speaks directly to their needs. However, brands should avoid a campaign-only lens since most consumers don't interact with businesses through one single method or channel. You must understand specific interactions throughout the customer's journey and focus on creating a holistic experience, not just a particular point. By creating a customer journey map, you can see how your customers act, think and feel throughout the buying process and meet them at each level. 
Improved UX Across Devices
The key to success in 2023 and beyond is through improving customer experiences. Your website or app is one of your brand's most valuable marketing assets, and its UX can mean the difference between your customers engaging with your brand or going elsewhere. Optimize your website for mobile since more than half of users worldwide use their phones to browse the web and ensure it's adaptable to different screen sizes and browsers. Here are some ways to make your mobile presence more robust: 
Bold colors

Video/interactive content

Tell a story as the customer scrolls

Reduce pop-ups and intrusive advertising

Reduce page load time
What's Next for Digital Marketing?
The past few years have drastically impacted marketing trends and strategies. Modern consumers value authenticity, transparency, and personalization now more than ever. By understanding their expectations and customer journey, you can provide an individualized experience that enables your brand to succeed now and in the long run. If you need help implementing any of these marketing tips into your 2023 strategy, Agency Partner Interactive is here to help. 
Achieve Your Marketing Goals with Agency Partner Interactive
Agency Partner Interactive is the premier partner for providing transformational solutions, resources, and expertise businesses need to achieve their full potential. As an award-winning Dallas digital marketing company, we work to understand your business drivers before leveraging technology and internet marketing expertise to unlock exponential growth. Our services include content marketing, social media marketing, SEO, PPC, web design, and more. Get in touch for your free proposal today!