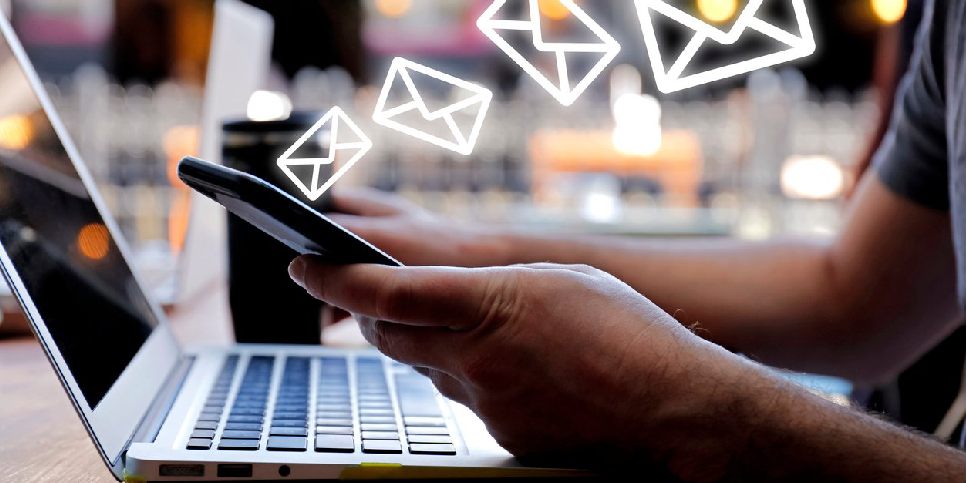 All Blogs,Digital Marketing, - April 02, 2023
The Ultimate Guide to Mastering Email Marketing for Your eCommerce Business
Email marketing is the best digital marketing strategy that involves sending emails to people to promote a product or service. It's an effective way to connect with customers, build relationships, and increase sales. Email marketing is significant for eCommerce businesses as it lets you keep in touch with your customers, promote new products, and encourage repeat purchases. But to make your email marketing strategy effective, you must understand how to do it.  
If you're unsure of where to start, this blog post is for you. We will cover some tips for mastering email marketing solutions for your eCommerce business.  After years of helping our clients achieve scalable revenue, our digital marketing experts have put together these email marketing tips to help online businesses like yours create effective, engaging emails that drive sales. Read on for everything you need to know!  
Building a Targeted Email List
Having a targeted email list is essential for the success of your email marketing campaigns. According to Campaign Monitor, segmented email campaigns have an open rate of 14.32% higher than non-segmented campaigns.  
A targeted list ensures that your emails reach people interested in your products or services, increasing the likelihood of conversions. Here are some tips for building a targeted email list:  
There is a huge possibility that people will sign up for your email list if they receive something in return. Offer a discount code or a gift in exchange for their email address. 

 

Place opt-in forms on your website to make it simple for people to sign up for your email list. You can also use pop-ups or slide-ins to grab their attention. 

 

Use your social media channels to promote your email list and support people to sign up. You can also run Facebook or Instagram ads to reach a wider audience. 

 

Add a checkbox to your checkout page asking customers if they want to receive promotional emails from you.  

 
Creating Engaging Emails
Creating engaging emails is essential because it helps capture the reader's attention and increases the likelihood that they will act, such as purchasing or signing up for a newsletter. According to HubSpot, the ideal email length is 50-125 words. Emails with 200 words or more have a 40% lower CTR than those with shorter lengths.  
Engaging emails can also improve open and click-through rates, ultimately leading to increased revenue and brand loyalty.  
Here are some tips for creating engaging emails:  
The subject line is the initial thing the reader sees, so it must be clear and concise. Avoid vague or generic subject lines; instead, use something specific and relevant to the content of the email. 

 

Address the reader by name and customize the content of the email to their interests or behavior. This can help create a sense of connection and relevance, increasing engagement. 

 

Use a mix of text, images, and videos to make the email visually appealing and exciting. Use a casual tone and avoid jargon or overly technical language. 

 

Encourage the reader to act by including a clear and specific call to action. This could be something like "Shop now," "Sign up today," or "Learn more." 

 

People check their emails on their mobile devices, so ensuring the email is optimized for mobile viewing is essential. Mobile devices account for approximately

46%

of all email openings, according to a report by Litmus. 

 
Segmenting Your Email List
Segmenting your email list is crucial because it allows you to send desired messages to specific subscribers, improving the relevance and effectiveness of your emails and increasing engagement and conversion rates. According to Mailchimp, segmented email campaigns have a 14.31% higher open rate and a 100.95% higher click-through rate (CTR) than non-segmented campaigns.  
By sending messages tailored to your subscribers' interests and needs, you can improve their overall experience and build stronger relationships with your audience.  
Here are some tips for segmenting your email list:  
Segment your list based on age, gender, location, and occupation, which can help you send messages relevant to each group's needs and interests. 

 

Segment your list based on the products or services subscribers have purchased, which helps you send targeted messages about related products or services that may interest them. 

 

Segment your list based on your subscribers' engagement level, including email opens, clicks, and conversions. By sending targeted messages to subscribers who have shown a high level of engagement, you can increase the likelihood that they will take the desired action. 

 

Segment your list based on your subscribers' behavior, such as browsing history or interactions with your website or social media channels, and help you send messages tailored to their interests and needs. 

 

Segment your list based on the preferences of your subscribers, such as the frequency or type of emails they prefer to receive.  

 
Automating Your Emails
Automating your email marketing services can offer numerous benefits, including improved efficiency, increased revenue, and better engagement with your audience. By automating your emails, you can send personalized and targeted messages to your subscribers at the right time without having to send each message manually.  
Here are some examples of automated emails that eCommerce businesses can send:  
If any customer adds items to their cart but still needs to complete the purchase, an automatic email reminder can be sent to encourage them to return and complete the purchase.  

 

Based on the customer's purchase history or browsing behavior, an automated email can be sent with product recommendations that may interest them. 

 

Automated emails can be sent to customers with your brand on their birthdays or anniversaries, offering special discounts or other incentives. When a new subscriber signs up for your email list, an automated welcome email can be sent to introduce your brand and encourage engagement.  

 

If a subscriber has not engaged with your emails for a certain period, an automated re-engagement email can be sent to encourage them to return and engage with your brand.  

 
Analyzing Your Results
Analyzing your email marketing results is essential for improving your campaigns, achieving better results over time, and monitoring key metrics such as open rates, click-through rates, conversion rates, bounce rate, and unsubscribe rate. Following these metrics are critical for measuring the effectiveness of your email campaigns and email ROI. By monitoring these metrics for each of your campaigns, you can identify which subject lines, content, and calls-to-action resonate with your audience and adjust your strategy accordingly. 
Here are some tips for analyzing your email marketing results:  
Open rate is the percentage of your subscribers or customers who have opened your email.

 

Unlike website bounce rates, which tells you to how quickly visitors left your page, bounce rates in email marketing refer to the percentage of emails that didn't reach your subscriber's inbox.

 

Unsubscribe rates are self-explanatory, indicating how many subscribers in your email list opted out.

 

The conversion rate metric measures how many subscribers took the desired action, such as purchasing or signing up for a newsletter. By tracking conversions, you can identify which emails and campaigns drive the most revenue for your business. 

 

A/B testing involves sending two versions of the same email with slight variations to a small subset of your list to see which performs better. You can optimize your email campaigns for better engagement and results by testing different subject lines, content, and calls to action. 

 

You can gain data about their interests and preferences by tracking how subscribers interact with your emails and website.  

 
Email Marketing for Your eCommerce Business
Email marketing can be an extremely effective tool for eCommerce businesses to engage with their audience and drive revenue. By implementing the tips discussed in this post, such as creating engaging emails, segmenting your email list, automating your campaigns, and analyzing your results, you can master the art of email marketing and achieve better results for your business. If you still need to learn how to begin your journey or save time on your email marketing efforts, our email marketing agency can help. 
Hassle-Free Email Marketing Solutions for Your eCommerce Business
Are you looking for hassle-free Dallas email marketing for your eCommerce business? Look no further than Agency Partner Interactive!   
Email marketing is one of the most effective ways for eCommerce businesses of all sizes to achieve long-term growth without breaking the bank, but it takes the right partner who understands your brand, goals, and industry to help you achieve them.  
As a premier Dallas email marketing company, Agency Partner Interactive offers hassle-free, affordable, and transparent email marketing services for online businesses like yours. With over 1800+ happy clients, we're here to be the growth catalyst you need to achieve your full potential.  
Our expert team is here to help you create effective email campaigns that drive sales and engagement with your customers. From designing eye-catching templates to crafting compelling copy, we'll take care of everything so you can focus on growing your business.  
On average, our email campaign management generates $42 for every $1 spent; that's a 4200% ROI!  So, say goodbye to complex workflows and hello to increased revenue with Agency Partner Interactive's email marketing optimization for eCommerce businesses!