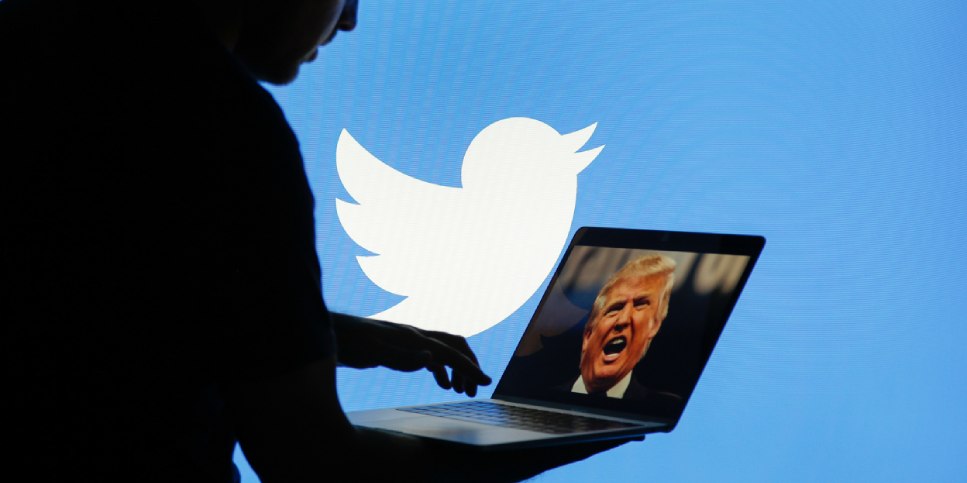 All Blogs,Big Tech,Digital Marketing,Media,News, - May 02, 2022
Newsmax: Will Trump Still Shun Twitter if Musk Reinstates Him?
Even though former President Donald Trump is swearing off a return to Twitter, social media gurus aren't so sure he'll stick to that promise – if his account is reinstated.
The chances Trump's account will be reinstated – enabling him to instantly communicate with his 89 million followers – grew significantly after entrepreneur and self-proclaimed "free speech absolutist" Elon Musk purchased the social media platform for $44 billion on Monday.
The world's richest man vowed to make the platform "better than ever" with new features bolstering free speech.
Do you want an edit button?

— Elon Musk (@elonmusk) April 5, 2022
But just how much of a free-speech champion the outspoken Tesla and SpaceX boss really is could be put to the test when it comes to deciding what to do about Trump's account.
Trump was permanently banned due to a so-called "risk of further incitement of violence" following the Jan. 6 breach of the Capitol.
While Musk hasn't specifically addressed plans to continue the ban or overturn it once he takes the reins of the company, he has publicly commented on his feelings toward permanent bans in general.
During a recent TED interview, he said he would be "very reluctant" to delete posts or permanently ban users who violate the company's rules.
Big tech experts so far are betting on Musk reinstating Trump's account. And while Trump has said he is sticking with his own platform,
Truth Social
, politicians have been known to change their positions.
Andrew Selepak, a social media professor at the University of Florida, said that if Trump is allowed back on Twitter, he has "absolutely no doubts" that he will eventually return to his prolific tweeting.
"There is a very good chance that Trump will be allowed back on," he said. "And if he is allowed back on, he 100% will do so."
Considering Trump boasted 89 million followers on Twitter and has just 1.6 million so far on the relatively new Truth Social, experts don't see him abandoning such a large audience, especially if he plans to make another run for the White House.
Selepak said Trump's political aspirations could dictate what moves both Trump and Musk make when it comes to Twitter.
If Trump decides to run for another term in 2024, Selepak said Musk won't want to "limit the voice" or get into "any type of battle" with a person who could ultimately be able to sign executive orders or champion legislation that could hurt his other companies like Tesla or SpaceX.
Selepak points out that Musk's companies have enjoyed tax breaks, incentives, and government contracts and he won't want to risk any existing relationships his other ventures enjoy with the government.
"If Trump does run, Musk could make the decision to allow him to be back on to not create an enemy with someone who could be in the White House," he said.
Because Twitter has a longstanding policy about providing world leaders with a presence on the platform, Selepak said Musk could use that argument to easily reinstate Trump.
"Musk could make a much stronger argument to users and everyone else, if Trump decides to run, to give him access back to Twitter than giving it unilaterally before then," he said.
Ultimately, he believes that Musk's decision on Trump's account will come down to what is going to benefit the entrepreneur.
While Selepak doesn't believe Trump will be able to stay off Twitter if allowed to return, he said there is still a chance he keeps his word.
Because Musk will have the ability to call the shots on what is and isn't allowed on the site, Selepak said Trump may decide he does not want to be "beholden to Musk."
Dallas-based marketing expert, Agency Partner's CMO, Adam Rizzieri agrees that Musk will likely extend the invitation to Trump to return to the platform, calling it a "good business decision for Twitter."
But he doesn't necessarily think Trump should accept — if he is serious about getting Truth Social up and running.
He likened a Trump Twitter return to the CEO of Coca-Cola being caught drinking Pepsi in public because the two platforms are "extremely similar in form and function" and are competing for the users.
Stocks tied to Truth Social fell nearly 13% after Musk's Twitter takeover was announced Monday. On Tuesday, Trump issued a statement highlighting Truth Social as No. 1 among the "Top Free Apps" in the Apple App Store.
Rizzieri said Trump could use a reactivated Twitter account to promote his own venture. But he cautioned that Trump would have to walk a "very fine line" to do so successfully.
"He has to ensure that exclusive, value-added insights are added to Truth Social alone, and Twitter must be nothing more than a teaser for whatever content he is sharing to a Truth Social audience," he said. "Anything less and he could undermine the growth of his own social platform."
Rizzieri points out that Truth Social users have doubted Trump's commitment to the platform because he has only posted once since creating his profile in February. He also noted that Donald Trump Jr. "posts multiple times per waking hour on Twitter," while he places only two to four posts per day on Truth Social.
Rather than use Truth Social to promote his appearances and news, Rizzieri said Trump's updates only seem to reach users via proxy updates from his son's Twitter account or after broadcasts of weekend rallies on TV outlets.
Trump told Fox News Monday that he plans to formally join his own network within the next week.
Still, Rizzieri said Trump's absence from the platform since its debut has prompted many to question whether they will receive the "direct, real-time access" they had to the former president when he was on Twitter.
Now that Musk and Trump are competing to promote free speech, he said Truth Social's team will be forced to "dig deep and more rapidly define a unique value proposition that no one else offers."
"Today, they are a light version of Twitter but without the annoying and unfair politically biased censorship," Rizzieri said. "It's a great start. But with a guy like Elon Musk vowing to make Twitter 'great again,' Truth Social has to be more innovative."
As Musk promises to turn Twitter into a "de facto town square," Selepak said conservatives, who felt their voices were silenced on the platform, will likely return.
He expects that, even before any major changes are announced or implemented, just the news of Musk being at the helm will prompt many users who backed away from Twitter to "change their mind and come back to start using it again."
A group of House Republicans immediately rejoiced at the news Musk would be taking over, calling on the new social media mogul to "free" Trump.
"Hey, @elonmusk it's a great week to free @realDonaldTrump," tweeted the House Republican Conference, which represents 209 lawmakers.
Hey, @elonmusk it's a great week to free @realDonaldTrump.

— House Republicans (@HouseGOP) April 25, 2022
If enough "big voices on the right" return, he said the presence of their posts will increase without Musk even having to institute changes to the site's algorithm, which dictates how users see certain posts on their timelines.
Musk has proposed making changes to the platform's algorithm in order to increase trust.
"Free speech is the bedrock of a functioning democracy, and Twitter is the digital town square where matters vital to the future of humanity are debated," he said.
Whether Musk will be able to eliminate "wokeness" from the platform, however, is what Rizzieri called the "$44 billion question."
"Like President Trump, Elon Musk views wokeness as a virus that has infected Big Tech, the mainstream media, and Netflix," he said. "The common denominator here is an unelected, ruling class of elitists that all march to the beat of their own drum."
He said Musk knows that Twitter's "woke algorithm ignores the mainstream user, giving preference to an out-of-touch class of blue check elites," referencing the journalists, celebrities, and politicians who are "verified" on the platform.
In order to protect "American exceptionalism," by "effectively standing up to wokeness," Rizzieri said Musk knows he has to "allow for good ideas to circulate without unfair censorship."
He believes that, on Musk's Twitter, "both good and bad ideas will circulate freely – and the best ones will survive."
© 2022 Newsmax. All rights reserved.
Catch Us In the Media
Agency Partner's award-winning team often contributes expert opinions and perspectives on things that matter. Follow our contributions to the latest news and media topics or head over to the newly reinstated/uncancelled Agency Partner YouTube page to see us on TV and hear us on the radio or podcasts.
If your business is looking to utilize a digital marketing strategy or perhaps you need help with your web design and mobile needs, we're happy to help! For no risk and no obligation, give us a shot!
Make the team at Agency Partner your next call.