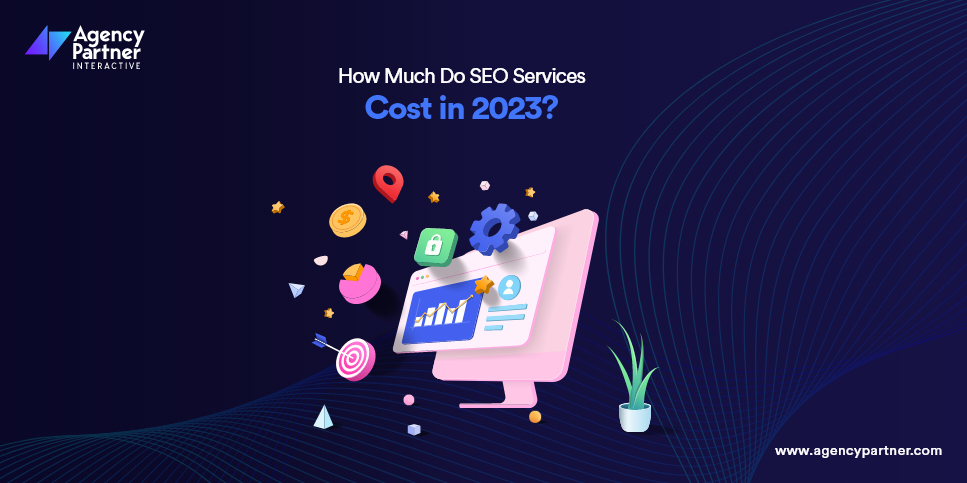 All Blogs,Digital Marketing, - January 05, 2023
SEO Guide: How Much Should You Pay for SEO Services in 2023?
Search engine optimization, or SEO, is a crucial tool for businesses looking to improve their online visibility and attract more website traffic. However, as you begin to explore the world of SEO, you may be wondering about the cost of these services. How much should you expect to pay for an effective SEO campaign? What factors affect the cost of SEO services?
In this SEO guide, we'll take a closer look at the cost of SEO in 2023 to help you plan your Google search engine optimization costs for the year. Whether you're a small business owner with a limited budget or a larger company looking to invest heavily in SEO, this blog will provide you with the information you need to make informed decisions about your SEO spend.
For a more detailed SEO guide personalized for your business needs, speak with an SEO expert at Agency Partner Interactive and get a free proposal today!
What Are SEO Services?
SEO (Search Engine Optimization) services help businesses improve their online visibility and attract more website traffic. SEO is an integral part of any internet marketing effort when designing and executing an effective strategy for optimizing your website's pages and elements so they appear meaningful to search engine crawlers.
How Much Do SEO Services Cost in 2023?
While most business owners hope for an exact number that will fit neatly with their monthly or yearly budget, it's more complex. The cost of SEO services can differ significantly depending on the services you need, the digital agency you choose, the level of services you require, and more.
In 2022, the cost of localized SEO campaigns averaged $1,400 per month, while nationally focused campaigns ranged between $3,000 to $7,500 per month.
Average Cost of SEO Services for US-Based SEO Agencies
Hourly – $100 – $300
Monthly retainer – $500 – $10,000+ per month
Project-based – $1,500 – $5,000. However, SEO requires diligence and continuous tracking on an ongoing basis.
Additional factors to keep in mind:
eCommerce SEO services typically cost more
Plans with content creation and writing increase costs
Additional fees for link-building services
What Affects the Cost of SEO Services?
While how much you'll spend on SEO services has much to do with which digital marketing agency you go with, the breakdown of costs depends on several factors, including:
The size and complexity of your website – the overall technicality and content management system of your site determine the amount of effort needed for SEO services. For example, Agency Partner Interactive builds custom websites for each of our clients using SEO best practices tailored to Google and other major search engine algorithms. Having a technically sound and intuitive website created with SEO best practices in mind makes it much easier to optimize existing pages effectively and efficiently.
Existing visibility, brand awareness, and exposure – if you're starting from scratch with a brand new website with no rankings or domain authority, be prepared to pay more or wait longer to see results.
Urgency – SEO is a long game and takes time to be effective. If you need to see quick results, it requires more effort, time, and resources from the SEO agency, leading to higher costs.
Competition – the overall competitiveness of the keywords you want to target depends on your industry and the set of keywords.
Target audience – local, national, or global campaigns may affect the overall cost of SEO services.
Type of service – SEO pricing is often determined by whether you need to optimize your content for organic search, build up a review profile, produce and publish regular content pieces, and more. This can determine which SEO pricing structure and packages are best for your business. If you need help setting up your Google My Business account and optimizing site tags, it can be a one-time project, whereas if you want to build a comprehensive blog and gain ranking on the SERPs, monthly services might be a better option.
How Much Should You Spend on SEO?
The amount a business should spend on SEO services depends on its budget, goals, and size. Small to medium-sized companies with a limited budget may want to start with a smaller package. In contrast, enterprise companies with more resources may invest more heavily in SEO. Regardless of what you want from SEO efforts, you should set realistic goals and budget your digital marketing services accordingly.
Paying for a talented and reputable SEO agency to create quality content and optimize your website can generate new leads for years to come, so the return on investment can pay off exponentially. In 2023, small business owners should budget around $1,000 to $5,000 per month for SEO services. Experienced SEO experts will provide scalable services without overlooking critical elements like
Quality content creation
Link building
Conversion rate optimization
Accessibility, usability, and functionality of your website
Customer review and GMB management
What's the Return on Investment (ROI) of SEO?
While there is no guaranteed ROI for SEO services, it doesn't mean that achieving a total ROI is rare. According to Hubspot's 2023 Market and Strategy Trends Report, SEO ranks fourth in terms of ROI and effectiveness, and 88% of companies using SEO will increase or maintain investment in 2023.
By choosing the right SEO agency and working with them to develop an effective SEO strategy aligned with your business goals and budget, you can reap the rewards for years to come.
Currently, 53.3% of all internet traffic comes from organic search results, with Google having over 85% of the total search engine market. That means formatting your site and content to meet Google's specifications is critical. If your business relies on SEO services, an agency with local SEO experts specializing in local search can help boost your business's results on SERPs and improve your bottom line.
It's important to remember that SEO is not a one-time investment; it's a long-term commitment to achieving better visibility and results. While there's no one-size-fits-all package for SEO, working with a dedicated digital agency like Agency Partner Interactive can help you achieve scalable results and ROI through high-quality content marketing and bespoke SEO services.
Agency Partner Interactive: The Best Dallas SEO Agency
As the number one SEO agency in Dallas, Agency Partner Interactive's vision is to be the catalyst to unlock growth and value for every business. Our SEO experts have the skills, resources, and expertise to help you reach your goals and beyond.
Our work has won us awards, such as Top Dallas SEO Companies by DesignRush, FastTech 2022, and Clutch.co Global 1000. Experience the difference of working with a dedicated digital agency makes your success ours. Get in touch to receive your free personalized proposal today!