All Blogs,Digital Marketing, - October 03, 2019
Basics of The Topic – Cluster Content Model for SEO
Adopt a Topic Cluster Model to Get Found Online
Tips From Digital Marketing Experts
We can all agree that Search Engine Optimization (SEO) is the key to getting found online. Writers spend hours researching the best long-tail keywords and getting high-quality back-links. You are publishing well researched, relevant articles and doing everything right and yet; the views aren't rolling in. Adopting a topic cluster model on your website is imperative to positioning yourself as an expert in your field and increases your chances of getting found online. 
What is a Topic Cluster Model?
Websites with hundreds of thousands of monthly views have cracked the newest trend in SEO: topic clusters. But what is a topic cluster?
A topic cluster involves a "pillar" or cornerstone of content. This is content that is written for a fairly high-level keyword. This pillar content is equipped with additional supporting articles that expand on and link to this main topic as well as any other relevant or supporting pages. Just as in architecture, your cornerstone should be substantial and able to stand alone. The cluster content is published to surround the cornerstone and establish your brand as an authority on a topic of your choosing. Below is an example where the keyword, "workout routines," is the pillar content. The pillar is supported by topic clusters which are more specific breakdowns that expand on keywords that are related to workout routines. In this example, keywords such as "workout routines to lose fat" and "workout routines to get abs," among the others, are examples of cluster content. In aggregate, the supporting topics create a topic cluster of conversation that all support the pillar content page of "workout routines."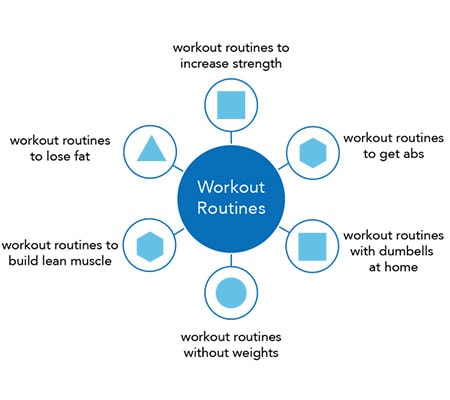 How Can a Topic Cluster Improve my SEO Efforts?
A search engine's main job is to deliver results that are relevant to the search query. When a website offers a cluster of related content, search engines use Latent Semantic Indexing to understand the web of interrelated and supportive content. Along with domain authority, high-quality backlinks and long-tail keywords, developing a topic cluster demonstrates your authority to the search engine, boosting your rankings in the SERP (search engine results pages). 
Practical Steps to Create Your First Topic Cluster
Creating a topic cluster may seem like a daunting task, but it's a methodical process that has the potential to yield great results. Follow these six steps to create your first topic cluster.
Choose a Pillar or Cornerstone Topic
Assess your brand and the goals of your organization. Your pillar or cornerstone content should be a topic on which you already have some level of expertise. Use a keyword research tool like "Keysearch" to determine which long-tail keywords you'll target in your pillar article.
Brainstorm and Research Keywords to Support the Pillar
Once you've decided on your pillar theme, it's time to brainstorm supporting topics that can easily link to the pillar article on your website. It's important to research your chosen keywords to ensure that people are searching for them and that high ranking is attainable for those keywords. 
Update Old Articles
Start with the low hanging fruit. You may already have articles on your website suitable as cluster content. Update those articles to optimize for SEO and to support the pillar article. 
Write the Pillar and New Cluster Content
Using the keywords you researched, it's time to create the pillar and start your Topic Cluster Model content. A pillar article should be broad and long-form, ranging from 2,000 to 10,000 words in length. The cluster content should be shorter posts that give detailed explanations on the subtopics in your pillar article.
Build Your Web by Linking Cluster Content to the Pillar and Other Supporting Articles
You can boost your results on SERPs by increasing the number of relevant internal links in your content. Search engines view links as a relationship, and linking related articles shows those search engines that you are an authority on your pillar content. When linking, use your keyword as the anchor text to further boost your authority on the topic. 
Publish and Promote
While Google crawls your website soon after a new post's publication, it may take three to six months to see results for your SEO efforts. Use Social Media Marketing and Newsletters to give your articles an initial boost in traffic while waiting for your content to rank on search engines. 
Understanding how to leverage a topic cluster model to boost your content is imperative if you want to be found online. Now that you know how to build a topic cluster, the next step is to research your keywords, write and optimize your content and watch the traffic that is sure to come your way. 
Hiring a Specialist Consultant or Agency is the most efficient and effective way of handling your Website Content. Agency Partner can help because we have professionals who can establish your brand as an authority on a topic of your choosing to drive Targeted and Potential Clients. Call Agency Partner Interactive Today to discuss your project in greater detail.
Not big on reading? That's okay. Watch "Basics of The Topic – Cluster Content Model for SEO" instead.
Using the power of Artificial Intelligence, we turned this blog into a video for you. Check it out below!