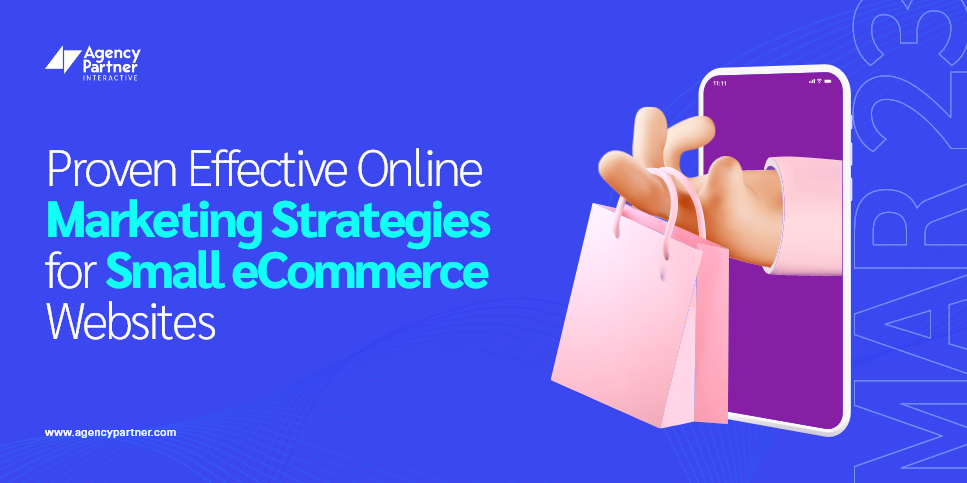 All Blogs,Digital Marketing, - March 16, 2023
Proven Effective Online Marketing Strategies for Small eCommerce Websites
ECommerce marketing is the practice of using digital channels to promote and sell products or services online. By implementing various marketing tactics, small eCommerce businesses can drive targeted website traffic, build brand awareness, and increase conversions.   
Effective online marketing is essential for small eCommerce businesses to succeed in the competitive digital landscape.   
What Is eCommerce Marketing?
Ecommerce marketing is the promotion and sale of products or services online. This uses electronic channels, including websites, email marketing campaigns, social media, SEO, promotional emails, PPC, and affiliate marketing.  
Effective eCommerce marketing requires understanding consumer behavior, digital technologies, and online marketing for small businesses. By leveraging various strategies, businesses can attract and keep customers, boost sales, and build brand loyalty.   
eCommerce Marketing Strategies
SEO is a critical component of a successful eCommerce marketing strategy. Implementing effective SEO for ecommerce can greatly improve your online visibility and drive more sales for your business. Best practices for optimizing a website can help small eCommerce businesses. 
Businesses can use various eCommerce marketing strategies to promote and sell their products or services online. Here are some of the most effective methods:  
Search Engine Optimization (SEO)
Search Engine Optimization (SEO) helps a website to get more visibility and higher rankings on search engine result pages (SERPs). The website needs to be optimized in content, structure, and technical aspects to achieve it. SEO is essential for small eCommerce businesses. It can help them increase their online visibility, attract more traffic, and drive more sales.  
Here are some easy tips for optimizing your website for search engines:  
Identify targeted keywords and phrases that your target audience can use when searching for products or services related to your business. 

Ensure your website has a clear and intuitive structure, easy to navigate pages, and a logical content hierarchy. 

Use your target keywords and phrases throughout your website's content, including page titles, meta descriptions, headings, and body text. 

Establish high-quality links from reputable websites that point back to your website. Optimizing your website can increase your website's authority and improve its ranking in search engine results. 
Content Marketing 
Content marketing for small eCommerce businesses is crucial for building brand awareness, increasing website traffic, and driving sales.  
Providing content that is valuable to your audience will help establish your brand as a trusted source in your niche. A loyal customer base means people are more likely to buy from you repeatedly.  
Here are some tips for creating high-quality, engaging content for your website:  
Define your target audience and generate content that speaks directly to them. 

Choose topics relevant to your audience's interests. 

Use a variety of content formats to keep things evergreen and exciting. 

Optimize your content for Google ranking by using relevant keywords. 

Make your content visually captivating with images, infographics, and videos. 

Keep your tone informal and avoid using overly technical terms. 

Provide actionable tips, advice, and solutions your audience can implement immediately. 

Encourage engagement by asking questions, inviting feedback, and responding to comments. 
Email Marketing
Email marketing is a digital marketing strategy that sends commercial messages to people via email. Email marketing for small businesses is a powerful tool for building customer relationships, generating leads, and driving sales.  
Here are some tips for building an email list and creating effective email campaigns: 
Offer incentives such as exclusive discounts or freebies to encourage customers to sign up for your email list. 

Make sign-up forms visible and easy to fill out on your website and social media pages. 

Section your email list based on customer behavior, interests, and preferences to send targeted messages. 

Use attention grabbing subject lines that encourage customers to open your emails. 

Create valuable content that informs, entertains, and helps customers rather than just promoting your products or services. 

Use a clear and compelling call to action to encourage customers to take action, such as purchasing or visiting your website. 
Social Media Marketing 
More than 50% of the world's population uses social media such as Facebook, Snapchat, Instagram, Twitter, and LinkedIn. 
This number is expected to reach 4.76 billion by 2023. The aim is to promote products and services or raise brand awareness. It involves creating and sharing content on social media networks to brand goals and achieve marketing. Create a social media presence and engage with your targeted audience.  
This will establish your brand as a trusted authority in your niche. Additionally, it will help you build a dedicated customer base and increase sales.  
Here are some easy tips for social media marketing: 
Select the social media platforms most relevant to your business and where your target audience is most active. 

Plan a social media campaign that aligns with your business goals and audience interests. Use a combination of content formats such as videos, images, and blog posts. 

Consistency is critical in social media marketing for ecommerce. Post daily and at the best times for your audience. 

Respond to comments, questions, and messages in a timely and friendly manner.  

Use popular and relevant hashtags to increase your visibility and reach on social media platforms. 

Offer exclusive discounts or promotions to your social media followers to encourage engagement. 
Pay-Per-Click (PPC) 
PPC advertising is digital advertising in which businesses pay a fee each time users click on one of their ads. PPC advertising is a powerful tool for small eCommerce businesses. It can drive website traffic, increase brand awareness and generate leads and sales.  
Here are some tips for setting up and managing PPC campaigns: 
Research and choose relevant keywords that align with your business goals and audience interests. 

Create ad copy that is attention grabbing and relevant to your target audience. 

Use landing pages to convert users who click on your ads into customers. 

Set a budget for your PPC campaigns and adjust it to maximize your return on investment (ROI). 

Test different ad copy, keywords, and landing pages to determine what is best for your business and optimize your campaigns accordingly. 
The benefits of PPC advertising for small eCommerce businesses include increased conversion rates, website traffic, and improved ROI.  
Small online businesses can increase sales by targeting the right audience by using the right keywords and ad copy. Driving qualified traffic to their website is another way to increase sales. PPC advertising is an effective marketing strategy for small ecommerce businesses. It is advantageous because it uses real-time data and allows for the optimization of campaigns quickly.  
Affiliate Marketing
Affiliate marketing is online marketing where a business or company rewards affiliates for promoting their services or products. The affiliate rewards a commission for each sale, lead or click made through their unique affiliate link or code.  
Affiliate marketing enables businesses to reach more people, increasing their sales without much expenditure on advertising. It also benefits affiliates by enabling them to monetize their content and earn passive income.  
Takeaways on eCommerce Marketing
Effective eCommerce marketing strategies are essential for small businesses to succeed in the highly competitive online marketplace.  
Small businesses must use online marketing to gain visibility and engage with customers. Doing so will help build brand awareness and ultimately drive sales. 
The online marketplace is highly competitive. It is difficult for businesses to be noticed. Investing in ecommerce marketing is more important than ever to stay relevant and competitive.  
Maximize Your eCommerce Success with Agency Partner Interactive
As a small eCommerce business owner, you understand how challenging it can be to compete with larger companies. Agency Partner Interactive specializes in helping small eCommerce sites succeed. We offer proven eCommerce website design and effective online marketing strategies.   
Our experts will collaborate with you to create and execute a strategy tailored to your target audience, goals, and budget. This plan will attract visitors to your website.  
With our help, you can take your business to the next level. Maximize your online presence and attract customers with our affordable and effective Google ads for small businesses. Schedule your free strategy session today!